Statement from Gregory Wetstone, President and CEO of the American Council on Renewable Energy (ACORE):
"As we await the official results of the presidential election, the United States - the world's second largest emitter of greenhouse gas emissions - is squandering global credibility and good will as the only nation to quit the 2015 Paris Climate Agreement. Today's withdrawal is at odds with the desires of the vast majority of American citizens across the political spectrum who understand the need to chart a more sustainable future.

"We hope to see America rejoin the Paris Agreement, but either way the nation's renewable energy sector remains committed to doing its part to keep the U.S. within striking distance of Paris climate targets, delivering the clean energy economy Americans want and deserve."
Featured Product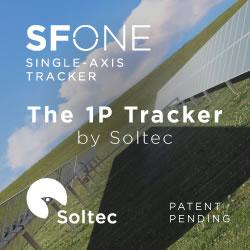 Soltec manufactures and supplies solar trackers designed and proven for extreme climate conditions, which is an ideal solution for any region's environment. Soltec's trackers are self-powered, requiring no additional PV module or grid-powered connection. Bifacial modules collect energy on both the front and rear sides, capturing reflected irradiance from the ground surface under and around the tracker and from other modules. Depending on site conditions, bifacial yield-gain can reach +30 percent.