Fastest-growing U.S. solar software platform incorporates in Frankfurt to meet growing demand
Aurora Solar, the leading cloud-based platform for solar sales and design, announced its expansion into Germany to empower solar organizations to streamline operations and accelerate growth. Aurora sees significant opportunity to support the growing number of German solar installers who are in need of digital solutions and automation. The company incorporated in Frankfurt with dedicated Sales, Marketing, Customer Support teams to establish and scale operations in Germany and the DACH region. Powering upwards of 100,000 solar projects every week, top U.S. solar organizations — including 90 percent of the top 100 U.S. residential solar installers — count on Aurora to accelerate solar sales cycles using the power of technology and automation.

"Aurora enables solar businesses to create highly accurate residential solar designs without having to visit the site, ultimately accelerating the sales process and empowering installers to scale operations. With demand for solar growing in Europe, we are confident our German expansion will help further our mission to create a future of solar for all," said Christopher Hopper, co-founder and CEO. "This launch is incredibly exciting for our team; our platform will help advance the adoption of renewable energy in Germany."
Expanding Market Leadership to Europe
Building on an already strong foundation, Aurora Solar is proud to:
Support over 7,000 of the solar industry's most successful organizations to help tackle climate change;
Leverage its powerful software alongside its customers to avoid over 60 million tons of CO2 since inception; and,
Be recognized on the 2022 Deloitte Fast 500 as well as the 2022 Forbes AI 50, and listed as one of the 2022 Best Remote Companies to Work For by Built In.
To learn more about Aurora in Germany, please visit: http://aurorasolar.com/de/
About Aurora Solar
Aurora is creating a future of solar for all. The company is putting the power of data and technology into the hands of every solar professional to make solar adoption simple and predictable. The cloud-based platform uses data, automation, and AI to streamline workflows and grow solar businesses faster. More than 7,000 of the industry's top organizations rely on Aurora and over 10 million solar projects have been designed with the platform globally. The San Francisco-based company was the only climate tech business named to the 2022 Forbes AI 50, was listed on the 2022 Deloitte Fast 500, and voted the best solar software by Solar Power World in 2021. For more information, visit www.aurorasolar.com and follow on Twitter @AuroraSolarInc.
Featured Product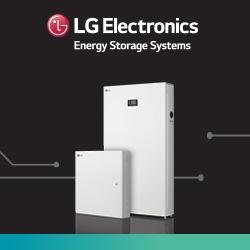 Meet LG Electronics Home 8 Energy Storage System (ESS), a whole home battery backup solution built with installers and their homeowner customers in mind. The ready-to-deploy Home 8 features just one SKU and a modular assembly for fast installation. It can be AC-coupled or solar-powered and is engineered with a grid-connected inverter, four battery modules, and a Smart Energy Box featuring a 7'' LCD touchscreen with commissioning wizard for easy setup. Each Home 8 unit can store up to 14.4 kWh of usable power, helping homeowners gain pure independence from the grid. Plus, installers can connect up to four units, bringing customers up to 57.6 kWh of total backup power-all easily managed and monitored through intuitive mobile apps.