PV Hardware (PVH) invites you to join us at the grand opening of the First Utility-Scale Solar Manufacturing Facility in the US at our brand new Houston factory on Feb 22nd at 09:00.
HOUSTON, TX - PVH, a global leader in solar technology and one of the top solar tracker suppliers in the world, is excited to announce the grand opening of its first utility-scale solar manufacturing facility in the United States. This momentous event is scheduled for Thursday, February 22, 2024, at the facility located at 8303 McHard Rd, Houston, TX.

PVH specializes in providing innovative trackers, structures, and control solutions for utility-scale PV solar plants worldwide. Their product portfolio includes advanced solar trackers, smart controllers for PV strings, waterless PV cleaners, and SCADA software, all designed to adapt optimally to different terrains, climatologies, and ensuring the lowest Levelized Cost of Energy (LCOE).
The opening of this facility comes at a pivotal time for the U.S. solar market, which is experiencing rapid growth. The market is projected to reach over 300 GW of annual installations by 2023 and is set to add a record 32 GW of new capacity in 2023, marking a 52% increase from 2022. This growth is driven by policy support, cost reductions, and an increasing demand for clean energy, creating an ideal environment for PVH's expansion.
Leveraging over 15 years of experience and industry know-how, PVH is poised to make a significant contribution to the growing needs of the U.S. energy grid. The new manufacturing facility in Houston, Texas is not only a testament to the company's commitment to the U.S. market but also a beacon of innovation in the solar industry.
The grand opening event will include a tour of the new state-of-the-art factory, showcasing its capabilities in manufacturing advanced solar technology. Additionally, PVH will unveil its newest product, designed to dramatically decrease the cost of utility-scale solar installations while increasing reliability and power output.
Full event catering and entertainment will also be provided.
All press, government officials, local representatives, utility scale solar developers and solar project owners are cordially invited to attend this historic occasion. PVH's expansion into the U.S. market represents a significant step forward in meeting the nation's energy demands with clean, efficient, sustainable, and innovative solar solutions.
For more information and to RSVP for the event, please visit www.pvhardware.com.
Contact:
Robert Rupp
Marketing Manager, US
PV Hardware
rrupp@pvhardware.com
Featured Product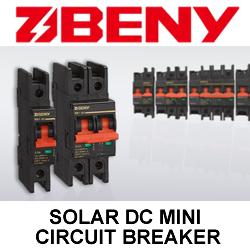 The BB1-63 modular miniature circuit-breakers can be used in solar DC circuits up to 1200 VDC (4-poles execution). Application in solar DC circuits, battery energy storage systems and UPS. Arc flash barrier design keeps solar equipment more safe and reliable. For DC circuit over-current protection.