Alternative Energy Newsletter - April 2012
>>> Articles - New Issue Online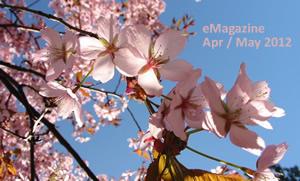 Green Innovation – Fukuoka Hydrogen Town
03/29/12, So Masuda, Fuel Cells 2000
So far, the Hy-life project has been very successful and innovative – it aims to bring a change to Japan and eventually to the world. It seems slightly long-term because of its unprecedented trial in the world, but they are trying to implement the plan through sustainable procedures.
Smart Grids - Big Ideas & Big Business
03/29/12, Jonathan Leucci B.Eng MIET, Scottish European Green Energy Centre (SEGEC)
The tremendous benefit of Smart Grid technologies is encouraging action at EU and Member State level, such as with standardisation and implementation of funding schemes and other regulatory incentives for development projects.
Smart Grid Communications
03/29/12, Joaquin Silva, On-Ramp Wireless
Ultimately, a wireless communication system that lowers cost, speeds up deployment, and accelerates global energy efficiency and usage, can enable companies to design state-of-the-art Smart Grid solutions, water & gas distribution systems, condition & risk monitoring and energy-optimizing infrastructure systems.
Intelligent Energy Storage Systems
03/29/12, Kate Reimer, Greensmith Energy Management Systems
Intelligent energy storage allows customers to optimize usage of their energy storage unit(s). Greensmith is tapping into modern computing and communications to collect, analyze, and utilize data to maximize the value of their asset.
Distributed Energy Systems are the Future and the KEY is Storage
03/29/12, Caleb Stratton , PlanSustainable
The world is moving toward a distributed energy future. For that future to be realized solar power must be available when the sun is not shining. The missing piece of this puzzle is energy storage.
Special Thanks to Schott Solar for sponsoring our eMagazine
---

Rolls has been producing premium batteries specifically designed for the renewable energy market since 1984.  That's why those who can't afford to go without power know they can't afford to trust anyone else.
www.rollsbattery.com
---

Ireland is the most successful EU economy in attracting export - platform foreign direct investment. After a very successful launch in New York, 'Opportunity Ireland' will now be hosting monthly meetings with companies interested in considering Ireland for business expansion development, funding and co venture opportunities. Email Us for details.


>>> Hot Story
According to the most recent issue of the "Monthly Energy Review" by the U.S. Energy Information Administration (EIA), with data through December 31, 2011, renewable energy sources expanded rapidly during the first three years of the Obama Administration while substantially outpacing the growth rates of fossil fuels and nuclear power.

Between January 1, 2009 and December 31, 2011, renewable energy sources (i.e., biofuels, biomass, geothermal, solar, water, wind) grew by 27.12%. By comparison, during the same three-year period, total domestic energy production increased by just 6.72% with natural gas and crude oil production growing by 13.66% and 14.27% respectively. Moreover, during the same period, nuclear power declined by 1.99% and coal dropped by 7.16%.
---

Schott Solar - The most secure investments are the proven ones. With more than 50 years of experience in solar technology, SCHOTT Solar combines expert knowledge in receiver technology for solar power plants with parabolic through technology and in photovoltaics.
>>> Hot Product
Unirac leads the PV mounting market with industry-leading technology and a breadth of product solutions and services designed to meet the needs of any type of solar installation. We start with the voice of the customer. Unirac collaborates with installers and system integrators who work with a variety of structures and PV modules, in order to deliver mounting solutions that offer the freedom and flexibility, along with the speed, ease and low cost of installation they are looking for. By partnering with the industry's premier integrators and distributors, Unirac delivers custom-designed solutions using highly engineered mounting technology, backed by excellent end-to-end technical support.
>>> Upcoming Sponsored Events
| Date | Event Name | Location |
| --- | --- | --- |
| Apr 19 - 21 | | New Delhi, India |
| Apr 23 - 27 | | Hannover, Germany |
| May 06 - 09 | | Los Angeles, CA |
| May 09 - 11 | | Verona Exhibition Centre, Italy |
| May 13 - 17 | | Denver, CO |
| May 16 - 18 | | Shanghai, China |
>>> Self Serve Marketing Features
Publish Your Story at AltEnergyMag
The process is very simple. Just email the article (news@altenergymag.com) along with any diagrams, photos etc. that you wish to have included. Length is not restricted. We do all the formatting and title graphics etc. and then let you preview the finished product before it goes live.  Biographies and company links can also be included.

Please bear in mind that we seek educational articles focusing on the technologies and benefits to readers rather than simple product cut sheets and promotional material.
Publish Your News
Just copy and paste news stories
Free Service
Google News Source
Free Company Directory Listing
Click Here to get started
Marketing Program
Enhanced Company Listings, Hot Product Listings, Enhanced News Publication Services, Special Event News Reports, Discounts and Special Offers
Send eMail to sales@altenergymag.com for details
---
Tell your friends about this newsletter. Keep up to date with the Alternative Energy Industry and all the new products it involves.
Please help us thank our sponsors and keep this resource free by visiting their websites and telling them you saw their ads at altenergymag.com.
Many thanks for your continuing support.
Bob Hetherington bobh@altenergymag.com
You are subscribed to our Newsletter List as [email]
We have many options for email subscriptions. This will insure that you receive content specific information in a timely manner. Please click the "Manage your subscription" link in the footer of this message. Then click "View my profile" to select the content you wish to receive. This information can be updated at any time. Our goal is to provide the information you want when you want it.
We look forward to staying connected.