Alternative Energy Industry Newsletter - Aug 2011
---

Introducing Trojan's Industrial Line - Trojan's Industrial Line of deep-cycle batteries is the newest addition to Trojan's lineage of high-quality batteries for renewable energy and backup power applications.
Designed to support large daily loads where the batteries are cycled regularly, Trojan's Industrial Line is ideal for a wide range of photovoltaic systems. 
>>> Articles

The Solar Decathlon 2011 - Part 2
08/17/11
Here are 5 more entries in this years Solar Decathlon for your interest and enjoyment.
Biofuels Potential to Transform the Global Economy
08/17/11
The technology is in place, the product has been certified, and at the end of the day, one is talking about an agricultural product which, depending on where it is sown, can produce one or even two harvests a year.
Energy Storage Solutions
08/17/11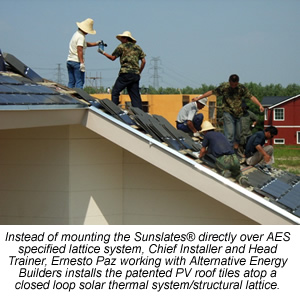 Energy storage is set to play a vital role in ensuring the economic viability of renewable energy by addressing its intermittency issues to make it available on demand. Equally, energy storage can play an important political role in the change to a low carbon economy by ensuring that the lights always stay on.
Atlantis Energy Systems, Inc. Proves its Metal as Fixture in the PV Marketplace
08/17/11
A Case Study of an Atlantis Energy Systems, Inc. Collaboration Future House USA
Clean, Reliable Power for Remote Off-Grid Communities
08/17/11
Ballard Power Systems (TSX: BLD) (NASDAQ: BLDP) provides clean energy fuel cell products enabling optimized power systems for a range of applications. Products contain proprietary esencia™ technology, ensuring incomparable performance, durability and versatility.
Read More Articles in the Current eMagazine
---

Rolls has been producing premium batteries specifically designed for the renewable energy market since 1984.  That's why those who can't afford to go without power know they can't afford to trust anyone else.
www.rollsbattery.com
>>> Hot Story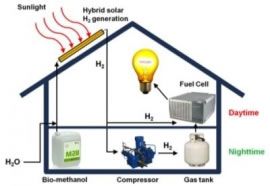 The best use of the sun's energy is to make hydrogen, according to a Duke University researcher. Engineer Nico Hotz earlier this week detailed results from his research around a rooftop solar panel that generates hydrogen from the sun's heat. The hydrogen gas--which is made by breaking off hydrogen atoms from a water solution--can be stored and used to make electricity in a fuel cell.  In his experiment, Hotz determined that his system creates more usable energy than solar photovoltaic panels which convert sunlight directly into electricity. He calculated the cost could be lower, too. There have been research efforts--and a commercial product from a company called Nanoptek--to make hydrogen from sunlight. Hotz's system, though, uses a new technique that relies on methanol, also known as wood alcohol, and a nano-engineered catalyst. Under the glass of Hotz's solar collector are copper tubes, coated with aluminum and aluminum oxide, which carry water and methanol. Once the liquid is heated to a sufficient temperature, a catalyst is added to cause hydrogen atoms to break off. That hydrogen gas is then piped and pressured for storage in a tank, where it can be drawn on to make electricity in a fuel cell.
---

REC is a leading vertically integrated player in the solar energy industry. Ranked among the world's largest producers of polysilicon and wafers for solar applications, and a rapidly growing manufacturer of solar cells and modules.
www.recgroup.com/
>>> Hot Product
Tackling the challenge of clean and secure energy supply: science, technology, strategic implementation, business opportunities and growth. This renewable energy distance learning training course gives you the insight needed to understand the complex drivers and issues behind the viability of renewable and alternative sustainable energies. Over 12 weeks the programme will provide a comprehensive understanding of all sources of renewable energy - from wind, hydro and solar, to biomass, geo thermal and beyond. "A comprehensive explanation of all renewable sources, with analysis of wider industry issues." For more information, to download the prospectus or apply online, please click above.
---

CanWEA's 2011 Conference and Exhibition will be held Oct. 3-6, 2011 in
Vancouver, British Columbia. Join over 3,000 business leaders
at Canada's largest renewable energy event.
www.canwea2011.ca
>>> Industry Forums

Now's your chance to start a community for the Alternative Energy Industry. We are happy to host your conversations, news and advice. Please take a moment to sign up and post your questions and share your expertise.
If you have ideas for new topics, methods or features, don't hesitate to voice them. We have set up what we think are some important forums but this is just the beginning so we need your input and participation to make it grow into a valuable source of information.
>>> Upcoming Sponsored Events
| Date | Event Name | Location |
| --- | --- | --- |
| Sep 05 - 05 | GLOBAL DEMAND FORUM V | Hamburg, Germany |
| Sep 15 - 17 | AWEA SMALL & COMMUNITY WINDPOWER CONFERENCE & EXHIBITION 2011 | Des Moines, IA |
| Sep 20 - 22 | RETECH 2011 | Washington, D.C. |
| Sep 26 - 28 | IQPC 5TH ENERGY STORAGE SUMMIT | Houston, TX |
| Sep 26 - 27 | REFF - WEST | San Francisco, CA |
>>> Self Serve Marketing Features
Publish Your Story at AltEnergyMag
The process is very simple. Just email the article (news@altenergymag.com) along with any diagrams, photos etc. that you wish to have included. Length is not restricted. We do all the formatting and title graphics etc. and then let you preview the finished product before it goes live.  Biographies and company links can also be included.

Please bear in mind that we seek educational articles focusing on the technologies and benefits to readers rather than simple product cut sheets and promotional material.
Publish Your News
Just copy and paste news stories
Free Service
Google News Source
Free Company Directory Listing
Click Here to get started
Self Marketing Program
Enhanced Company Listings, Hot Product Listings, Enhanced News Publication Services, Special Event News Reports, Discounts and Special Offers
Send eMail to sales@altenergymag.com for details
---
Tell your friends about this newsletter. Keep up to date with the Alternative Energy Industry and all the new products it involves.
Please help us thank our sponsors and keep this resource free by visiting their websites and telling them you saw their ads at altenergymag.com.
Many thanks for your continuing support.

Bob Hetherington bobh@altenergymag.com
You are subscribed to our Newsletters as [email]
We have many options for email subscriptions. This will insure that you receive content specific information in a timely manner. Please click the "Manage your subscription" link in the footer of this message. Then click "View my profile" to select the content you wish to receive. This information can be updated at any time. Our goal is to provide the information you want when you want it.
We look forward to staying connected.