Alternative Energy Industry Newsletter - Feb 2012

---

Ireland is the most successful EU economy in attracting export - platform foreign direct investment. Join the Founding Editor of the Society and Diplomatic Review at the launch of 'Opportunity Ireland' in New York on February 29th, 2012, for Development, Funding and Co Venture opportunities.
>>> Articles
Special Thanks to Unirac for Sponsoring this months Home Page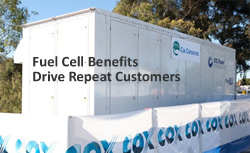 Fuel Cell Benefits Drive Repeat Customers
02/21/12, Elizabeth Delmont, Fuel Cells 2000
Companies might be trying fuel cells to portray a green image, or to stay on the cutting edge of technology. They become repeat customers because the technology works and saves money over incumbent systems. As our reports show, there is a business case for fuel cells. With corporate, government, and international interest, fuel cell deployments are sure to grow even more over the next few years.
Case Study - Northwest Washington Electrical Industry Joint Apprenticeship and Training Committee
02/21/12, Ryan Bradt, Northwest Washington Electrical Industry Joint Apprenticeship and Training Committee
The project was designed in-house by myself and engineering and structural fabrication was completed by Crystalite of Everett, WA. Installation was done by staff here at the training center – all electricians.
Improving Performance and Reducing Maintenance of CSP Systems with Copolymers
02/21/12, Interview with Jeff Eaves & Simon Biggs, Chamelic
Chamelic is a spin-out company from the Faculty of Engineering at the University of Leeds. Chamelic Ltd was established in February 2006 to exploit innovative chemicals discovered and developed at the Institute Particle Science and Engineering (IPSE).
Better Buildings, Better Plants
02/21/12, Susan Rochford, Vice President, Energy Efficiency, Sustainability & Public Policy , Legrand NA
The Department of Energy's intention behind the showcase project is to have leading companies create "blueprints" of their energy saving tactics that are actionable by a broader set of US companies. By creating an aggressive goal for a single facility, it affords a focused experience of what it takes to achieve that goal. We plan to be transparent in our actions in order to create these repeatable solutions for other companies.
Report of the Nigeria Alternative energy Expo 2011
02/21/12, Chris Edeh, Nigeria Alternative energy Expo 2012
NAEE 2011 saw participation from 17 countries representing all 6 continents and 147 companies gathered in Abuja to discuss African alternative energy climate with particular emphasis on opportunities, challenges and developments. Several notable speakers and experts from various sectors of the alternative energy sector provided insights.
Read More Articles in the Current eMagazine
---

PV America 2012 West
March 19-21, San Jose Convention Center - San Jose, Calif.
Join 4,000+ western U.S. professionals in solar energy and related fields searching for business connections and PV Solar Technology Solutions.
>>> Hot Story

The wind power industry is predicting massive layoffs and stalled or abandoned projects after a deal to renew a tax credit failed Thursday in Washington.

The move is expected to have major ramifications in states such as Illinois, where 13,892 megawatts of wind projects -- enough to power 3.3 million homes per year -- wait to be connected to the electric grid. Many of those projects will be abandoned or significantly delayed without federal subsidies.

The state is home to more than 150 companies that support the wind industry. At least 67 of those companies make turbines or components for wind farms. Chicago is the U.S. headquarters to more than a dozen major wind companies who wanted to take advantage of powerful Midwestern winds.
---

Rolls has been producing premium batteries specifically designed for the renewable energy market since 1984.  That's why those who can't afford to go without power know they can't afford to trust anyone else.
www.rollsbattery.com
>>> Hot Product
Since 1985 Matrix Energy has been providing practical, cost effective renewable power products and systems. Our Renewable Power Group provides full service wholesale product distribution as well as turnkey solutions to meet our customer's demand for dependable and affordable power generation. Under the MatrixAir brand, our Solar Thermal Group offers a number of patent pending, solar air heating solutions for industrial, commercial, agricultural and institutional applications.
Learn More About Matrix Energy Inc.
---

Japan's largest B-to-B exhibition & conference in the PV industry held annually in Tokyo with PV SYSTEM EXPO held in World Smart Energy Week 2012.
800 exhibitors & 120,000 visitors are expected.
http://www.pvexpo.jp/en/
>>> Industry Forums

Please take a moment to add a comment or start a new topic for our community for the Alternative Energy Industry. We are happy to host your conversations, news and advice.
If you have ideas for new topics, methods or features, don't hesitate to voice them. We have set up what we think are some important forums but this is just the beginning so we need your input and participation to make it grow into a valuable source of information.
>>> The Next Big Thing?
The Robotics industry is booming.
Join us as we launch into a new adventure. RoboticsTomorrow is a community website where those of you who work or are interested in the Robotics Industry are invited to contribute articles, news and product information for your peers to read and discover. Just like AltEnergyMag, our philosophy is to create an outlet where the industry can report on itself.
You'll find the same familiar features that you expect from us including:
Robotics eMagazine with articles focused on the industry, contributed by experts from around the globe
News page for recent Press Releases
Hot stories reported from around the industry
Find or promote Robotics Companies, Products and Events
If you are interested in contributing an article, interview or case study for publication please email us at info@roboticstomorrow.com.
Read More - RoboticsTomorrow
>>> Upcoming Sponsored Events
>>> Self Serve Marketing Features
Publish Your Story at AltEnergyMag
The process is very simple. Just email the article (news@altenergymag.com) along with any diagrams, photos etc. that you wish to have included. Length is not restricted. We do all the formatting and title graphics etc. and then let you preview the finished product before it goes live.  Biographies and company links can also be included.

Please bear in mind that we seek educational articles focusing on the technologies and benefits to readers rather than simple product cut sheets and promotional material.
Publish Your News
Just copy and paste news stories
Free Service
Google News Source
Free Company Directory Listing
Click Here to get started
Self Marketing Program
Enhanced Company Listings, Hot Product Listings, Enhanced News Publication Services, Special Event News Reports, Discounts and Special Offers
Send eMail to sales@altenergymag.com for details
---
Tell your friends about this newsletter. Keep up to date with the Alternative Energy Industry and all the new products it involves.
Please help us thank our sponsors and keep this resource free by visiting their websites and telling them you saw their ads at altenergymag.com.
Many thanks for your continuing support.

Bob Hetherington bobh@altenergymag.com
You are subscribed to our Newsletters as [email]
We have many options for email subscriptions. This will insure that you receive content specific information in a timely manner. Please click the "Manage your subscription" link in the footer of this message. Then click "View my profile" to select the content you wish to receive. This information can be updated at any time. Our goal is to provide the information you want when you want it.
We look forward to staying connected.