Semiconductors Save Money and Energy --- Big Time
Semiconductor technologies, present in many modern day devices and systems, are so essential to advances in energy efficiency gains that the United States economy could expand by more than 70 percent through 2030 and still use 11 percent less electricity than it did in 2008, according to a new study by the American Council for an Energy-Efficient Economy (ACEEE). The report estimates the cumulative net electricity bill savings enabled by semiconductors might exceed $1.2 trillion through 2030. With smart investments productivity gains could reduce electricity use to only 3,364 billion kWh by 2030. The resulting savings of 1,242 billion kWh means that the economy may actually consume 11 percent less electricity in 2030 than it did in 2008. Original Metering.com article.
Comments (1)
Very detailed information on Single vs. Dual Axis Solar Tracking. Thanks for sharing. I started working with
dual axis solar tracking
device manufacturer recently and wanted to know this difference.
Post A Comment
You must be logged in before you can post a comment. Login now.
Featured Product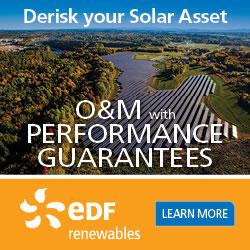 EDF Renewables offers the same innovative solutions that maximize the performance of our own 5.2 GW of installed projects. Because we're not an equipment manufacturer, our recommendations are transparent and data-driven. We cover the entire project lifecycle: from pre-commissioning support, through warranty and post warranty operation, to late stage and decommissioning.