Tesla Wins $465M in DOE Loans
It's official: Tesla Motors has won approval for $465 million in low-interest direct loans from the Department of Energy under the delayed Advanced Technology Vehicle Manufacturing Program. Tesla, which now sells a $109,000 electric sports car, has just been awarded what the DOE calls "conditional loan commitments" to set up manufacturing in California. This represents a huge step for the startup on its at-times bumpy road to producing the long-planned electric sedan, the Model S, and accelerating its nascent battery pack supply business.
Comments (1)
please add CSP techology to your article ..........it is moe economical and trustworthy than the photo voltaic panels........... currently i am working on it..........
Post A Comment
You must be logged in before you can post a comment. Login now.
Featured Product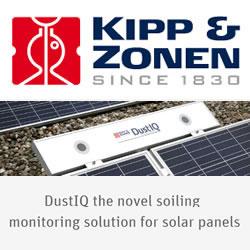 Soiling of the panel glass is one of the major problems in the rapidly expanding solar energy market, with the attendant loss of efficiency and reduction in performance ratios. Now, there's a new, simple and very cost-effective alternative. Based on Kipp & Zonen's unique Optical Soiling Measurement (OSM) technology, DustIQ can be easily added to new or existing solar arrays and integrated into plant management systems. The unit is mounted to the frame of a PV panel and does not need sunlight to operate. It continuously measures the transmission loss through glass caused by soiling, so that the reduction in light reaching the solar cells can be calculated.