Charging up CES with the Electric Vehicle TechZone
With consumers looking to live more sustainably, electric vehicles are quickly gaining popularity as alternative transportation. The Electric Vehicle TechZone at the 2011 International CES features a full range of high- and low-speed vehicles, energy storage devices and charging equipment for the green-minded consumer. Garner unprecedented media coverage and access the industry elite, government officials and final decision-makers.
Comments (1)
Enjoyed the read, excellent article.
Post A Comment
You must be logged in before you can post a comment. Login now.
Featured Product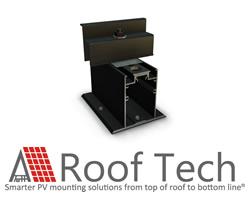 The most compact versatile rail-less PV mounting system under the sun. Instead of placing solar panels on top of long rails, simply attach E Mount AIR to rafters or the roof decking. Once panels are fastened to the roof, the system array is electrically bonded. The result is a visually seamless PV installation that stands the test of time. - Truly "One With The Roof". - PE stamped cert. letters available, UL 2703 Classified, ASTM 2140 fully waterproof. The one and only with integrated flexible flashing certified by the ICC! All the best quality. Only from Roof Tech