Bloom Energy to build a box a day
Silicon Valley start-up Bloom Energy, which makes fuel cell boxes that can power buildings, expects to be producing one of its boxes per day in the next few months, its chief executive and co-founder said. The main limitation on the growth of the business, since it is based on a new technology, is building a supply chain to feed it, Chief Executive K.R. Sridhar said yesterday. "As the supply chain is ramping up, then we can ramp up, and at no point will our internal capacity become the bottleneck," he told the Reuters Climate Change and Alternative Energy Summit in San Francisco. "If we don't plan it that way, then we get ahead of our headlights." The company, with about 500 employees, has 50 systems deployed and expects to have double that number working by the end of the year, said Sridhar, who wants to be producing far more boxes to meet what he calls "robust" demand. "I'm not patient by nature," he said. "Getting all the ducks lined up so that we can be making a lot more than one box a day, that's what I worry about." Bloom's boxes cost $700,000 to $800,000, and each provides 100 kilowatts of electricity--enough to power 100 average U.S. homes--with roughly the footprint of a parking space. Source: Reuters
Comments (1)
Thanks for posting Bill. I am trying to get some fleets into EV trucks . Delivery fleets. EVI just sold some trucks to UPS as Im sure you know. Those who don't adopt this technology will be at a competitive disadvantage. Especially sice you can lock in electricity rates from 20 years with a PPA..try doing that with diesel.
Post A Comment
You must be logged in before you can post a comment. Login now.
Featured Product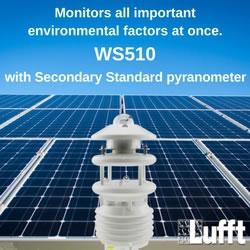 Professional weather sensors form the heart of large solar plants supporting their operation and performance. Lufft was the first manufacturer to combine several sensors in one housing, bringing the largest multiparameter weather sensor family with 19 members into being. Many of them are well-suited for solar site assessment and continuous monitoring. The most commonly used one is the WS600 delivering data on temperature, air pressure, wind, relative humidity and precipitation. Through its open protocol, it can easily be attached to radiation sensors e.g. from Kipp&Zonen. Other models have an integrated Silicon, Second Class or Secondary Standard radiation sensor.