Obama Administration Approves 2 Huge Renewable Energy Projects
Other than the tremendously needed toxic pollution standards announced yesterday, the Obama administration has made three more big announcements this week that should make anyone who values clean air, clean water, and a livable climate happy. A 300-MW solar PV project in Arizona and a 186-MW wind project in California were approved for construction on public lands. Additionally, the "first step" of a major offshore wind transmission line (or 'superhighway') in the Atlantic Ocean — the one Google has invested in — went forward. Together, the Sonoran Solar Energy Project and the Tule Wind Project will create enough power for nearly 150,000 homes and will create 700 jobs at peak.
Comments (1)
I think that you have a great idea there. I lived on a Powerboat for several years and am also an Alternative Energy Enthusiast. Athough I know that you are starting small, the logistics are intriguing. The 1.5 kW array is actually quite small, but essential since you have to assume that the area is without power when you arrive. Just brainstorming a little: It would be awesome to be able to arrive, deploy a massive floating, covered moorage made of PV panels that could go around the boat, and even be left behind if needed. You are totally correct that you do not want to have diesel engines or generators running when moored. PV and other forms of Alternative Energy are perfect in many coastal areas. And your line of thought with providing immediate, drinkable water is right on-tack too. I think that I will go to your website and see if I can volunteer in some way.
Post A Comment
You must be logged in before you can post a comment. Login now.
Featured Product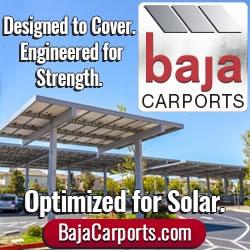 Baja Carports offers an extensive solar support system product line customized to customers' site specifications by in-house engineers, meeting their parking lot coverage, plus optimal PV production needs. Baja's Full Cantilever Tee is often paired with its Semi and Full Cantilever carports to meet live/loads up to 60psf and wind speeds to 160mph. All Baja products are pre-fabricated, bolted connections, pre-galvanized structural steel for fast on-site installation and project aesthetic requirements."