All-carbon solar cell harnesses infrared light
New type of photovoltaic device harnesses heat radiation that most solar cells ignore.
About 40 percent of the solar energy reaching Earth's surface lies in the near-infrared region of the spectrum — energy that conventional silicon-based solar cells are unable to harness. But a new kind of all-carbon solar cell developed by MIT researchers could tap into that unused energy, opening up the possibility of combination solar cells — incorporating both traditional silicon-based cells and the new all-carbon cells — that could make use of almost the entire range of sunlight's energy.
The new cell is made of two exotic forms of carbon: carbon nanotubes and C60, otherwise known as buckyballs. "This is the first all-carbon photovoltaic cell," Strano says — a feat made possible by new developments in the large-scale production of purified carbon nanotubes. "It has only been within the last few years or so that it has been possible to hand someone a vial of just one type of carbon nanotube," he says. In order for the new solar cells to work, the nanotubes have to be very pure, and of a uniform type: single-walled, and all of just one of nanotubes' two possible symmetrical configurations.
Comments (0)
This post does not have any comments. Be the first to leave a comment below.
---
Post A Comment
You must be logged in before you can post a comment. Login now.
Featured Product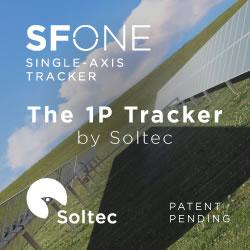 Under the slogan "engineered for greatness", the SF8 tracker aims to revolutionize the photovoltaic market with its new minimum 2x60 configuration and 4 to 6-strings. This tracker is elegantly designed while it reinforces its structure to perform in any terrain. In addition, the SF8 tracker increases the rigidity of its structure by 22% more than the previous generation of Soltec trackers, the SF7. The SF8 is specially designed for larger 72 and 78 cell modules, an increasing market trend.