Largest Wind Farm In Southern Hemisphere Opens Down Under
The 420 megawatt Macarthur wind farm was opened in the state of Victoria on Friday. It is the largest wind farm in the southern hemisphere and its 3 megawatt Vestas turbines are the largest in Australia. The Mcarthur Wind Farm is actually the first project to use Vestas' V112-3.0 MW wind turbines. The project's expected operating capacity is 35% and its cost was almost exactly one billion dollars.
One billion dollars may sound like a lot of money, probably because it is, but that doesn't mean it's not a good deal. The wind farm has an operating life of 25 years and if a 5% discount rate is used for the cost of money, it will generate electricity at about 6 cents a kilowatt-hour. While this is slightly higher than the average price of electricity generated from coal in Australia, it does have the very large advantage of being non-fatal on both the personal and planetary scales. It's also cheaper than electricity from new coal plants and is a major reason why Australia is extremely unlikely to ever build any new coal capacity.
Comments (0)
This post does not have any comments. Be the first to leave a comment below.
---
Post A Comment
You must be logged in before you can post a comment. Login now.
Featured Product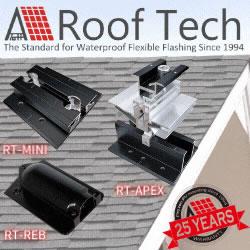 These ongoing webinars cover Roof Tech's background, product design (RT MINI and APEX), code and best practices. You will learn about a proven system that reduces installation time while keeping the integrity of the roofing system. This training will earn you one NABCEP Continuing Education Credit. The webinars are offered every Tuesday from 11 AM PDT to Noon during the months of April and May, 2020.