The Solar Cell That Turns 1 Photon into 2 Electrons
Solar cells are picky. If an incoming photon has too little energy, the cell won't absorb it. If a photon has too much, the excess is wasted as heat. No matter what, a silicon solar cell can never generate more than one electron from a single photon. Such harsh quantum realities severely limit the conversion efficiency of photovoltaic cells, and scientists have spent decades looking for work-arounds.
Now, researchers at the Massachusetts Institute of Technology's Center for Excitonics have published a compelling case that the key to greater solar efficiency might be an organic dye called pentacene. In today's issue of Science Daniel Congreve, Jiye Lee, Nicholas Thompson, Marc Baldo and six others show that a photovoltaic cell based on pentacene can generate two electrons from a single photon—more electricity from the same amount of sun. Scientists have suspected for some time that this might work; today's paper is proof of concept.
The key is a phenomenon called singlet-exciton fission, in which an arriving photon generates two "excitons" (excited states) that can be made to yield two electrons. Previous researchers had accomplished similar tricks using quantum dots (tiny pieces of matter that behave like atoms) and deep-ultraviolet light. "What we showed here," Baldo says, in addition to using visible light, "is that [this process] works very, very effectively in organic materials." Full Article:
Comments (0)
This post does not have any comments. Be the first to leave a comment below.
---
Post A Comment
You must be logged in before you can post a comment. Login now.
Featured Product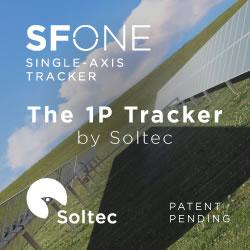 Soltec manufactures and supplies solar trackers designed and proven for extreme climate conditions, which is an ideal solution for any region's environment. Soltec's trackers are self-powered, requiring no additional PV module or grid-powered connection. Bifacial modules collect energy on both the front and rear sides, capturing reflected irradiance from the ground surface under and around the tracker and from other modules. Depending on site conditions, bifacial yield-gain can reach +30 percent.