Why Solar Power Is Taking Off At Airports Across The Country
"Airport interest in solar energy is growing rapidly as a way to reduce airport operating costs and to demonstrate commitment to sustainable airport development," says the website of Harris Miller Miller & Hanson Inc., a consulting firm that helped write the FAA's regulatory guidance for solar power at airports.
Right now, airport operating costs are high, so high that the majority of airports lose money every year. A substantial portion of those costs come from energy use. In fact, the Airport Cooperative Research Program says airports are one of the largest public users of energy in the country. In terms of expenses, energy is often the second largest operating expense, exceeded only by personnel, according to the ACRP.
One way to reduce energy costs is simply to reduce electricity use, which is why many airports have taken to installing solar projects. That's because when the initial cost of the installing the project is paid off, the airport essentially provides free electricity to itself, disregarding the cost of maintenance.
That scenario, however, is only possible if the airport decides that it would like to privately own the solar operation — something that does not happen widely in the United States due to the substantial cost involved. What happens far more often is that airport solar projects are owned by private companies, which unlike airports, are eligible for tax credits. The airport, in most cases, acts solely as the property owner.
Comments (0)
This post does not have any comments. Be the first to leave a comment below.
---
Post A Comment
You must be logged in before you can post a comment. Login now.
Featured Product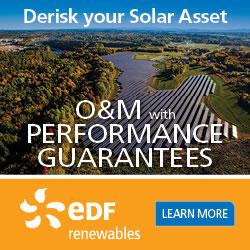 EDF Renewables offers the same innovative solutions that maximize the performance of our own 5.2 GW of installed projects. Because we're not an equipment manufacturer, our recommendations are transparent and data-driven. We cover the entire project lifecycle: from pre-commissioning support, through warranty and post warranty operation, to late stage and decommissioning.