Plug-and-play battery seeks to upstage Tesla
By Morgan Lee for the San Diego Union Tribune: It looks like a simple floor lamp, or a sleek picture frame on the wall. Inside lies a tantalizing future for household energy storage -- a 2 kilowatt-hour battery that plugs into a standard wall outlet and can keep an electrical circuit hot for several hours or more if a power outage strikes.
The unproven concept for a plug-in-play battery was introduced Thursday by San Diego-based Orison during a forum at the University of California San Diego. Len Hering, executive director of the Center for Sustainable Energy, praised the 2-year-old startup's efforts in a news release.
Orison CEO and co-founder Eric Clifton, drawing on seven years of experience in green technology startups, believes the battery tower and wall unit can play a prominent role in the emerging Internet of Things, providing the energy-storage equivalent of the Nest smart thermostat.
"The way we look at it, we are the Nest of the energy industry," he said.
Clifton believes that other early household battery entries -- most notably the Powerwall from electric car maker Tesla Motors -- miss the mark on bringing energy storage to the masses.
Tesla's hefty home battery has to be professionally mounted and hardwired into household circuity, potentially involving inspections and permits.
With Orison's batteries, you don't have to own a home, or even live in one, Clifton said. The batteries fit in with an apartment dweller in Manhattan. Cont'd...
​
Comments (0)
This post does not have any comments. Be the first to leave a comment below.
---
Post A Comment
You must be logged in before you can post a comment. Login now.
Featured Product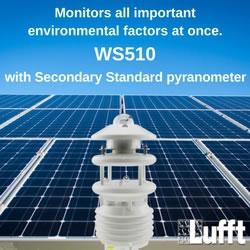 First and only Smart Weather Sensor with integrated Kipp & Zonen CMP10 Pyranometer (secondary standard). From the WS product family of professional intelligent measurement transducers with digital interface for environmental applications. Integrated design with ventilated radiation protection for measuring: Air temperature, relative humidity, air pressure, wind direction, wind speed and radiation. One external temperature or rain sensor is connectable.