Research Report - Better Biofuels Ahead - The Road to Low-Carbon Fuels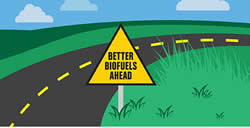 By Emily Cassidy, Research Analyst for EWG.org: Biofuels produced from switchgrass and post-harvest corn waste could significantly reduce the emissions that contribute to climate change, according to an analysis by EWG and University of California biofuels experts.
EWG's analysis found that the life cycle carbon intensity of cellulosic ethanol from switchgrass was 47 percent lower than that of gasoline. Ethanol made from corn stover – the leaves and stalks that remain in the field after the grain is harvested – has a life-cycle carbon intensity 96 percent lower than gasoline's.[1]
By contrast, studies have found that the life cycle carbon intensity of corn ethanol is greater than that of gasoline (Mullins et al. 2010, EPA, 2010a). Yet current federal policies strongly favor the production of conventional biofuels such as corn ethanol at the expense of lower-carbon alternatives. View full article...
Comments (0)
This post does not have any comments. Be the first to leave a comment below.
---
Post A Comment
You must be logged in before you can post a comment. Login now.
Featured Product
With Baja Carports 35 plus years in the industry installing our Solar Support Systems nationwide and whose founder Bob Hayworth was one of the first to use solar panels as the rooftops on commercial carports ~ is assurance that you will receive Baja expertise in all phases of installation. Our team's diligence makes the design-build process easy for customers. You don't need a set of architecture plans to begin talking to us about your project. Baja's in-house design engineers will work closely with you to meet your project specifications and city's criteria. You'll have our design team's years of experience applied to your plans. Our engineers will deliver a set of stamped plans, which maximize canopy coverage and details the most-effective layout for your business' parking lot.