Research Report - Better Biofuels Ahead - The Road to Low-Carbon Fuels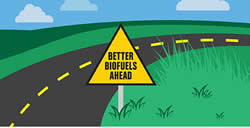 By Emily Cassidy, Research Analyst for EWG.org: Biofuels produced from switchgrass and post-harvest corn waste could significantly reduce the emissions that contribute to climate change, according to an analysis by EWG and University of California biofuels experts.
EWG's analysis found that the life cycle carbon intensity of cellulosic ethanol from switchgrass was 47 percent lower than that of gasoline. Ethanol made from corn stover – the leaves and stalks that remain in the field after the grain is harvested – has a life-cycle carbon intensity 96 percent lower than gasoline's.[1]
By contrast, studies have found that the life cycle carbon intensity of corn ethanol is greater than that of gasoline (Mullins et al. 2010, EPA, 2010a). Yet current federal policies strongly favor the production of conventional biofuels such as corn ethanol at the expense of lower-carbon alternatives. View full article...
Comments (0)
This post does not have any comments. Be the first to leave a comment below.
---
Post A Comment
You must be logged in before you can post a comment. Login now.
Featured Product

The Iron Edison Lithium Iron solar battery is fully compatible with popular battery-based inverters and is housed inside a rugged steel enclosure with integrated Battery Management System. Standard capacities range from 2 kWh to 42 kWh, with custom high-capacity and high-voltage models available for commercial applications like peak load shaving and UPS. The battery is designed and assembled at the company's headquarters just outside of Denver, Colorado. The Iron Edison Lithium Iron battery is an ideal replacement for lead-acid battery, with longer cycle life, smaller footprint, and maintenance-free operation. Residential applications include solar battery backup, grid-zero and off-grid energy storage. Commercial applications include high voltage battery backup, off-grid telecommunications power and peak load shaving. If you have any questions, please call us at 720-432-6433. We are happy to help!