These Creative Wind Turbines Will Have You Rethinking What You Know About Wind Power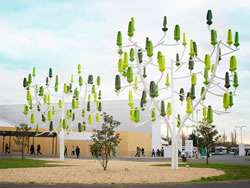 By Alison Gillespie for SMITHSONIAN.COM: Although a lot of people are excited about wind energy, few are excited about the pinwheel-shaped machines that often produce it. Branded as noisy, blamed for spoiling bucolic views and proven deadly to some bats and migrating birds, the giant, white-bladed horizontal axis wind turbines that now dot the landscape of the American West have earned a fair number of detractors—even among environmentalists who generally favor renewable power.
But what if you turned the idea sideways, and created a turbine that could spin like a carousel? And what if you made a turbine small enough to sit on top of a building or inside an urban park? Could the result produce enough power to really matter?
The idea isn't a new one—people have been playing with windmill designs and experimenting with alternatives to the horizontal axis turbine for almost a century now. But in the last two decades, a flurry of interest in expanding renewable energy in cities has attracted the attention of a large number of inventors and artists, many of whom see the vertical axis wind turbine as promising.
There is no single design for these upended wind catchers, but all share one key aspect: the blades turn around an axis that points skyward. And unlike their horizontal brethren, the components and associated generators of a vertical turbine are placed at its base, giving it a lower center of gravity. Most are also relatively small, and unlike horizontal units, they can be grouped very closely together to optimize efficiency. Cont'd...
Comments (0)
This post does not have any comments. Be the first to leave a comment below.
---
Post A Comment
You must be logged in before you can post a comment. Login now.
Featured Product
What if you could maximize the Ground Coverage Ratio (GCR) on your next project and not have to worry about the complicated variables that come with a tracker system? With a low tilt and clearance design, Dahlia® has the highest GCR of any fixed-tilt system in the marketplace. The system is available in three tilt options (7.5, 10 and 12.5 degrees) and designed to accommodate any sized PV module. The lightweight system is engineered with fewer components, several of which are shipped to job sites pre-assembled. This design feature reduces freight costs and rapidly trims the amount of on-site installation time required to complete construction. Maximizing PV coverage on a site can lead to an increase of production, which creates greater financial return for project owners. Over 100 MW of Dahlia® projects have been deployed across the United States, in regions of variable snow and wind loads. How much can Dahlia® cover and save you on your next project?