Energy-Storage Startup LightSail Plots Long-Term Game Plan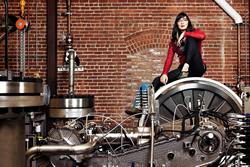 Barbara Haislip for the Wall Street Journal: Few industries are more daunting for entrepreneurs these days than clean energy.
Developing the technology and hardware is expensive, and setbacks are common. Even if all goes well, getting a product to market can take a decade or more. Most venture-fund investors, meanwhile, want a quicker payout.
Danielle Fong, co-founder and chief scientist of LightSail Energy, is trying to keep investors happy while working toward some ambitious clean-energy goals. Her company's aim, she says, "is to produce the world's cleanest and most economical energy-storage system" through a technology that uses compressed air to store energy from the grid. LightSail's technology will do this more efficiently than other solutions, Ms. Fong says, by capturing some of the excess heat that comes when compressing air. "Until now, this was wasted, reducing efficiency," she says.
Founded in 2009, Berkeley, Calif.-based LightSail has raised $70 million from several investors, including Bill Gates, Peter Thiel,Khosla Ventures and the French energy giant Total. Cont'd...
Comments (0)
This post does not have any comments. Be the first to leave a comment below.
---
Post A Comment
You must be logged in before you can post a comment. Login now.
Featured Product
With Baja Carports 35 plus years in the industry installing our Solar Support Systems nationwide and whose founder Bob Hayworth was one of the first to use solar panels as the rooftops on commercial carports ~ is assurance that you will receive Baja expertise in all phases of installation. Our team's diligence makes the design-build process easy for customers. You don't need a set of architecture plans to begin talking to us about your project. Baja's in-house design engineers will work closely with you to meet your project specifications and city's criteria. You'll have our design team's years of experience applied to your plans. Our engineers will deliver a set of stamped plans, which maximize canopy coverage and details the most-effective layout for your business' parking lot.