The Cheap Energy Revolution Is Here, and Coal Won't Cut It
Tom Randall for Bloomberg: Wind and solar are about to become unstoppable, natural gas and oil production are approaching their peak, and electric cars and batteries for the grid are waiting to take over. This is the world Donald Trump inherited as U.S. president. And yet his energy plan is to cut regulations to resuscitate the one sector that's never coming back: coal.
Clean energy installations broke new records worldwide in 2016, and wind and solar are seeing twice as much funding as fossil fuels, according to new data released Tuesday by Bloomberg New Energy Finance (BNEF). That's largely because prices continue to fall. Solar power, for the first time, is becoming the cheapest form of new electricity in the world.
But with Trump's deregulations plans, what "we're going to see is the age of plenty—on steroids," BNEF founder Michael Liebreich said during a presentation in New York. "That's good news economically, except there's one fly in the ointment, and that's climate."
Here's what's shaping the future of power markets, in 15 charts from BNEF: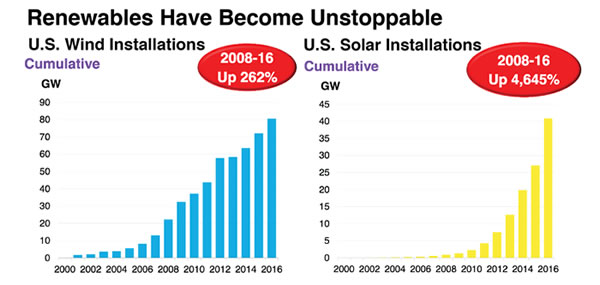 Comments (0)
This post does not have any comments. Be the first to leave a comment below.
---
Post A Comment
You must be logged in before you can post a comment. Login now.
Featured Product
Sonnen's mission is to provide clean and affordable energy for all. As the first mainstream grid tied residential energy storage company in the world and with 24,000 sonnenBatterie systems installed worldwide, sonnen is a proven global leader in intelligent energy management solutions. The all-in-one sonnenBatterie smart energy storage solution easily integrates with new and existing solar installations to help homes manage their energy throughout the day-saving money, providing backup power, and maximizing the effective use of solar power day and night. Sonnen has won several awards for its energy innovations, including the 2017 Zayed Future Energy Prize, MIT's Technology Review's 50 Smartest Companies in 2016, Global Cleantech 100 for 2015-2017, Greentech Media's 2016 Grid Edge Award for Innovation, and Cleantech's 2015 Company of the Year Award in both Israel and Europe.