These game-changing solar panels are cheap and can be printed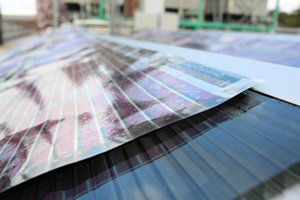 Johnny Lieu for Mashable: Despite places like Australia being bathed in sun, the cost of traditional silicon-based solar cells hasn't inspired people to buy, buy, buy.
But what if you could make the technology cheaper and produce it at a higher scale? Some believe that printed solar is the way forward.
Leading the charge is Paul Dastoor from the University of Newcastle in Australia and his team of researchers, who are in the final stage of testing his printed solar solution.
The University of Newcastle is one of only three sites in the world testing printed solar, which uses electronic inks to conduct electricity. These can be printed at "massive scale" by machines, meaning they could be used for speedy rollout across large areas. Handy, especially in times of disaster.
"It's completely different from a traditional solar cell. They tend to be large, heavy, encased in glass — tens of millimetres thick," Dastoor explained. "We're printing them on plastic film that's less than 0.1 of a millimetre thick." Full Article:
Comments (0)
This post does not have any comments. Be the first to leave a comment below.
---
Post A Comment
You must be logged in before you can post a comment. Login now.
Featured Product
With Baja Carports 35 plus years in the industry installing our Solar Support Systems nationwide and whose founder Bob Hayworth was one of the first to use solar panels as the rooftops on commercial carports ~ is assurance that you will receive Baja expertise in all phases of installation. Our team's diligence makes the design-build process easy for customers. You don't need a set of architecture plans to begin talking to us about your project. Baja's in-house design engineers will work closely with you to meet your project specifications and city's criteria. You'll have our design team's years of experience applied to your plans. Our engineers will deliver a set of stamped plans, which maximize canopy coverage and details the most-effective layout for your business' parking lot.