Solar panels: Nanotechnology gives green energy a green color
American Institute of Physics via Science Daily: Solar panels have tremendous potential to provide affordable renewable energy, but many people see traditional black and blue panels as an eyesore. Architects, homeowners and city planners may be more open to the technology if they could install green panels that melt into the landscape, red panels on rooftops and white ones camouflaged as walls.
A new study published this week in Applied Physics Letters, from AIP Publishing, brings us one step closer to a future of colorful, efficient solar panels. Researchers have developed a method for imprinting existing solar panels with silicon nanopatterns that scatter green light back toward an observer. The panels have a green appearance from most angles yet only show about a 10 percent power reduction due to the loss of absorbed green light.
"Some people say 'why would you make solar cells less efficient?' But we can make solar cells beautiful without losing too much efficiency," said Verena Neder, a researcher at AMOLF and lead author of the paper. "The new method to change the color of the panels is not only easy to apply but also attractive as an architectural design element and has the potential to widen their use."
Most research on solar cells has focused on increasing efficiency and reducing cost. Currently, the solar panels sold to consumers can ideally turn up to 22 percent of the sun's light into usable energy. Colored solar panels are already on the market, but the dyes and reflective coatings that give them their color greatly reduce efficiency. Full Article:
Comments (0)
This post does not have any comments. Be the first to leave a comment below.
---
Post A Comment
You must be logged in before you can post a comment. Login now.
Featured Product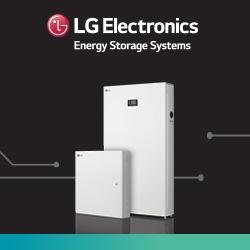 Meet LG Electronics Home 8 Energy Storage System (ESS), a whole home battery backup solution built with installers and their homeowner customers in mind. The ready-to-deploy Home 8 features just one SKU and a modular assembly for fast installation. It can be AC-coupled or solar-powered and is engineered with a grid-connected inverter, four battery modules, and a Smart Energy Box featuring a 7'' LCD touchscreen with commissioning wizard for easy setup. Each Home 8 unit can store up to 14.4 kWh of usable power, helping homeowners gain pure independence from the grid. Plus, installers can connect up to four units, bringing customers up to 57.6 kWh of total backup power-all easily managed and monitored through intuitive mobile apps.