Solar panels: Nanotechnology gives green energy a green color
American Institute of Physics via Science Daily: Solar panels have tremendous potential to provide affordable renewable energy, but many people see traditional black and blue panels as an eyesore. Architects, homeowners and city planners may be more open to the technology if they could install green panels that melt into the landscape, red panels on rooftops and white ones camouflaged as walls.
A new study published this week in Applied Physics Letters, from AIP Publishing, brings us one step closer to a future of colorful, efficient solar panels. Researchers have developed a method for imprinting existing solar panels with silicon nanopatterns that scatter green light back toward an observer. The panels have a green appearance from most angles yet only show about a 10 percent power reduction due to the loss of absorbed green light.
"Some people say 'why would you make solar cells less efficient?' But we can make solar cells beautiful without losing too much efficiency," said Verena Neder, a researcher at AMOLF and lead author of the paper. "The new method to change the color of the panels is not only easy to apply but also attractive as an architectural design element and has the potential to widen their use."
Most research on solar cells has focused on increasing efficiency and reducing cost. Currently, the solar panels sold to consumers can ideally turn up to 22 percent of the sun's light into usable energy. Colored solar panels are already on the market, but the dyes and reflective coatings that give them their color greatly reduce efficiency. Full Article:
Comments (0)
This post does not have any comments. Be the first to leave a comment below.
---
Post A Comment
You must be logged in before you can post a comment. Login now.
Featured Product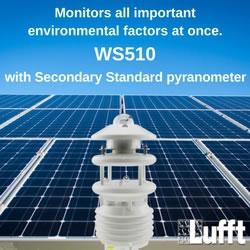 Professional weather sensors form the heart of large solar plants supporting their operation and performance. Lufft was the first manufacturer to combine several sensors in one housing, bringing the largest multiparameter weather sensor family with 19 members into being. Many of them are well-suited for solar site assessment and continuous monitoring. The most commonly used one is the WS600 delivering data on temperature, air pressure, wind, relative humidity and precipitation. Through its open protocol, it can easily be attached to radiation sensors e.g. from Kipp&Zonen. Other models have an integrated Silicon, Second Class or Secondary Standard radiation sensor.