World's largest building integrated 'organic' solar power installation completed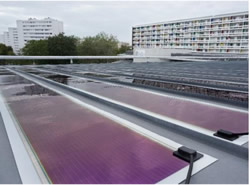 John Fitzgerald Weaver for Electrek: Heliatek installed the 'world's largest building integrated organic photovoltaic' (BIOPV) system on top of a school in La Rochelle, France. 22kW of their 'HeliaSol' product was installed in one day by six people.
The ultra-environmentalist solar installation is seemingly 7-8% efficient, weighs 1/10th the weight of a standard solar panel and is held to the roof via an adhesive sticker on the backside of the panel.
Heliatek touts HeliaSol's benefits due to it's environmentally friendly ease of manufacturing. When producing the product: no clean room is required, very little energy is consumed, no extreme temperatures are needed, no toxic materials are used, and minimal use of raw materials are actually consumed. The resulting product is cheap, with almost infinitely available material needs and needs no expensive recycling processes through end of life.
"The small molecules of Heliatek are simply thermally evaporated onto the substrate in contrast to other OPV technologies utilizing large molecules (polymers), which require complex solvents and various printing processes. Very precise laser patterning allows optimal use of the available surface." Full Article:
Comments (0)
This post does not have any comments. Be the first to leave a comment below.
---
Post A Comment
You must be logged in before you can post a comment. Login now.
Featured Product
What if you could maximize the Ground Coverage Ratio (GCR) on your next project and not have to worry about the complicated variables that come with a tracker system? With a low tilt and clearance design, Dahlia® has the highest GCR of any fixed-tilt system in the marketplace. The system is available in three tilt options (7.5, 10 and 12.5 degrees) and designed to accommodate any sized PV module. The lightweight system is engineered with fewer components, several of which are shipped to job sites pre-assembled. This design feature reduces freight costs and rapidly trims the amount of on-site installation time required to complete construction. Maximizing PV coverage on a site can lead to an increase of production, which creates greater financial return for project owners. Over 100 MW of Dahlia® projects have been deployed across the United States, in regions of variable snow and wind loads. How much can Dahlia® cover and save you on your next project?