Engineers pioneer greener and cheaper technique for biofuel production
A team of engineers from the National University of Singapore (NUS) recently discovered that a naturally occurring bacterium, Thermoanaerobacterium thermosaccharolyticum TG57, isolated from waste generated after harvesting mushrooms, is capable of directly converting cellulose, a plant-based material, to biobutanol.
A research team led by Associate Professor He Jianzhong from the Department of Civil and Environmental Engineering at NUS Faculty of Engineering first discovered the novel TG57 strain in 2015. They went on to culture the strain to examine its properties.
Assoc Prof He explained, "The production of biofuels using non-food feedstocks can improve sustainability and reduce costs greatly. In our study, we demonstrated a novel method of directly converting cellulose to biobutanol using the novel TG57 strain. This is a major breakthrough in metabolic engineering and exhibits a foundational milestone in sustainable and cost-effective production of renewable biofuels and chemicals."
Traditional biofuels are produced from food crops. This approach is highly costly and competes with food production in the use of land, water, energy and other environmental resources.
Biofuels produced from unprocessed cellulosic materials such as plant biomass, as well as agriculture, horticultural and organic waste, are expected to meet growing energy demands without increasing greenhouse gas emissions resulting from the burning of fossil fuels. These cellulosic materials are in great abundance, environmentally friendly, and economically sustainable.
Among various types of biofuels, biobutanol offers a great promise as petrol substitute because of its high energy density and superior properties. It can directly replace gasoline in car engines without any modification. However, commercial production of biobutanol has been hampered by the lack of potent microbes capable of converting cellulosic biomass into biofuels. The current technique is costly and also requires complicated chemical pre-treatment. Full Article:
Comments (0)
This post does not have any comments. Be the first to leave a comment below.
---
Post A Comment
You must be logged in before you can post a comment. Login now.
Featured Product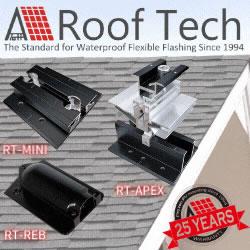 Now Roof Tech brings you the most innovative, watertight mounting systems ever developed for solar photovoltaic systems. Designed and manufactured exclusively for us by Japan's longtime leader in roofing technologies, Roof Tech products are 100% code-compliant and offer fast, simple installation and huge savings on shipping costs due to their compact, rail-less design. Learn more about our full line of versatile PV mounting solutions now available for residential installations. The next generation in rooftop solar mounting solutions."