Air Liquide to build first world scale liquid hydrogen production plant
Air Liquide will build the first world scale liquid hydrogen production unit dedicated to the hydrogen energy markets, located in the Western U.S., and has signed a long-term agreement with FirstElement Fuel Inc (FEF), a leader in retail hydrogen infrastructure in the U.S., to supply hydrogen to FEF's retail liquid hydrogen fueling stations in California. These new commitments will serve the growing needs of the hydrogen mobility market in California and help enable and complement the deployment of hydrogen fuel cell electric vehicles and support the hydrogen merchant market across the state.

Air Liquide expects to invest over 150 million US dollars to build a liquid hydrogen plant in the western United States, with construction to begin in early 2019. The plant will have a capacity of nearly 30 tons of hydrogen per day — an amount that can fuel 35,000 Fuel Cell Electric Vehicles (FCEVs). Through this investment, Air Liquide will enable the large-scale deployment of hydrogen mobility on the west coast, providing a reliable supply solution to fuel the 40,000 FCEVs expected to be deployed in the state of California by 2022. The plant will also support other fuel cell vehicle and transportation markets in the region, such as material handling and forklifts and heavy duty trucks.
The new plant is the first large scale investment into the supply chain infrastructure needed to support hydrogen energy solutions for the energy transition, starting with transport and mobility. The pace of FCEV deployment has now reached a level requiring a growing scale of investment and is paving the way for the growth of zero emission mobility in other geographies.
In addition to the long-term supply agreement, Air Liquide and FEF have entered into an agreement outlining Air Liquide's intent to make an equity investment in FEF, following previous assistance to the company by Toyota and Honda. With these agreements, Air Liquide also builds upon its existing collaborations with Toyota and Honda to further enable a robust hydrogen fueling infrastructure and, along with others, bolster the deployment of fuel cell electric vehicles and the retail fueling infrastructure in California.
Michael Graff, Executive Vice President & Executive Committee Member of L'Air Liquide S.A. and Chairman & CEO of American Air Liquide Holdings, Inc., said: "This new investment in hydrogen production and our collaborative relationship with FirstElement Fuel, further demonstrate our long-term commitment to the development of hydrogen energy for mobility, and accelerate the deployment of new hydrogen fuel cell electric vehicles — cars, trucks, buses — planned by automotive manufacturers like Toyota, Honda and other leading OEMs. We are convinced that hydrogen is an essential sustainable energy vector of the future and a cornerstone of the energy transition."
"This signals a transitional moment for the hydrogen automobile market," said Joel Ewanick, Founder & CEO of California-based retail hydrogen station company, FirstElement Fuel Inc. "Air Liquide is bringing significant private investment to build a key piece for growing California's hydrogen network. It's yet another indication of the momentum for hydrogen as a replacement for gasoline."
Jim Lentz, CEO of Toyota North America, said: "The commitment to construct a hydrogen plant of this scale by Air Liquide and supply FirstElement Fuel with hydrogen for its fueling stations in California is a clear demonstration of the shared vision of global leaders like Air Liquide, Toyota and the OEM community to innovate, build and deploy the vehicles and infrastructure to enable clean mobility of the future."
Steven Center, Vice President, Connected & Environmental Business Development Office, American Honda Motor Co., Inc. said: "Honda welcomes Air Liquide's significant investment in hydrogen refueling infrastructure for fuel cell vehicles. Their commitment will broaden the appeal of fuel cell electric vehicles and speed the adoption of this promising zero-emission vehicle technology."
Comments (0)
This post does not have any comments. Be the first to leave a comment below.
---
Post A Comment
You must be logged in before you can post a comment. Login now.
Featured Product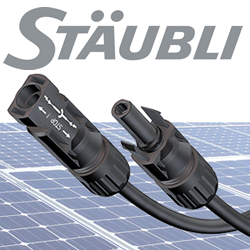 ​Stäubli Electrical Connectors are used on more than 300 GW, over 50% of the PV capacity worldwide. The MC4 family of UL and TUV listed products include connectors, in-line fuses, branch connectors, cable assembly and more.