The smarter E AWARD, Intersolar AWARD and ees AWARD winners were chosen
THE SMARTER E AWARD 2019: RECOGNIZING GROUNDBREAKING PROJECTS FOR THE NEW ENERGY WORLD
Innovative power plants for sustainable energy supply and efficient energy storage systems take home this year's The smarter E AWARD. Axiotherm GmbH, SolarGaps and Stäubli Electrical Connectors GmbH are the winning contenders in the Outstanding Projects category. In the Smart Renewable Energy category, the accolade goes to BayWa r.e. renewable energy GmbH, mondas GmbH and Siemens AG. The awards were presented this year for the second time at a ceremony held on May 15 as part of The smarter E Europe, the continent's largest platform for the energy industry.
Since 2018, The smarter E Europe – the innovation hub for new energy solutions – has bestowed an award bearing its name to the creators of outstanding developments for the new energy world. The winners were chosen from ten finalists in each of the two categories Outstanding Projects and Smart Renewable Energy. Outstanding Project candidates come from the areas of solar, storage, energy management and clean transportation. There is a special focus on the combination of storage technologies and photovoltaics to ensure the availability and stability of renewable energies. A central factor in the Smart Renewable Energy category is sector coupling – the digital and efficient linking of electrical energy, heat and mobility – with an emphasis on intelligent energy management systems and grid infrastructure for renewable energies, particularly in the heat and transportation sectors. Three winners in each category were chosen by an international panel of expert judges.
Winners in the Outstanding Projects category
BayWa r.e. renewable energy GmbH (Germany): Don Rodrigo – Europe's first subsidy-free photovoltaic power plant on a supply scale
Part of BayWa AG and headquartered in Munich, BayWa r.e. is a global renewable energy developer, service supplier, wholesaler, and energy solutions provider. Located not far from Seville, Spain, Don Rodrigo it is not just one of the largest photovoltaic power plants in Europe – it is also the first large-scale PV power plant in Europe built without state subsidies. Nevertheless, the project had to follow the same four-year application process as conventional power plants.
The panel of judges sees this as a flagship project for Europe, showing that grid parity is perfectly possible on this large scale. With a solid business case bolstered by instruments for long-term financing, the project demonstrates great innovation and reflects a major shift in public perception of PV's sustainability and profitability.
mondas GmbH (Germany): Smart heat grid for 1,350 Freiburg inhabitants
Founded in 2018, mondas is run by a team of eight IT experts, experienced building services engineers, and system planners. A new residential district in Freiburg, Germany, is now home to an intelligent heat grid with 38 decentralized solar thermal systems connected to 525 residential units. This feeds thermal energy into a local heating network, which is also supplied by a biomethane combined heat and power plant. mondas used artificial intelligence control algorithms in its analytic software to gather measurement data, yields, and demand values for all 38 solar thermal systems.
The panel of judges was excited by the integration of digitalization in solar thermal CHP technology as well as the modular design of the solar heat grid, which was constructed with the support of a local supplier.
Siemens AG (Germany): Isabela hybrid power plant – Galápagos island home to sustainable energy system
Siemens is one of the world's largest suppliers of power generation and transmission systems. The company has created a smart hybrid energy system on Isabela Island, the largest of Ecuador's Galápagos Islands. The system runs on solar PV energy and sustainably grown jatropha biofuel, and it supplies the island with 100 percent renewable power. A UNESCO World Heritage Site, the Galápagos archipelago requires a highly reliable power supply despite being a unique, remote area under strict protection.
The panel of judges rewarded this demonstration of a complex renewable electricity solution, which replaces diesel and eliminates the associated environmental risks. Teaching local inhabitants about the maintenance and operation of the plant is part of the innovative approach to decentrally controlled applications.
Winners in the Smart Renewable Energy category
Axiotherm GmbH (Germany): kraftBoxx – large-scale thermal energy storage for sector coupling
Axiotherm has been working with phase change materials (PCMs) in all fields of engineering since 2015. PCMs can absorb or release large amounts of latent heat when they change their physical state. kraftBoxx, a thermal energy storage unit that uses latent storage technology for heating and hot water, has a higher energy storage capacity than conventional heat and cold storage systems. This efficient power-to-heat solution increases heat capacity without taking up additional space.
The panel was impressed with the unit's high energy-storage capacity, which makes it ideal for sector coupling in single-family homes. Comprising a latent heat accumulator, an electrothermal station, a fresh water station and an intelligent controller, the modular and scalable system enables the use of surplus solar power for heating purposes and increases the proportion of self-consumption.
SolarGaps (Ukraine): Smart, energy-generating solar blinds
The Ukrainian start-up SolarGaps has been working in the field of energy efficiency and climate-friendly technologies for the last three years. It has invented "smart shading" exterior window blinds that enable the production of green energy on the outside of windows. Installation on previously unused window surfaces is an important next step for building-integrated PV and it offers an alternative to those who are reluctant to install conventional PV panels. The PV blinds can either be controlled by a smartphone app or adjust themselves automatically for optimum sun exposure.
The judges honored the invention for its compatibility with smart building systems and the blinds' ability to maximize energy generation by adjusting to the position of the sun. Supplied with microinverters, which convert DC into AC, the blinds' junction box can also be used to directly supply power to electrical appliances.
Stäubli Electrical Connectors GmbH (Germany): Power-Blox – the mobile power socket
Originally founded in 1892 as a small workshop in Zurich, Stäubli has transformed into an international mechatronics solution provider for connectors, robotics, and textiles. The Stäubli Power-Blox is a modular storage system for solar energy that offers AC power up to the megawatt range. It is comprised of intelligent energy cubes with integrated battery storage, is designed for outdoor off-grid applications, and can be charged via a solar module. Based on patented, self-organizing swarm technology, this approach offers benefits in terms of simplicity, scalability, and security.
The judges were impressed by the user-friendly "portable socket" aspect for off-grid energy demands, as well as the ease and convenience of supplying electricity to households or small businesses in areas with limited grid access.
---
INTERSOLAR AWARD 2019: HONORING INNOVATIONS IN SOLAR TECHNOLOGY
The solar industry is currently enjoying highly dynamic growth, which is spurring innovative power at the same time. For their innovative efforts, Huawei Technologies Co., Ltd., Raycatch Ltd. and Zhejiang Jinko Solar Co., Ltd. have been named the winners of this year's Intersolar AWARD. The award honors their pioneering solutions for a new energy world – solutions which are currently being showcased at Intersolar Europe. The world's leading exhibition for the solar industry presents new trends and technologies in the sector at The smarter E Europe, the continent's largest platform for the energy industry. This year marks the twelfth time that innovative developments have been recognized with the sought-after prize.
The Intersolar AWARD Ceremony rounds off the first day of the exhibition in style, taking place in front of an international audience and industry experts from all over the world. The winners will play a crucial role in shaping the future of the energy industry. The panel of five expert judges selected the three winners from a pool of ten finalists whose products are all responsible for making renewable energies useful, driving the energy transition forward.
THE INTERSOLAR AWARD 2019 WINNERS
Huawei Technologies Co., Ltd. (China): Smart PV string inverter SUN2000 15-20KTL-M0 for simple installation
Huawei Technologies is a global provider of network and energy solutions based in China. Its SUN2000 smart PV string inverter enables flexible installation of large residential and commercial systems. The lightweight and compact product includes a comprehensive software package with integrated error diagnostics and an energy management system that supports trouble-free operation with or without a battery storage system.
The judges were impressed by the combination of so many useful high-end features integrated into one system. The inverter can even be combined with performance optimizers to reduce the negative impacts of shading or differing module layouts. Another highlight is the innovative AC terminal, making for easier output connection.
Raycatch Ltd. (Israel): DeepSolar™ – automated AI diagnostics system for solar PV systems
Raycatch, a start-up founded in 2015, uses artificial intelligence technology to expertly analyze and perform accurate diagnostics on the high influx of complex data from PV systems. DeepSolar is a fully automated, AI-based diagnostic software program for cost-optimized maintenance and monitoring of photovoltaic power plants.
The judges were impressed by this next-generation tool which uses data from existing monitoring systems to optimize system performance and replaces interval-based maintenance with a cost-effective, responsive approach. And no additional hardware is required – clients provide their SCADA credentials and the system begins filtering the PV system data, detecting anomalies, and mapping failures without the need for human intervention.
Zhejiang Jinko Solar Co., Ltd. (China): Cheetah Bifacial HC Swan modules equipped with transparent back sheet
Jinko Solar is one of the world's largest photovoltaic solar module manufacturers. It has integrated the DuPont-manufactured Swan transparent back sheet in its Cheetah Bifacial HC module for the first time, making the product lighter than the glass-glass modules traditionally used for bifacial technology. Swan combines the benefits and extra yield of bifacial technology with the simplicity and easy installation of standard glass back sheet modules.
The judges were impressed by the trendsetting nature of the module concept combined with its 30-year power warranty, making the module ideal for PV power plants and optimizing it to ensure lower electricity costs.
---
EES AWARD 2019: INNOVATIVE PRODUCTS AND SOLUTIONS WIN PRESTIGIOUS INDUSTRY PRIZE
From virtual power plants to PV facilities to wind farms, renewable energy systems around the world are increasingly incorporating energy storage technology. The 2019 ees AWARD for pioneering products and solutions in this field goes to Blue Solutions SA, Enerox GmbH and Maschinenfabrik Rheinhausen GmbH. The awards were presented at a ceremony rounding off the first day of ees Europe as part of The smarter E Europe, the continent's largest platform for the energy industry. This was the sixth time that the much sought-after industry prize was presented to companies who have brought outstanding energy storage technology to the market.
Efficient storage technology is crucial for equipping our systems for the renewable energy mix of the future. At the renowned international ees exhibitions, the global energy storage industry presents groundbreaking products and solutions for stationary and mobile electrical energy storage. Particularly innovative solutions have been presented with the ees AWARD at the annual Munich event since 2014. Selected by an independent panel of six judges, the winners reflect the industry trends with their developments and set the course for the years ahead. They also enjoy a great deal of additional exposure thanks to the ees AWARD's prestige.
THE WINNERS OF THE EES AWARD 2019
Blue Solutions SA (France): LMP® (Lithium Metal Polymer) 250/400 rack – modular, heat-resistant storage system
Blue Solutions, a member of the French Bolloré Group, develops and markets solutions for electricity production, storage, and management. The company reached a milestone in its history when it developed the first stationary energy storage system with a solid-state Lithium Metal Polymer battery.
The panel of judges was impressed by the high level of safety and performance offered by this solution. The modular racks house the battery as well as a controller and are designed for simplified installation and maintenance. LMP batteries do not contain liquid electrolytes and can be operated at up to 105° Celsius without the need for cooling. This makes them particularly well suited for use in regions with high ambient temperatures. LMP technology does not use solvents, cobalt or other rare minerals, and the batteries' metallic lithium allows them to be recycled.
Enerox GmbH (Austria): CellCube FB 500-2000 – high-output storage device for photovoltaic systems
Exceptional Austrian engineering – Enerox is part of the CellCube Energy Storage Systems family and incorporates outstanding technology into the research, design, manufacture and sale of the integrated CellCube ESS. The CellCube storage system is one of the first in the industry to offer vanadium redox flow (VRF) batteries with a 1,000 volt DC range. The system is based on VRF technology which stores energy in vanadium electrolyte tanks. The scalable, high-performance 250 kilowatt units can be used in large-scale solar parks and wind farms, self-sufficient building solutions, and stand-alone grids.
The judges also commended the business model of "electrolyte as a service", representing an innovation in the field of flow batteries. It helps overcome the major investment cost barrier by driving capital costs below 300 euros per kilowatt hour.
Maschinenfabrik Reinhausen GmbH (Germany): GRIDCON® PCS 4W – variable storage inverter for maximum energy quality
The GRIDCON® PCS 4W power conversion system is a modular, bidirectional storage inverter for on-grid and off-grid applications. Designed as a four-wire system, it can be operated as a TN grid without the need to install additional transformers. The inverter was developed by Maschinenfabrik Reinhausen, which was founded in 1868 and is based in Regensburg, Germany. It is a global supplier of power filters and battery inverters in distribution grids.
Dubbing it the "Swiss army knife of inverters", the judges noted its holistic approach to maximizing power quality. The central DC bus enables the connection of different loads and feeders such as various kinds of batteries and PV units. This means the device can be used in the construction of stable stand-alone systems for micro grid applications as well as convenient solutions for supplying emergency and back-up power.
Further information on the awards can be found here:
• The smarter E AWARD: www.TheSmarterE-award.com
• Intersolar AWARD: www.intersolar-award.com
• ees AWARD: www.ees-award.com

The smarter E
The smarter E is the world's leading exhibition and conference series for new energy solutions. Digitalization and decentralization are changing the face of the energy world for good, and the steady rise in electricity from volatile and renewable sources requires new concepts and solutions for generating, storing, distributing and using energy efficiently. The smarter E unites exhibitions and conferences on four continents that take an in-depth look at these topics.
Intersolar is the world's leading exhibition series for the solar industry and its partners. It focuses on photovoltaics, solar thermal technologies, solar power plants, grid infrastructure, and solutions for the integration of renewable energies. Since being founded 28 years ago, Intersolar has become the most important industry platform in the global solar industry.
ees is the leading exhibition for batteries and energy storage systems and the industry platform for suppliers, manufacturers, distributors and professional users of stationary energy storage solutions and battery systems along the entire supply chain.
Power2Drive reflects the opportunities and necessity of the energy transition in the transportation sector. The focus is on traction batteries for electric vehicles as well as infrastructure solutions and technologies for clean mobility.
At EM-Power, professional energy customers – with their demand for efficient energy technologies, intelligent control systems and energy savings – and the key concepts underpinning the energy transition in industry and the building sector take center stage.
For more information on The smarter E, please visit:
• The smarter E Europe: www.TheSmarterE.de
• The smarter E South America: www.TheSmarterE.com.br
• The smarter E India: www.TheSmarterE.in
Comments (0)
This post does not have any comments. Be the first to leave a comment below.
---
Post A Comment
You must be logged in before you can post a comment. Login now.
Featured Product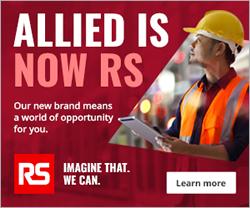 Moxa is a leader in edge connectivity, industrial computing, and network infrastructure solutions for enabling connectivity for the Industrial Internet of Things. With over 30 years of industry experience and 65 million devices connected worldwide, Moxa has a distribution and service network to serve customers in more than 80 countries. Now at Allied-find over 1,000 products from Ethernet switches, protocol converters, routers, and more. Allied Electronics & Automation, part of RS Group & Automation, part of RS Group is an authorized distributor of Moxa.