World first: Siemens Gamesa begins operation of its innovative electrothermal energy storage system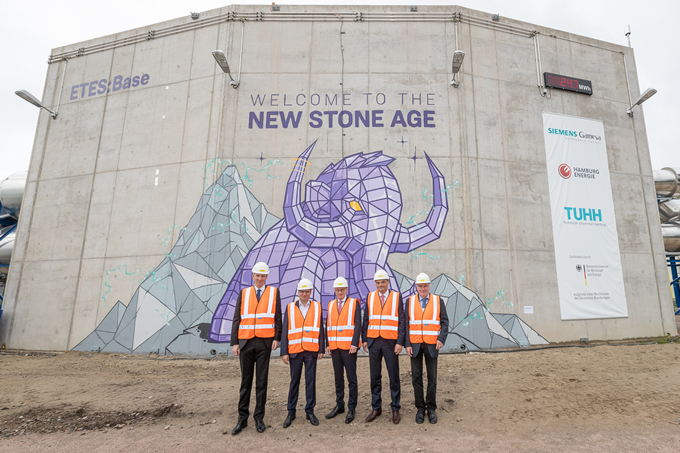 Michael Prinz, Managing Director Hamburg Energie GmbH, Andreas Feicht, State Secretary, Ministry of Economic Affairs and Energy, Peter Tschentscher, First Major of Free and Hanseatic City of Hamburg, Markus Tacke, CEO Siemens Gamesa Renewable Energy and Prof. Dr.-Ing. Gerhard Schmitz, Technical University Hamburg (TUHH) in front of the ETES
In a world first, Siemens Gamesa Renewable Energy (SGRE) has today begun operation of its electric thermal energy storage system (ETES). During the opening ceremony, Energy State Secretary Andreas Feicht, Hamburg's First Mayor Peter Tschentscher, Siemens Gamesa CEO Markus Tacke and project partners Hamburg Energie GmbH and Hamburg University of Technology (TUHH) welcomed the achievement of this milestone. The innovative storage technology makes it possible to store large quantities of energy cost-effectively and thus decouple electricity generation and use.

The heat storage facility, which was ceremonially opened today in Hamburg-Altenwerder, contains around 1,000 tonnes of volcanic rock as an energy storage medium. It is fed with electrical energy converted into hot air by means of a resistance heater and a blower that heats the rock to 750°C. When demand peaks, ETES uses a steam turbine for the re-electrification of the stored energy. The ETES pilot plant can thus store up to 130 MWh of thermal energy for a week. In addition, the storage capacity of the system remains constant throughout the charging cycles.

The aim of the pilot plant is to deliver system evidence of the storage on the grid and to test the heat storage extensively. In a next step, Siemens Gamesa plans to use its storage technology in commercial projects and scale up the storage capacity and power. The goal is to store energy in the range of several gigawatt hours (GWh) in the near future. One gigawatt hour is the equivalent to the daily electricity consumption of around 50,000 households.

"Decoupling generation and consumption of fluctuating renewable energy via storage is an essential contribution to implementing the energy system transformation. We therefore need cost-effective, efficient and scalable energy storage systems," demands Andreas Feicht, State Secretary at the Federal Ministry of Economics and Energy.

"With the commissioning of our ETES pilot plant, we have reached an important milestone on the way to introducing high-performance energy storage systems. Our technology makes it possible to store electricity for many thousands of households at low cost. We are thus presenting an elementary building block for the further expansion of renewable energy and the success of the energy transition," says Markus Tacke, CEO of Siemens Gamesa Renewable Energy. The technology reduces costs for larger storage capacities to a fraction of the usual level for battery storage.

The Institute for Engineering Thermodynamics at Hamburg University of Technology and the local utility company Hamburg Energie are partners in the innovative Future Energy Solutions project, which is funded by the German Federal Ministry of Economics and Energy within the "6. Energieforschungsprogramm" research programme. TU Hamburg carries out research into the thermodynamic fundamentals of the solid bulk technology used.

By using standard components, it is possible to convert decommissioned conventional power plants into green storage facilities (second-life option). Hamburg Energie is responsible for marketing the stored energy on the electricity market. The energy provider is developing highly flexible digital control system platforms for virtual power plants. Connected to such an IT platform, ETES can optimally store renewable energy at maximum yield.

About Siemens Gamesa Renewable Energy
Siemens Gamesa is a global leader in the wind energy industry with a strong presence in all areas of the wind business. Through its advanced digital technology, the company offers one of the broadest product portfolios in the industry and industry-leading service solutions that help to make green energy cheaper and more reliable. With an installed capacity of more than 90 gigawatts worldwide, Siemens Gamesa produces, installs and services onshore and offshore wind turbines. It has an order backlog of EUR 23.6 billion. The company is headquartered in Spain and is listed on the Spanish stock exchange (traded on the Ibex-35 Index).
Comments (0)
This post does not have any comments. Be the first to leave a comment below.
---
Post A Comment
You must be logged in before you can post a comment. Login now.
Featured Product
What if you could maximize the Ground Coverage Ratio (GCR) on your next project and not have to worry about the complicated variables that come with a tracker system? With a low tilt and clearance design, Dahlia® has the highest GCR of any fixed-tilt system in the marketplace. The system is available in three tilt options (7.5, 10 and 12.5 degrees) and designed to accommodate any sized PV module. The lightweight system is engineered with fewer components, several of which are shipped to job sites pre-assembled. This design feature reduces freight costs and rapidly trims the amount of on-site installation time required to complete construction. Maximizing PV coverage on a site can lead to an increase of production, which creates greater financial return for project owners. Over 100 MW of Dahlia® projects have been deployed across the United States, in regions of variable snow and wind loads. How much can Dahlia® cover and save you on your next project?