ENERGY STORAGE INVESTMENTS BOOM AS BATTERY COSTS HALVE IN THE NEXT DECADE
Energy storage installations around the world will multiply exponentially, from a modest 9GW/17GWh deployed as of 2018 to 1,095GW/2,850GWh by 2040, according to the latest forecast from research company BloombergNEF (BNEF).
This 122-fold boom of stationary energy storage over the next two decades will require $662 billion of investment, according to BNEF estimates. It will be made possible by further sharp declines in the cost of lithium-ion batteries, on top of an 85% reduction in the 2010-18 period.
BNEF's Energy Storage Outlook 2019, published today, predicts a further halving of lithium-ion battery costs per kilowatt-hour by 2030, as demand takes off in two different markets – stationary storage and electric vehicles. The report goes on to model the impact of this on a global electricity system increasingly penetrated by low-cost wind and solar.
Yayoi Sekine, energy storage analyst for BNEF and co-author of the report, said: "Two big changes this year are that we have raised our estimate of the investment that will go into energy storage by 2040 by more than $40 billion, and that we now think the majority of new capacity will be utility-scale, rather than behind-the-meter at homes and businesses."
BNEF's analysis suggests that cheaper batteries can be used in more and more applications. These include energy shifting (moving in time the dispatch of electricity to the grid, often from times of excess solar and wind generation), peaking in the bulk power system (to deal with demand spikes), as well as for customers looking to save on their energy bills by buying electricity at cheap hours and using it later.
Logan Goldie-Scot, head of energy storage at BNEF, added: "In the near term, renewables-plus-storage, especially solar-plus-storage, has become a major driver for battery build. This is a new era of dispatchable renewables, based on new contract structures between developer and grid."
Just 10 countries are on course to represent almost three quarters of the global market in gigawatt terms, according to BNEF's forecast. South Korea is the lead market in 2019, but will soon cede that position, with China and the U.S. far in front by 2040. The remaining significant markets include India, Germany, Latin America, Southeast Asia, France, Australia and the U.K.
Figure 1: Global cumulative energy storage installations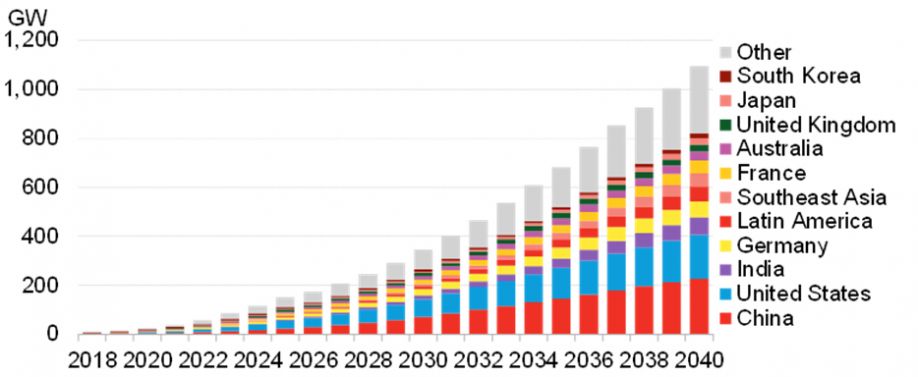 Source: BloombergNEF
There is a fundamental transition developing in the power system and transportation sector. Falling wind, solar and battery costs mean wind and solar are set to make up almost 40% of world electricity in 2040, up from 7% today. Meanwhile passenger electric vehicles could become a third of the global passenger vehicle fleet by 2040, up from less than half a percent today, adding huge scale to the battery manufacturing sector.
Demand for storage will increase to balance the higher proportion of variable, renewable generation in the electricity system. Batteries will increasingly be chosen to manage this dynamic supply and demand mix.
The report finds that energy storage will become a practical alternative to new-build electricity generation or network reinforcement. Behind-the-meter storage will also increasingly be used to provide system services on top of customer applications.
The total demand for batteries from the stationary storage and electric transport sectors is forecast to be 4,584GWh by 2040, providing a major opportunity for battery makers and miners of component metals such as lithium, cobalt and nickel.
About BloombergNEF
BloombergNEF (BNEF) is a leading provider of primary research on clean energy, advanced transport, digital industry, innovative materials, and commodities. With a team of experts spread across six continents, BNEF leverages the world's most sophisticated data sets to create clear perspectives and in-depth forecasts that frame the financial, economic and policy implications of industry-transforming trends and technologies. Available online, on mobile and on the Terminal, BNEF is powered by Bloomberg's global network of 19,000 employees in 176 locations, reporting 5,000 news stories a day. Visit https://about.bnef.com/ or request more information.
About Bloomberg
Bloomberg, the global business and financial information and news leader, gives influential decision makers a critical edge by connecting them to a dynamic network of information, people and ideas. The company's strength – delivering data, news and analytics through innovative technology, quickly and accurately – is at the core of the Bloomberg Terminal. Bloomberg's enterprise solutions build on the company's core strength: leveraging technology to allow customers to access, integrate, distribute and manage data and information across organizations more efficiently and effectively. For more information, visit Bloomberg.com/company or request a demo.
---
[1] BNEF's definition includes stationary batteries used in eight applications. It excludes pumped hydro storage.
Comments (0)
This post does not have any comments. Be the first to leave a comment below.
---
Post A Comment
You must be logged in before you can post a comment. Login now.
Featured Product
What if you could maximize the Ground Coverage Ratio (GCR) on your next project and not have to worry about the complicated variables that come with a tracker system? With a low tilt and clearance design, Dahlia® has the highest GCR of any fixed-tilt system in the marketplace. The system is available in three tilt options (7.5, 10 and 12.5 degrees) and designed to accommodate any sized PV module. The lightweight system is engineered with fewer components, several of which are shipped to job sites pre-assembled. This design feature reduces freight costs and rapidly trims the amount of on-site installation time required to complete construction. Maximizing PV coverage on a site can lead to an increase of production, which creates greater financial return for project owners. Over 100 MW of Dahlia® projects have been deployed across the United States, in regions of variable snow and wind loads. How much can Dahlia® cover and save you on your next project?