Fuel Cell Companies Expanding Reach with New Products and Broader Vision
Fuel cells are not a new technology. Invented in the late 1800's, fuel cells made a significant mark in the 1950's and 60's onboard early space missions, and over the last decade, proving to be a reliable, efficient, and extremely effective means to generate clean power to a wide range of customers, including those in logistics, on-road, and stationary power markets.
Recently, companies that have made tremendous impacts on the fuel cell industry over the years, moving it forward with hundreds of megawatts (MW) and tens of thousands of units, have launched new products that expand reach into existing and nascent markets.
As we celebrate National Hydrogen and Fuel Cell Day on October 8th, it seems appropriate to take a look back over some of these new products introduced over the last year that have helped enforce the impact and potential fuel cell and hydrogen technologies can make on the world.
Plug Power
In the past year, Plug Power, based in Latham, New York, has been very busy. The fuel cell manufacturer, primarily known for supplying more than 35,000 fuel cells for material handling equipment (MHE) worldwide, broadened its portfolio through the acquisition of several companies, adding renewable hydrogen generation, component manufacturing, and new fuel cell applications to its product offerings.
One of these acquisitions, Canadian-based EnergyOr in 2019, added industries such as unmanned aerial vehicles (UAVs), aerospace applications, and robotics to the markets Plug Power serves. In August, Plug Power launched its latest product, a 1-kilowatt (kW) fuel cell based on the company's ProGen 300 W fuel cell system geared for these sectors.
In June 2020, Plug Power acquired electrolyzer company Giner ELX, and hydrogen generation, liquefaction, and distribution expert United Hydrogen, in line with the Company's vertical integration strategy in the hydrogen business. These acquisitions enable Plug Power to move closer to its goal of using more than 50% renewable hydrogen by 2024. Already, the Giner ELX acquisition has enabled Plug Power to deliver a 25 kW GenFuel electrolyzer to Nagasaki, Japan.
In addition to MHE market, Plug Power has been supplying its small-scale stationary fuel cell product, GenSure, to customers in the communications, utility, rail, and other industries, to provide reliable backup power for critical networks and equipment for more than 15 years. In July, Plug Power introduced the
GenSure HP (high power) platform, a larger system to support sectors that require more energy to keep operations running, such as data centers, commercial facilities, and microgrids. The GenSure HP is based on Plug Power's 125 kW ProGen fuel cell engine, which the company introduced earlier in the year, and is scalable up to 1.5 MW.
Along with the GenSure HP, the new ProGen system expands Plug Power's footprint into larger mobility markets, such as heavier weight classes that include delivery vans, trucks, and buses, as well as port equipment and other off-road vehicles.
Nuvera
Nuvera Fuel Cells, a subsidiary of Hyster-Yale Group (HYG) based in Billerica, Massachusetts, manufactures fuel cell systems for Class 1, 2, and 3 electric forklifts. This year, Nuvera launched its 45-kW fuel cell engine for vans and trucks, buses, and other vehicles and equipment. Two of the Nuvera® E-45 Fuel Cell Engines are being used in twin configuration to power a fuel cell top loading container handler in a project funded by the California Air Resources Board through the California Climate Investments program. The top loader will be driven and operated by Eagle Marine Services, a terminal operator at the Port of Los Angeles.
Bloom Energy
Fuel cell manufacturer Bloom Energy, based in Sunnyvale, California, with a manufacturing facility in Newark, Delaware, has hundreds of its solid oxide fuel cell systems installed at facilities across the country. Bloom's Energy Servers typically run on natural gas, but in July, the company announced it would be introducing a line of hydrogen-fueled systems, as well as developing electrolyzer systems to generate hydrogen. Bloom is working with its Korean partner SK Engineering and Construction (SK E&C) to test a 100-kW system at SK E&C's facility first, and then scale up to a larger 1 MW system.
Bloom also announced a major departure from its stationary focus, a collaboration with Samsung Heavy Industries (SHI) to use its fuel cell systems on ships. Many shipping vessels utilize liquified natural gas (LNG) which can be converted to natural gas for use in the fuel cells.
Moving Off the Road
Automakers with commercially available fuel cell vehicles (FCVs) have begun testing other waters, demonstrating fuel cell systems used in vehicles for other applications, such as buildings and emergency power.
Toyota
Toyota Motor Corporation, known for both consumer light-duty Mirai FCVs and heavy-duty fuel cell trucks in commercial operation at ports in California, recently announced efforts to move into stationary power generation. Last year, Toyota installed a 100-kW Mirai fuel cell system at one of its plants in Japan and in June, joined with Tokuyama Corporation to test this stationary fuel cell system using by product hydrogen from Tokuyama's chemical plant.
Toyota is also working with Honda R&D Co., Ltd. to develop 'Moving e', a mobile fuel cell power generation and output system. Moving e uses Toyota's "Charging Station' fuel cell bus as its foundation and will house a hydrogen supply with the capability to generate power to charge portable external power output devices and batteries. The bus, which could also be used as a mobile shelter, can provide electricity to disaster and other sites when needed. Testing of the Moving e will begin in September.
Most recently, in September, Toyota Motor Europe and partner Energy Observer Developments (EODev) showcased the GEH2, which integrates Toyota's Mirai fuel cell system into EODev's hydrogen generators. The GEH2 will used on the Energy Observer, a marine vessel powered by hydrogen and fuel cells that is currently making a trip around the world.
Hyundai
Hyundai Mobis, Hyundai Motor Company's component supplier, installed a 450-kW system comprised of five of Hyundai's NEXO FCV fuel cells at its manufacturing facility in Chungju, South Korea. The fuel cell will be used for emergency power during power grid failures at the factory, and as auxiliary power during seasonal peak times.
In addition to the above array of new product introductions, there have been other significant launches, development and collaborations within the fuel cell and hydrogen industry over the past few years. The interest and investment in, as well as the customer list continues to grow around the world. To stay abreast of the latest news and advancements, subscribe to the Fuel Cell and Hydrogen Energy Association's free monthly newsletter, the Fuel Cell Connection. For more details on National Hydrogen and Fuel Cell Day, check out www.hydrogenandfuelcellday.org.
Comments (0)
This post does not have any comments. Be the first to leave a comment below.
---
Post A Comment
You must be logged in before you can post a comment. Login now.
Featured Product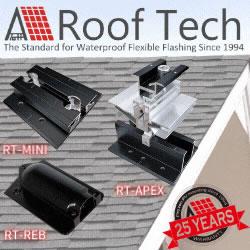 Now Roof Tech brings you the most innovative, watertight mounting systems ever developed for solar photovoltaic systems. Designed and manufactured exclusively for us by Japan's longtime leader in roofing technologies, Roof Tech products are 100% code-compliant and offer fast, simple installation and huge savings on shipping costs due to their compact, rail-less design. Learn more about our full line of versatile PV mounting solutions now available for residential installations. The next generation in rooftop solar mounting solutions."