GLOBAL WIND INDUSTRY HAD A RECORD, NEAR 100GW, YEAR AS GE, GOLDWIND TOOK LEAD FROM VESTAS
In a record-setting year, the wind market commissioned nearly 100 gigawatts of new build in 2020. Undeterred by the coronavirus pandemic, installations grew 59% year-on-year.
Developers commissioned some 96.3 gigawatts of wind turbines globally in 2020, compared with 60.7 gigawatts the previous year. Most of these were on land (94%), as the addition of new turbines at sea fell to 6.1 gigawatts – a 19% drop compared to 2019.
Just four manufacturers accounted for more than half (51%) of the machines deployed: General Electric (GE), Vestas, Goldwind and Envision all commissioned over 10 gigawatts last year, as the gap widened between the leading manufacturers and smaller players.
The latest data from research company BloombergNEF (BNEF) shows that GE and Goldwind were the top two turbine suppliers in 2020, following a surge in installations in the U.S. and China. Vestas, which placed first for four years, fell to third place in the 2020 ranking[1]. The figures draw on BNEF's global database of wind projects and extensive information from the industry.
"GE and Goldwind claimed the top two spots in this year's ranking by concentrating on the largest markets. This strategy may not be as fruitful in 2021 as subsidies lapse in those areas," said Isabelle Edwards, wind associate at BloombergNEF and lead author of the 2020 Global Wind Turbine Market Shares report. "Vestas takes on less market risk, with turbines commissioned in 34 countries last year."
GE earned its spot at the top of the ranking by increasing its onshore installations by 6.6GW year-on-year, with installations in the U.S. accounting for some 70% of its 13.5GW global portfolio. China, meanwhile, accounted for 98% of the capacity commissioned by Chinese turbine makers.
BNEF identified 57.8GW of new wind capacity commissioned in China last year. In the onshore market, this was more than was commissioned by the entire world in 2019. This surge in demand for turbines in China allowed smaller domestic turbine makers to fully utilize their idling manufacturing capacity, and gain ground on their foreign competitors in the global ranking.
"While every region commissioned more wind capacity than the year prior, the unprecedented growth observed in 2020 should be credited to the Chinese wind market," said Edwards. "Nearly every turbine maker is now selling turbines into China, and in 2020 it was the second-largest market for both GE and Vestas."
"Over twenty turbine makers supplied wind turbines to China and many of them were able to double or triple their year-on year installed capacity," said Leo Wang, Beijing-based wind associate at BNEF. "The expiring onshore and offshore subsidies fuelled the uptick in installations. Following the lapse of onshore feed-in premiums, the market is likely to see demand drop this year."
The U.S. commissioned 16.5GW of new wind capacity last year, as developers prepared for a phase-out of the production tax credit. This was 77% more than in 2019 and 2.6GW higher than the country's previous record in 2012. GE supplied 57% (9.4GW) of this new capacity, and stretched its lead over the competition. Vestas' market share sank to 31% in 2020, even though the Danish turbine maker commissioned a company record of 5.1GW across 14 U.S. states.
Total onshore wind additions in 2020 were 19.4GW in the Americas, 12.6GW in Europe[2] and 863MW in Africa and the Middle East, while Asia Pacific accounted for 57.3GW. BNEF's database registered new wind farms starting full commercial operations in 44 countries.
Siemens Gamesa retains its position as the leader in the offshore wind market. Last year, Siemens Gamesa commissioned 1.91GW at sea, with 752MW at the Borssele wind farm in the Netherlands, and a further 539MW at the East Anglia One project in the U.K., among other sites.
In a bid to reposition itself as a leading turbine supplier to the offshore wind industry, Vestas acquired MHI Vestas Offshore Wind in late 2020. It may be a few years before this move shakes up the turbine supply market as Siemens Gamesa already tops the offshore wind order books out to 2025. Five turbine makers from China – Shanghai Electric, Mingyang, Envision, Goldwind and CSSC – overtook Vestas, which slipped to seventh place in the offshore wind market.
Figure 1: Top 10 global wind turbine makers, 2020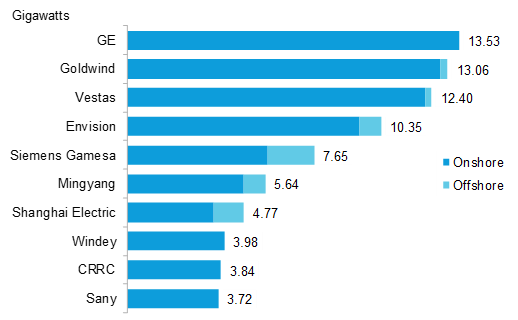 Source: BloombergNEF. Notes: Total commissioned wind capacity in 2020 was 96.3GW. MHI Vestas capacity is attributed to Vestas since Vestas' acquisition of MHI Vestas in late 2020. Top ten in 2019: 1) Vestas 2) Siemens Gamesa 3) Goldwind 4) GE 5) Envision 6) Mingyang 7) Windey 8) Nordex 9) Shanghai Electric 10) CSIC (now CSSC).
Figure 2: Top 10 global onshore wind turbine makers, 2020
Source: BloombergNEF. Notes: Only includes onshore wind capacity. Total commissioned onshore wind capacity in 2020 was 90.2GW. Top ten in 2019: 1) Vestas 2) Goldwind 3) GE 4) Siemens Gamesa 5) Envision 6) Mingyang 7) Windey 8) Nordex 9) Dongfang 10) Enercon.
About BloombergNEF
BloombergNEF (BNEF) is a strategic research provider covering global commodity markets and the disruptive technologies driving the transition to a low-carbon economy. Our expert coverage assesses pathways for the power, transport, industry, buildings and agriculture sectors to adapt to the energy transition. We help commodity trading, corporate strategy, finance and policy professionals navigate change and generate opportunities.
About Bloomberg
Bloomberg, the global business and financial information and news leader, gives influential decision makers a critical edge by connecting them to a dynamic network of information, people and ideas. The company's strength – delivering data, news and analytics through innovative technology, quickly and accurately – is at the core of the Bloomberg Terminal. Bloomberg's enterprise solutions build on the company's core strength: leveraging technology to allow customers to access, integrate, distribute and manage data and information across organizations more efficiently and effectively. For more information, visit Bloomberg.com/company or request a demo.
###
Comments (1)
Fortunately, whether wind power or photovoltaics, the cost is still falling, and the efficiency is still rising. In terms of policy, the country will still introduce new energy within ten years to reverse the excessive share of coal in the energy sector. Therefore, the upward trend is good.
Danfoss Transmitter
Post A Comment
You must be logged in before you can post a comment. Login now.
Featured Product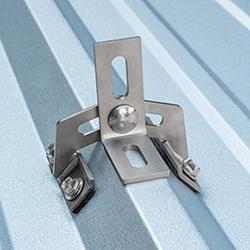 Explore new lines of income for your solar installation business with QuickBOLT's Stone Coated Steel roof mounts designed in partnership with metal roof manufacturers themselves. These SCS roof mounts work on all metal tile profiles and will help you bring in money you're missing out on. By not driving into the roofing material, QuickBOLT's Stone Coated Steel roof hooks maintain the integrity of the roof. Install with ease and confidence knowing your roof is protected against the harsh elements that these hooks are designed for.