Why Renewable Energy is Necessary to Stave Off Another Pandemic
There's no denying that the devastating COVID-19 pandemic has changed the way we live our lives and conduct business. And the unfortunate reality is that the virus is likely to continue to impact daily life into the foreseeable future. Even as various nations push forward with their reopening plans, COVID cases are reportedly on the rise worldwide.
But COVID is just the beginning — According to ProPublica, the number of infectious diseases that can potentially spread to humans has "skyrocketed" in recent years, notably respiratory illnesses such as coronavirus. The publication further reports that "a new emerging disease surfaces five times a year," and each one of those diseases has the potential to reach pandemic levels.
Interestingly, climate change may be a prime contributor to the ubiquity of infectious diseases in 2021 and beyond. That's because, as average global temperatures continue to rise and inclement weather events increase in frequency, the Earth's natural defense systems can't always keep up.
As we continue to learn the myriad ways in which infectious diseases and global warming are intrinsically connected, curbing the effects of climate change has become crucial to our survival. From wind turbines to expansive solar arrays, the alternative energy industry is emerging as an unlikely ally against future pandemics. Here's what you need to know.
Renewable Energy, Climate Change, and Public Health
When the world effectively shut down in the spring of 2020, in response to the swift emergence of COVID-19, the environmental effects were immediately apparent. Within the energy sector, emissions fell by about 10% as a result of the pandemic, offsetting an estimated 2.5 years of emissions generation. Further, experts claim that the COVID-19 pandemic helped illustrate the crucial need for immediate action in the realm of climate change.
For its part, the World Bank cites renewable energy as the most important tool for scaling up climate action and staving off future pandemics. Investing in clean, renewable energy helps create jobs, stimulating economic growth, and may "contribute to better health outcomes in the long run." Reducing emissions via renewable energy means that businesses and consumers can literally breathe easier as they learn how to best adapt in a post-COVID world.
And in terms of public health and fighting off various illnesses, cleaner air is a game-changer. "Those living in areas with higher levels of air pollution face a greater risk of infection and experience more severe COVID-19 symptoms and outcomes," reports the Climate & Clean Air Coalition (CCAC). Yet that knowledge won't do much good without actionable measures aimed at curbing air pollution and reducing the global risk of dangerous airborne particles and viruses.
Improving the Renewable Energy Landscape
Regardless of the energy conservation measures implemented in the wake of COVID-19, the world is also facing a growing need for professionals who understand the nuances of disease control. Epidemiologists, for example, study the causes of infectious diseases and public health events that may have contributed to a deadly outbreak and/or pandemic. Then, those professionals work to develop appropriate countermeasures and suggest prevention policies to improve overall public health.
Among epidemiologists and business owners alike, clean energy and public health effectively go hand-in-hand. As industry insiders are likely already aware, renewable energy has myriad benefits in the realms of economics and environmental stewardship. In fact, researchers determined in 2019 that renewable energy effectively pays for itself in terms of health benefits alone.
The burning of fossil fuels, which emits soot particles and toxic gases such as sulfur dioxide, often causes irreparable lung damage. Air pollution can also undermine the body's immune system, making it more difficult to fight off diseases and viruses including COVID-19. What's more, fossil fuels can exacerbate the effects of natural disasters and inclement weather events such as wildfires.
Looking to the Future of Clean Energy
The good news is that the renewable energy landscape is continuously evolving and adapting to our changing world. Solar energy is particularly exciting in this regard: The earliest solar cell technology only reached a peak efficiency of about 6%, compared to between 14-23% in modern times. By improving efficiency, spurring reduced costs and cleaner air overall, the alternative energy sector is poised to lead the charge in the global fight against climate change.
And the reduced cost of clean energy tech, including solar panels, means that more home and business owners have the opportunity to invest in renewables. For many people around the world, the initial cost of alternative energy equipment and installation is somewhat prohibitive, even when subsidies are considered. Yet the return on investment is likely to be significant, especially when considering the positive public health and environmental ramifications of renewable energy.
The emergence of new COVID strains, including the Delta variant, aptly demonstrate the need for continued vigilance and public health innovation. Renewable energy is at the forefront of positive change, in terms of stopping climate change in its tracks, as well as possibly preventing future pandemics.
Comments (0)
This post does not have any comments. Be the first to leave a comment below.
---
Post A Comment
You must be logged in before you can post a comment. Login now.
Featured Product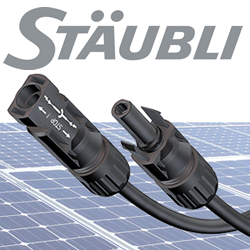 ​Stäubli Electrical Connectors are used on more than 300 GW, over 50% of the PV capacity worldwide. The MC4 family of UL and TUV listed products include connectors, in-line fuses, branch connectors, cable assembly and more.