Can the EV Supply Chain Scale to Meet Growing Demand?
People are getting more interested in electric vehicles (EVs), and they particularly like the idea of doing away with their monthly fuel bills. On top of that, politicians are setting ambitious EV targets and discussing what they often refer to as "society's electrified future."
However, doubts remain about whether the EV supply chain has the necessary scalability to meet those aims. Here are some of the factors impacting this challenging situation.
Companies Incorporate EVs Into Planning
Many advertisements associated with today's automakers mention how those companies have committed to future EV production. Indeed, they often view electric vehicle availability as necessary for future resilience. The main worry is that these intentions to scale EV production are not happening fast enough to provide genuine benefits anytime soon.
For example, Mazda will create an architecture for EV development that will reportedly accelerate the design and manufacture of future electric cars. That framework will not come out until 2025. However, one of the company's earlier frameworks, which it intends to implement from 2022-2025, will at least create three more EV models.
Volvo has also indicated it will release one fully electric car over the next five years and aims to make electric automobiles comprise half of its sales by 2025. Relatedly, the brand wants to have one million of its electric vehicles on the roads by that same year.
These are exciting goals, but they're virtually meaningless without the necessary supply chain support. Succeeding requires companies to iron out the supply chain challenges. Perhaps they have plans behind the scenes for doing that. In any case, the car manufacturers are not as upfront about their proposals for dealing with the supply chain constraints as they are about their bright promises to put cars on the roads.
In a recent example, Volkswagen had to stop its EV production at two German factories for a week due to supply chain shortages. Such issues will only worsen as EV interest and adoption rates grow. Thus, now is the time to sort out how to solve them.
Difficulties in Obtaining Minerals
Discussions about scaling EV production often center on the need to source the minerals used to make the cars' batteries. For now, China dominates the associated industry. The country is no stranger to recent supply chain difficulties. In January and February 2020, the overall production of Chinese products fell by 13.5% due to shutdowns associated with COVID-19.
More recently, issues have arisen with the prices people must pay for battery minerals originating from China. For example, analysts said there was a 113% price increase for battery-grade lithium carbonate from China between August 1 and October 22, 2021. They noted that supply chain difficulties were the main reasons for the spike.
One report projects the demand for the minerals used in EV batteries to increase from 10-30-fold through 2040, depending on if various projected scenarios pan out. That was a global analysis, showing that the demand issues are not specific to particular countries.
A related issue is that certain areas and countries dominate the mining operations for these minerals, as well as the raw resources. Even the most dedicated nations can't shift that power quickly.
For example, a Rystad Energy report warned of EV supply chain issues from 2027 onward due to "a serious lithium supply deficit." The content explained how it takes between 5-7 years to establish new mines. That reality highlights how there's no quick way to diversify the EV supply chain.
Supplies to Build Infrastructure Necessary, Too
When people weigh in about the issues with the EV supply chain, they often focus on the materials needed to make the vehicles — and rightfully so. However, people must also consider how to ramp up the number of charging points. Those, too, typically require materials that are in short supply, such as semiconductors.
Additionally, there are not always enough charging stations to serve the people who need to use them. In areas of China where EV adoption is high, some drivers complained of waiting several hours to charge their vehicles. One lady said there were 20 cars in front of her at a charging point during a busy holiday period.
Fortunately, people are looking at plenty of creative ways to help. In Ireland, a project involved converting disused phone booths into charging stations. Those provide 100 kilometers of range after a half-hour of use.
There are also efforts to change the current process of getting a car charged up for travel. Instead of having one person use a charger at a time, new designs arriving on the market soon would allow simultaneous charging for numerous individuals.
Other companies are taking a wholly different approach by having people swap out their batteries instead of recharging them. For example, one business recently launched an EV for commercial last-mile deliveries that has a modular charging system. The vehicle also features cloud technology to show people the nearest swapping points.
Scalability Must Be Sustainable
People often position electric vehicles as a critical part of managing climate change and protecting the planet. While it's true they could be, that's not a guarantee. An overlooked aspect of the EV supply chain is the emissions associated with manufacturing a vehicle's 20,000-30,000 parts.
For example, EV bodies contain more aluminum than traditional cars due to the metal's lighter weight and the need for energy efficiency. However, aluminum mining is intensive and causes significant emissions. One eye-opening analysis showed that electric vehicle owners must drive 13,500 miles before their cars do less damage to the planet than those running on gas. That calculation comes from the lifetime emissions associated with EVs.
Moreover, the model creators based it on the Tesla 3 owned by someone in the United States. However, that break-even point varies based on a country's sustainability progress. For example, a person would only need to drive 8,400 miles in Norway, which gets most of its energy from renewable hydropower.
Sustainability should start within the EV supply chain, though. For example, Northvolt is a Swedish company that created the first EV battery entirely from recovered waste. Also, the Fisker Ocean is a new EV featuring interior carpeting made out of reclaimed fishing nets and old T-shirts, while the wheels feature a renewed rubber alloy.
If EV makers don't prioritize sustainability while trying to scale, people may get the idea that EVs are not as good for the planet as they'd originally thought, which could cause a drop in demand. That change in opinion may not be widespread, but automakers still need to assess how to maintain sustainability while scaling.
It's Not Easy to Scale EV Production
This overview shows why people trying to strengthen the EV supply chain will have their work cut out for them. It's promising that so many efforts are underway to make progress, but there's a long way to go to achieve the necessary scalability.
The EV supply chain issues are multifaceted, and there's no single solution. However, aggressively pinpointing the problems and considering all possible solutions are good early steps.
Comments (0)
This post does not have any comments. Be the first to leave a comment below.
---
Post A Comment
You must be logged in before you can post a comment. Login now.
Featured Product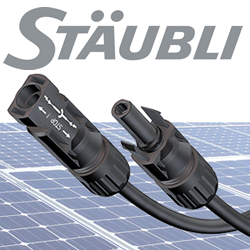 ​Stäubli Electrical Connectors are used on more than 300 GW, over 50% of the PV capacity worldwide. The MC4 family of UL and TUV listed products include connectors, in-line fuses, branch connectors, cable assembly and more.