Utility Technology Already Exists for Preventing Wildfires
Climate change isn't just causing warmer summers and colder winters. It's impacting every ecosystem and every environment in different ways. Floods, droughts, massive storms, frigid blizzards, and more are starting to make life on this planet more challenging. Wildfires have become more devastating, with the length of the average fire season increasing by more than 20% over the last 35 years — and the areas impacted by these natural disasters have nearly doubled.
Nearly anything can start a fire, including faulty wiring, a lightning strike, an incorrectly doused campfire, or a casually discarded cigarette. Some of the most devastating fires in recent memory, such as the Camp Fire in Northern California and the more recent Boulder Fire in Colorado, are directly attributed to downed utility lines. They may be the cause, but they could also be the solutions. What utility technologies already exist that could be used to prevent wildfires?
Supporting Utility Tech Startups
California has been one of the states hardest hit by some of these wildfires in recent years. The Camp Fire was caused by a faulty C-hook that was designed to keep the high-voltage transmission lines from touching their towers. This particular hook was more than a century old, and when it broke, the resulting fire wiped an entire town off the map and took the lives of 86 California residents, not to mention countless wild and domestic animals that lost their lives to the blaze.
In response, the California Sustainable Energy Entrepreneur Development program (CalSEED) is working with the California Energy Commission (CEC) and New Energy Nexus to offer $150,000 grants to startups working to protect the power grid from wildfires and prevent the existing infrastructure from starting another devastating fire. Some of these technologies could help shape the way power infrastructure is built in the future.
Incorporating the Internet of Things
The Internet of Things (IoT) has become a blanket term for any system of networked sensors or devices that can work together to accomplish a task. One of the startups funded by the CalSEED program is Gridware, a company working to use the Internet of Things as a tool to protect the grid and the people who need it.
By deploying a series of low-cost sensors on poles, wires, and more, the company can track parts of the grid that might be at risk for failure. This can help prevent the sorts of catastrophic accidents that could cause devastating wildfires as climate change continues to ravage the planet.
Inspection Cameras and Drones
Traditional high-voltage transmission towers can range anywhere from 55 to 150 feet high, but this dramatic height doesn't mean they don't need to be inspected. It was that C-hook on a high-voltage transmission tower that caused the Camp Fire in the first place. The problem is that the height makes it difficult for inspectors to see everything from the ground, and scaling each tower would be both dangerous and time-consuming.
Pairing high-quality cameras with drones can make this task easier and more efficient, allowing inspectors to assess the condition of each part of a transmission tower without ever having to take their feet off the ground. Drones can also be used to spot problem areas where wildfires are likely to start before the first spark ever touches the ground.
This Is Just the Beginning
Wildfires are a fact of life in many parts of the world, but that doesn't mean we shouldn't do everything we can to prevent them in areas where they might impact human life. Climate change is going to continue to increase droughts and spark wildfires, and we need plans in place to help prevent them and mitigate the damage they can do.
Comments (0)
This post does not have any comments. Be the first to leave a comment below.
---
Post A Comment
You must be logged in before you can post a comment. Login now.
Featured Product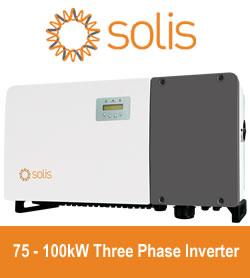 Solis75kW - 100kW series high-power string inverters are widely used in industrial and commercial rooftops. Solis's new three-phase string inverter is the first choice for industrial and commercial photovoltaics. 75-100kW three phase series string inverter have Maximum 28 strings input, support "Y" type connection in DC side. Maximum string input current 13A, support bifacial modules access.Supports anti-PID function to improve system efficiency.