Heat Waves Are Devastating Hydropower in China and the Western U.S.
As global warming bears down on the planet, rising temperatures devastate countries worldwide. These repercussions are striking in China and the western United States, where advancements in renewable energy intend to safeguard energy security and provide clean, reliable power to its populations and economies.
For instance, the increasing intensity and frequency of heat waves impact hydropower by drying up water resources and forcing overconsumption of the conventional electric grid.
The question of whether China and the western U.S. should continue investing in and advancing hydropower amid increasing climate change challenges remains.
Rising Temperatures Have Dire Effects
Record heat waves have led to severe environmental damage in recent years. In California, meteorologists predict the most sweltering days of 2022 are fast approaching within the first few days of September.
For perspective, southern California already experienced temperatures between 106°F and 112°F in August, with Seattle and Portland registering temperatures between 90°F and 100°F – heat indexes that are 15 to 20 times hotter than usual.
The dry air in California, in particular, has created perfect conditions for wildfires known to wipe out entire communities, upend lives, and cause billions of dollars in damage. According to the State of California website, 8,835 wildfires burned 2,568,948 acres in 2021. These are drought-induced events that worsen over time.
China has experienced its own set of problems with recent heat waves in the east. Shanghai has already recorded temperatures of 104°F seven times this summer – more than its five-day record in 2013 – resulting in heatstroke symptoms including headaches, nausea and vomiting, fever, and even coma.
Of course, the economic ramifications are just as notable, as this year's drought is recognized as the hottest and driest summer on record, ruining crops and evaporating reservoirs. In fact, the situation is so dire that Chinese government officials are taking drastic measures to protect China's grain harvest, which accounts for 75% of the country's agricultural output.
Regarding hydropower, several water bodies and streams have dried up in China this year, presenting new obstacles to renewable hydroelectricity, which the International Hydropower Association (IHA) says accounts for 17% of the country's total electricity capacity.
How Heat Waves Impact Hydropower in China and the Western U.S.
The Chinese government has several policies in place to streamline renewable energy development, intending to become carbon-neutral by 2060. And when it comes to hydropower, China is currently a leader in hydropower energy production.
At a closer glance, China's southwestern province of Sichuan relies on hydropower for 80% of its energy consumption, pulling from the Yangzte river, which ongoing droughts have heavily disrupted.
Elsewhere, the U.S. uses 40% of its water withdrawals for energy production, mainly used to cool down the nation's power plants. However, as water levels drop amid extreme temperatures and prolonged dry spells, the ability to generate hydroelectricity does, as well.
Throughout the years, California has seen firsthand how heat waves impact hydropower generation in the state. In August 2022, Governor Gavin Newsom even mandated Californians reduce power consumption from 4 p.m. to 9 p.m. to reduce pressure on the grid and prevent mass power outages.
The U.S. electric grid infrastructure is already crumbling and susceptible to damage from natural disasters. In some situations, the aging grid exacerbates the negative impacts felt by natural disasters, demanding grid modernization and a reliable energy backup.
More recently, California's largest utility provider – Pacific Gas & Electric – pre-emptively cut the power several times on homeowners and businesses as the combination of extreme heat and power lines risked harrowing consequences throughout the wildfire season.
The Importance of Hydropower in a Changing Climate
Climate change shows no signs of slowing down, with 99.9% of peer-reviewed climate studies indicating humans emit excessive amounts of greenhouse gases into the atmosphere. In turn, global warming has affected weather patterns and caused increasingly warmer temperatures annually.
Consider how widespread hydroelectric power could relieve the pressures placed on the electricity grid. For instance, people tend to run their air conditioners more during excessive heat, so units must work harder to keep residences and businesses cool and comfortable.
Additionally, heat waves can lessen overall plant efficiency and capacity, diminishing the amount of available water to cool operations and reducing energy output. During severe heat waves, power plants might even shut down altogether, posing a greater risk of losing power.
The need for hydroelectric power has never been more evident, as the U.S. Environmental Protection Agency (EPA) highlights. In addition to being a clean and reliable energy source, hydropower can immediately provide backup energy during mass electric grid outages, including in rural communities that might experience regular energy disruptions with an overburdened grid.
For example, a dam with a 100-foot water table can turn 1 gallon of water per second into 1,000 watts of electricity. Even more impressive, the Hoover Dam has delivered hydroelectric power to 1.3 million U.S. households since its construction in the 1930s.
Hydropower – a renewable power source that emits few greenhouse gasses – is perhaps even more essential to China, where high population numbers and air pollution are rampant. In 2017, about 1.24 million people died from toxic emissions in the country, now topping 30 million deaths from air pollution since 2000. With a transition to hydropower and other renewable energy, China can protect its population from hazardous air pollutants.
Unfortunately, the way heat waves impact hydropower today is expected to worsen if nothing is done to mitigate global warming. Yet, researchers are actively looking for ways to prevent these outcomes.
The Pacific Northwest National Laboratory (PNNL) is particularly keen on developing solutions, with a PNNL research team developing new measures for predicting future drought conditions and hydropower contingency plans. The plans detail the implementation of innovative electrical load controls, improving forest fire management and placing microgrids and energy storage units in places that need them the most.
Of course, the situation is different in China, in which the rise in temperature has many rethinking how to invest their money in renewable energy, with the realization that even hydroelectric power has shortcomings.
However, rather than return to consuming more coal and oil, finding a balance between hydropower and other renewable technologies in neighboring regions is a better alternative. For example, connecting the power stations between Sichuan, Qinghai, and Gansu could produce plenty of electricity.
Additionally, studies recommend passing hydropower policy reforms in China for greater hydroelectric efficiency. Diversifying the energy structure and improving thermal energy is the first step to balancing a greener energy supply.
Other ways include encouraging renewable energy developments by offering government subsidies, redirecting hydropower campaigns to promote corporate participation, and better allocation of resources for energy efficiency.
A Hopeful Future for Hydropower
Despite the way current heat waves impact hydropower efficiency in countries like China and the western U.S., it remains a vital renewable energy resource. Finding ways to balance its use alongside other renewable energy technologies will create more significant energy security and storage for when it's needed most.
Comments (0)
This post does not have any comments. Be the first to leave a comment below.
---
Post A Comment
You must be logged in before you can post a comment. Login now.
Featured Product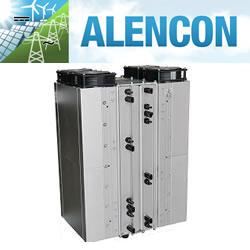 Alencon Systems is the premier manufacturer of high power, high voltage DC:DC optimizers for alternative energy applications including solar, battery energy storage, Microgrids, Fuel Cells and Electric Vehicle charging. Alencon's DC:DC converter offerings include the SPOT, BOSS and CUBE series DC:DC converters. The SPOT is a modular, uni-directional DC:DC solution ideal for solar applications. The BOSS is a modular, bi-directional unit for use with battery energy storage. The CUBE is a monolithic DC:DC converter which is available in both uni-directional and bi-directional modalities. Pictured above, is the Alencon SPOT.