China Plans to Build a New Wind Farm and Develops Progressively Larger Turbines
People worldwide are becoming more aware of the need for clean energy, resulting in increased investments in wind power. China, in particular, is ramping up its wind power focus with impressive aspirations. Once a Chinese company builds the largest wind turbine, it typically doesn't take long before an even bigger one is created. Businesses are also increasing their wind farm investments, which could keep China on a path to a future of cleaner energy.
The related progress could have a ripple effect on other nations by proving what's possible in wind power development. Individuals with decision-making power about energy sources in their respective countries may also feel more motivated and confident about using wind turbines.
China Emerging as an Offshore Wind Leader
A recently released report from World Forum Offshore Wind clarified that China is quickly becoming a major player in the offshore wind power market. The data indicated more than 70% of new global offshore wind power came from China in 2022. The study also revealed 44% of the total offshore wind energy is in this country.
Additionally, China was 2022's leader in offshore wind farms under construction. The United Kingdom, Taiwan and The Netherlands were some other nations with significant offshore wind farms under construction.
One of the newest Chinese offshore wind developments is a China Three Gorges (CTG) Corp. project. It involves building the country's first large-scale offshore wind farm, which will be in the province of Fujian. The nation usually prioritizes turbines with less than a 10-megawatt (MW) capacity, but this effort concerns 16-MW turbines.
Gong Kuangmin, who works at a company affiliated with CTG, says the larger capacity of the turbines will increase power generation efficiency while reducing the costs associated with building and operating the equipment.
Once completed, the wind farm will have a total capacity of 400 MW, generating more than 1.6 billion kilowatts of energy annually. That change will reportedly allow people to prevent using 500,000 metric tons of coal and enable cutting 1.36 million metric tons of CO2 emissions annually.
Sources also say each turbine at the wind farm can produce 34.2 kilowatt-hours (kWh) of electricity with every revolution. They will also make more than 66 million kWh of electricity annually, equivalent to 36,000 three-person households.
Competing Largest Wind Turbine Efforts
Company leaders throughout China are also trying to outdo each other in making the largest wind turbine. The China State Shipbuilding Corp. (CSSC) recently announced its plans for an 18-MW, 853-foot-diameter turbine. The company's background in shipbuilding is a notable advantage here. It will build the turbine next to a dock in a facility designed to accommodate large structures.
It's well-known that coatings can make products more resistant to weather and other stresses. Many wind turbine blades today use thermoset powder coating due to its durability and its ability to protect them from environmental factors as they rotate. Powder coatings can last up to four decades depending on the treatment process. As wind turbines get bigger, more logistical concerns arise about maintaining them. However, people can sometimes apply their knowledge about other areas to wind power.
A project led by TWI found that applying thermally sprayed coatings to wind turbines can lengthen the life span of offshore wind turbine foundations by two to four decades. People had already used those coatings to make offshore oil and gas platforms more corrosion-resistant, so it's no surprise they wondered if using it would benefit turbines, too.
Mingyang Smart Energy Group Ltd. recently promoted its effort to make another massive structure in the running for the largest wind turbine descriptor. It has 140-meter blades, which are slightly longer than the ones on CSSC's turbine, which are 128 meters long. Company representatives said the turbine would spin at an average of 8.5 meters per second, allowing it to generate enough electricity per year to supply nearly 100,000 people.
Something notable about the Mingyang project is that its leaders want to surpass the current 18-MW threshold. They believe succeeding in that aim would reduce construction costs by up to $150,000 per megawatt, effectively allowing a wind farm to generate the same output with fewer turbines.
Clean Energy Progress Already Apparent in China
Evidence shows clean energy benefits individuals and improves societies. However, it's sometimes hard for people in positions of power to get motivated to make the necessary changes to adopt it. It becomes easier once they can see examples of real-life payoffs.
They'll find it by looking at data released in February 2023 by China's National Energy Administration. It shows 152 million kilowatts of newly installed renewable energy capacity in 2022. The country now has more than 1.2 billion kilowatts of total installed capacity, comprising both wind and solar power.
The information also confirmed that 47.3% of China's energy came from renewable sources by the end of 2022. That was 2.5% percentage points higher than the previous year.
Challenges Present in Wind Power Development
Establishing a wind power farm is more complex than securing the resources and breaking ground on the project. Sam Richards is the CEO of a campaign called Britain Remade. It seeks to promote economic growth, partially by finding practical solutions to barriers preventing progress. He noted that it takes 13 years to make a new wind farm operational in Great Britain but only three years to build it.
Getting planning permission for the projects and other types of consent takes up the rest of the time. Richards' view was that the United Kingdom might never beat China in wind power dominance, but it shouldn't take nearly as long to get through all the red tape that restricts projects.
People should also look beyond the temporary acclaim their companies may receive after building the largest wind turbine. Size does matter because it typically results in more overall power generation. However, it's best to take a long-term viewpoint and think about what problems a wind farm project — of any size — could solve.
Adopting the stance of wind power addressing known pain points could get more leaders on board with doing everything required to launch clean energy projects and make them successful. However, anyone involved in such work must be realistic and prepared to tackle obstacles as they arise.
China's Wind Power Progress Sets Meaningful Examples
These Chinese wind power projects are certainly worth watching. They'll give people from other countries ideas and help them overcome uncertainties or problems. Learning lessons is always possible, even when clean power initiatives don't go as planned at every stage.
Comments (0)
This post does not have any comments. Be the first to leave a comment below.
---
Post A Comment
You must be logged in before you can post a comment. Login now.
Featured Product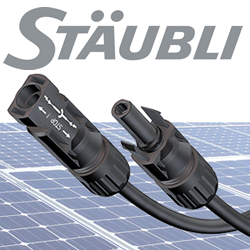 ​Stäubli Electrical Connectors are used on more than 300 GW, over 50% of the PV capacity worldwide. The MC4 family of UL and TUV listed products include connectors, in-line fuses, branch connectors, cable assembly and more.