3 Reasons the Interconnection Queue Is the Next Hurdle for Renewable Energy
Solar and wind power are gaining momentum worldwide. However, the interconnection queue backlog is one of the complications of the increased demand. It refers to the waiting time associated with collective power generation or transmission projects that need to connect to the grid. Here's a closer look at various aspects causing the delay.
1. Slow Regional Processes
Making grid connection requests starts with submissions to independent system operators (ISO) or regional transmission operators (RTO) regarding joining the queue. Sometimes those entities are utility companies and in other cases, they're dedicated companies overseeing particular areas.
A recent NRDC study examined factors associated with the PJM Interconnection, which is the largest in the United States. As of September 2022, 202 gigawatts of energy resources were within the interconnection queue backlog. That amount represents more than 95% of the queue's total. PJM recently received approval to apply a first-ready-first-served approach to clear the backlog. However, content in the NRDC report indicates that transition could cause additional problems. The main change is that PJM can evaluate multiple grid requests at once.
That seems like a welcome update, especially since the former strategy overwhelmed the entity with requests. However, the NRDC paper estimates it'll take until 2026 to clear the existing queue. After that, PJM can begin evaluating applications from October 2021 and beyond.
PJM has different requirements for applicants depending on when their submissions occurred. Existing interconnection procedures applied if the requests arrived by March 2018. However, transition procedures apply to applicants submitting between April 2018 and September 2021. Finally, there's a proposed updated procedure — which will become permanent if approved — for any applications from October 1, 2021, and beyond.
One of the problems experts foresee is that the number of grid connection requests will grow and it will take a long time to deal with them. A source cited by NRDC estimates 1,000 more megawatts of renewable energy projects will enter the queue each year.
Another complicating matter is that states are affected differently by the backlog depending on their existing renewable energy factors. The prohibitively long time for new connection approval could significantly slow upcoming projects.
2. In-Depth Applications Needed
About 20,000 jurisdictions and 3,000 utility companies handle grid connections. It can take weeks to months for residential wind and solar connections to be approved and significantly longer for commercial-scale endeavors.
Specific steps vary depending on the authority, but they require people to submit evidence that their renewable energy projects can operate safely. Applicants must also engage with local building authorities to get permission to begin solar project construction.
Receiving approval to enter the interconnection queue means satisfying the appropriate operators with sufficient evidence. Such documentation must include specific project details, including the net megawatts, location, operators and builders associated with the effort. The interconnection request also must show the results of several studies that prove the project aligns with the operator's standards.
People must also evaluate the supporting infrastructure needed to make solar and wind farms run smoothly, such as provisions for storing oil. That substance acts as a coolant for critical components. An oil spill prevention plan is necessary for facilities storing more than 1,320 gallons to avoid federal penalties.
Some operators require submitting separate applications for permission to install and operate. However, others combine the two steps. Moreover, there's always the chance the operator could push back the application by requiring additional details or more documents. Thus, grid connection requests may not be as straightforward or streamlined as hoped.
3. High Costs and Longer Waiting Times
Research published by the Lawrence Berkeley National Laboratory showed a particularly bleak picture of solar and wind waiting times. For starters, only about 21% of projects from 2000 to 2017 were operating commercially by the end of 2022. There were typically five years from the interconnection request submission to commercial operation for projects that reached that point in 2022. However, the wait was less than two years in 2008.
The study also showed that most project proposals are withdrawn, which can happen at any point. The researcher's data included statistics from interconnection queues for seven operators and 35 utility companies. Those entities collectively handle more than 85% of the electricity load in the United States.
The data showed 10,262 active projects but 15,672 withdrawn ones. Applicants may pull out for various reasons, but many find the costs are ultimately too steep to allow proceeding to completion. That's because applicants must undergo a series of interconnection studies to determine any necessary grid updates and which parties must cover the costs. One interesting finding was that wind projects typically spend more time in the queue than solar ones before withdrawing.
Even when applicants pay hefty fees to hold their places in the queue, they often get word that the cost to proceed is out of their budget. That's because they must bear the cost burden of the necessary grid updates, which are too substantial.
One such applicant had only 15 business days to produce an extra $45.5 million, so it couldn't proceed. Despite that setback, the entity's representatives plan to reevaluate the project's size and composition, then reenter the queue again by the end of 2023.
Another endeavor could not advance because the expected costs were much higher than initial estimates. The applicant — which planned a solar project in North Carolina — anticipated spending $5 million to connect to the grid. However, the local utility advised the expenses would be at least $30 million. That was too much and the applicant withdrew.
Tackling the Queue Is Necessary for Future Solar and Wind Projects
Clearing the interconnection backlog would be a significant clean energy achievement that would make many more solar and wind projects operational. However, there's no fast or easy way to accomplish that goal, even with a framework in place to do it.
That's problematic because severe delays could discourage decision-makers from investing in renewable power as much as they otherwise might. Progress requires a multiparty, dedicated effort and a realization from applicants that getting their green energy projects off the ground may take longer than they initially envisioned.
Comments (0)
This post does not have any comments. Be the first to leave a comment below.
---
Post A Comment
You must be logged in before you can post a comment. Login now.
Featured Product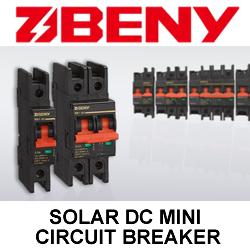 The BB1-63 modular miniature circuit-breakers can be used in solar DC circuits up to 1200 VDC (4-poles execution). Application in solar DC circuits, battery energy storage systems and UPS. Arc flash barrier design keeps solar equipment more safe and reliable. For DC circuit over-current protection.