The electrification of vehicles in America is occurring rapidly in bus fleets
The effort to electrify vehicles is a growing trend sweeping through America. The task is expensive enough to keep it from ever being quick. Still, funding is available from numerous sources and the commitment to accomplish what would once have seemed impossible is obvious.
One of the largest vehicle fleets in the country is the armada of school buses, which transport more than 25 million children to school every day. That's a primary target for the effort because converting diesel-powered buses to electric power represents a significant way to reduce emissions and improve air quality. The cost is high -according to the U.S. Department of Energy, the average cost of a new electric school bus is $400,000. That's $200,000 higher than the cost of a diesel bus.
The Environmental Protection Agency (EPA) oversees a funding program called the Clean School Bus (CSB) Rebate program. Funding of $5 billion is available now for school districts to convert buses to electric power between 2022 and 2026. In 2022, the first round of the CSB program provided 365 school districts with approximately $900 million and that resulted in the purchase of approximately 2,300 electric buses.
While school bus fleets are a significant target for electrification efforts, transit buses are also eligible for funding. These bus fleets face similar cost barriers, but a similar federal funding program exists for transit authorities. The Federal Transit Administration (FTA) runs a Low- and No-Emission Vehicles Program that provided $1.6 billion in 2022 to support transit buses to battery-electric, hybrid or hydrogen fuel cell vehicles. While not fully electric, hydrogen fuel cell vehicles drastically reduce emissions. The deadline for school districts to apply for this funding is Jan. 31.
Bus fleet electrification is also not quick. It happens gradually. The first few electric buses may come in one year, but a decade or more may pass before all the necessary utility infrastructure is in place and the old buses have been replaced with electric ones.
State officials in New York mandated that all schools must transition their bus fleets to electric or zero-emission buses by 2035. To make that goal possible, the state has allocated hundreds of millions of dollars, which will be needed to convert or replace 45,000 school buses eventually. The state funding has also been supplemented by $500 million from the federal government. In September, the governor announced the release of $100 million for the first round of funding, and the application process from school districts will be open until Nov. 29, 2023.
The governor of California signed legislation Oct. 8 that also mandates school districts purchase fully zero-emission fleets. There are about 23,800 school buses in the statewide fleet. To make electrification of the buses possible, the California Legislature allocated $1.5 billion to fund electric buses over the first three years. State officials project that switching California to zero-emission school buses will cost roughly $5 billion. Still, the state joined Connecticut, Maryland, Maine and New York in requiring all-electric school bus fleets.
The Los Angeles Unified School District voted last month to purchase 180 electric school buses and that represents 15% of its combustion bus fleet. City officials approved $45,000 for a feasibility study to determine the best transition to all-electric buses and another $4.5 million to install charging stations. The bus yard will be prepared to accommodate the required changes and possibly add solar panels.
The Washington Metropolitan Area Transit Authority (WMATA) has begun implementing its plan to electrify buses at an estimated cost of approximately $2.3 billion. Last year, the transit agency purchased six electric buses. In June, the Federal Transit Administration provided $104 million to support the effort. Some of the funding will be allocated to constructing the electric infrastructure that will be required, but the remainder will be used to purchase an additional 100 battery-electric buses. WMATA operates a fleet of 1,578 buses, making the initial $100 million of funding from the FTA only a small amount of what will be necessary to implement WMATA's long-term electric transition plan.
The Texas Department of Transportation (TxDOT) also plans to expand electric vehicle infrastructure in the state. The agency appropriated $408 million to attract private sector partners to build, operate and maintain EV charging stations. The program was constructed to have two phases. While grants for phase one have already been awarded, phase two grant funding $173.7 million will become available in the next several months. Construction on phase two of the program is set to begin in 2024. Each grant recipient will identify a site within an area designated by TxDOT and then work with property owners, utilities, and municipalities to complete the installation of EV charging stations. Phase two is intended to create new stations in all 254 Texas counties. By the time the program concludes, EV commuters will have access to fast electric chargers every 70 miles throughout the state.
Officials in King County Metro, Washington, also aim to achieve a zero-emissions bus fleet powered by renewable energy by 2035. To accomplish that, the transit authority will replace buses and trolleys with battery-electric vehicles, convert metro bases to be fully electric with charging stations and construct charging stations along routes throughout the region. The U.S. Department of Transportation has awarded $33.5 million to aid in their transition. The funding is earmarked for 30 battery-electric vehicles in 2023 and 120 electric buses in 2024. The 2023-2024 King County budget also allocates $180.5 million for bus purchases and $26.5 million for a charging station to support the new fleet.
The Southeastern Pennsylvania Transit Authority (SEPTA) recently received $80 million from the FTA. It had previously received $27 million to support its effort to transition its fleet to fuel-cell electric and battery-electric buses completely. Along with purchasing electric buses, the transit authority will oversee the construction of new electric infrastructure at approximately $50 million. SEPTA officials will install additional or upgraded electric charging infrastructure at six bus garages that house two-thirds of the bus fleet. Planning will begin in 2024.
Electric buses are already on roadways throughout America, but this trend is gaining momentum quickly. Collaborative initiatives between public and private partners will be required throughout the country.
Comments (0)
This post does not have any comments. Be the first to leave a comment below.
---
Post A Comment
You must be logged in before you can post a comment. Login now.
Featured Product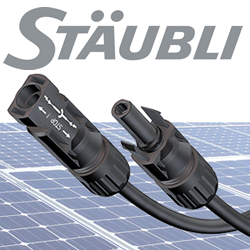 ​Stäubli Electrical Connectors are used on more than 300 GW, over 50% of the PV capacity worldwide. The MC4 family of UL and TUV listed products include connectors, in-line fuses, branch connectors, cable assembly and more.