What's in store for the electric grid this winter?
This summer, record heat waves swept across the country, prompting states to turn to renewable energy resources and battery storage to support their electric grids during times of high demand. Specifically, markets like Texas and California noted the impact that renewables and storage had on maintaining grid stability and ultimately, keeping the power on air conditioning running.
Now, as the seasons change from summer to fall and eventually to winter, and temperatures drop from record heat to potentially record cold, renewables and storage will once again play a key role in stabilizing the grid and keeping the heat on. So, while the forecast for record cold creates potential for further strain on an already vulnerable electric grid, this past summer has shown that renewables and battery storage can be leaned on to stabilize the grid and combat potential outages in the midst of severe weather. To best understand what's in store for this winter and how these technologies can help the grid, let's take a look back at what happened this summer.
Record heat in the summer of '23
In past years, grid operators relied solely on large-scale fossil-fuel fired power plants to meet power supply demand. This past summer was different, though. Grid operators had access to a diverse mix of power resources including an increasing amount of clean generation that included wind, solar and hydro, as well as energy storage. When a heat wave hit Texas in June, it resulted in record-breaking demand and non-fossil fuel resources contributed nearly 55% of total electricity generation to meet that demand, according to the Energy Information Administration (EIA).
This diversification of the power mix reduces dependence on a single source of energy and, in turn, increases grid resiliency and stability. This diversification of available power resources was made possible by a combination of customer demand, clean energy goals and federal incentives, such as the Inflation Reduction Act (IRA).
Prior to this summer, challenges such as equipment costs, inflation and supply-chain disruptions held back the wide-scale development of battery storage projects. Now, battery storage has emerged as a technology that's capable of bridging the gap between intermittent renewable energy generation and customer energy consumption, which has spurred the industry to accelerate widespread adoption of the technology. For example, in early September, Texas grid operators went into a state of emergency as ERCOT's operating reserves took a dip and requested Texans to conserve their electricity use. While all available power generation was brought online that night, a record amount of battery storage also came online, providing 2,172 megawatts and preventing rolling blackouts.
Strategies like this will soon become the norm for grid operators as evidenced by energy developers' plans for record amounts of battery installations across the U.S. this year, according to a joint research report from consulting firm Wood Mackenzie and the American Clean Power Association.
What's in store for this winter?
This winter, the best-case scenario is that the electric grid will perform throughout the winter as renewable energy provides a more resilient, predictable supply of power while energy storage systems extend the value of those resources. In addition to reliably serving customers when demand soars, utilities and grid operators will be looking to renewables and storage to meet demand in a cost-effective manner and avoid traditional winter price spikes.
Typically, during times of peak demand, utilities and grid operators had been forced to activate older, less-efficient oil and diesel-powered generators, which are among the most expensive and most polluting resources remaining on the power grid. Instead of reverting to older, inefficient strategies, utilities and grid operators can now turn to battery storage to help eliminate high cost and pollution. This is done by storing renewable energy when it's cheapest and demand is low, then dispatching it when it's most expensive and demand is high. If this scenario does play out, the positive impact energy storage has on energy costs will go a long way in accelerating the energy transition, as grid operators, utilities and consumers will no longer need to worry about seasonal energy reliability or winter price spikes.
As the country navigates this mid-transition period, collaboration between natural gas, renewables and battery storage will be critical in maintaining a safe and reliable grid, especially in the midst of severe weather, no matter the time of year.
Grid operators and utilities will more than likely make it through this winter by leveraging energy storage and renewables paired together to meet demand, but the mid-transition must be accelerated. However, if pace of the transition to renewable energy is not sped up, our overreliance on fossil fuels could lead to more outages and higher energy costs. This summer was a step in the right direction for the transition to clean energy, but there is still more work to be done in order to fully realize a transition to clean energy.
Comments (0)
This post does not have any comments. Be the first to leave a comment below.
---
Post A Comment
You must be logged in before you can post a comment. Login now.
Featured Product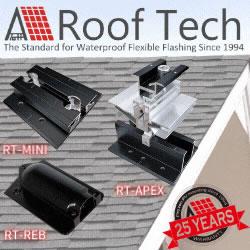 Now Roof Tech brings you the most innovative, watertight mounting systems ever developed for solar photovoltaic systems. Designed and manufactured exclusively for us by Japan's longtime leader in roofing technologies, Roof Tech products are 100% code-compliant and offer fast, simple installation and huge savings on shipping costs due to their compact, rail-less design. Learn more about our full line of versatile PV mounting solutions now available for residential installations. The next generation in rooftop solar mounting solutions."