SolarCity is the nation's leading full-service solar provider for homeowners, businesses and government organizations—the first company to provide solar power system design, financing, installation and monitoring services from a single source.
Interview With SolarCity
Nina Oestilien | Solar City
What is the quick summary history of SolarCity and who are the key executives?
SolarCity® was founded in July, 2006. In 2007, it became the #1 solar service provider in California, according to records kept by the California Solar Initiative. SolarCity expanded to Arizona in 2008, to Colorado and Oregon in 2009, and to Texas in 2010. Today SolarCity is the nation's largest full-service solar provider for homes, businesses and nonprofit organizations, with more than 8,500 customers. SolarCity, which has 740 employees, provides solar power design, financing, installation, monitoring and repair services in addition to a range of energy efficiency services, and electric vehicle charging infrastructure services.
Brothers Lyndon Rive and Peter Rive founded the company and currently serve as CEO and COO, respectively. The entire executive team is available on the
management team page.

How many customers/employees does SolarCity have? Where does SolarCity operate?
SolarCity currently has more than 8,500 customers and 740 employees in California, Colorado, Arizona, Oregon and Texas.
How did SolarCity pioneer the idea for SolarLease, PurePower and Solar Power Purchase Agreements (PPAs)?
SolarCity was founded with the intention of making solar affordable and accessible to a wider range of homeowners, businesses and nonprofits. SolarCity worked on developing its solar leasing option (SolarLease®) for more than a year, and ultimately introduced it in April, 2008. SolarLease allows many customers to go solar with no upfront cost, and save money from day one, because SolarLease customers typically save more on their electricity bills than they pay for solar power. SolarLease customers pay a monthly lease payment to use their solar system, but their new electricity bill + solar payment is typically less than their old electricity bill by itself. For example, for a typical 3-bedroom home with a current electricity bill of $200 per month, we might recommend a medium sized 4 kW solar system. The solar power system should generate enough electricity to offset what the homeowner is currently paying to the utility company from $200 down to $60 per month. The SolarLease payment would be $0 down and $110 per month which saves the homeowner $30 per month from day one.
SolarCity offers power purchase agreement options and cash purchase options as well, to give customers a range of financing options to choose from. Power purchase agreements (PPAs) are similar to leases. The only real difference is that while leases include fixed monthly payments, power purchase agreement payments fluctuate based on the amount of solar produced in a given month.
How many customers have used/use the SolarLease program?
SolarCity has approximately 6,000 lease and PPA customers, and 2,700 cash customers, for a total of 8,700 customers.
What part of the country is best suited for the program and are there any locations that do not work at all?
Solar leasing generally works well in areas where solar economics are favorable. Solar economics are primarily a function of three factors – insolation (sun exposure), electricity rates, and solar incentives. Arizona, California, Colorado, Oregon and Texas are all excellent solar markets. States that have low electricity rates, less sun exposure and no incentive programs make the economics of solar, and solar leasing, less favorable.
Is there an optimum size and orientation of home needed to take advantage of the program?
Typically the home needs an unshaded roof plane in reasonably good condition that faces South, West or East (not North).
Explain the community programs which SolarCity initiated.
SolarCity understood that by working with civic leaders and community organizers in its service territories, it could develop an innovative series of community programs that would allow homeowners, businesses and non-profits to realize even greater discounts if they adopted solar collectively. SolarCity's 40+ community programs have collectively enabled more than 1,200 solar projects. Solar community programs, like solar leasing, have been widely imitated, which is helping the industry grow.
How does SolarCity manage to stay ahead of its competitors?
SolarCity has grown more quickly than competitors that have been in business longer because it makes solar easier and more affordable than they do. SolarCity customers can lease or purchase depending on preference; they can request an in-person consultation or a phone/Internet consultation. When a customer chooses SolarCity, they can get a solar system financed by SolarCity, designed by SolarCity engineers, installed by local SolarCity installers, insured by SolarCity, monitored by SolarCity software, backed by a SolarCity performance guarantee. If they have a question or request, they call SolarCity and a SolarCity employee takes care of it. SolarCity has raised more than $400 million in project finance to back its financing options, has the largest installation team in its category and the largest design and engineering team in its category
What is the main message SolarCity would like to project to the industry/consumers?
Solar power is more affordable today than it's ever been before in a number of locations. If incentives continue to drop faster than technology costs, solar may be more affordable today than it will be again for quite some time. Solar is not a perfect fit for everyone, but it is a great match for a lot of homeowners and businesses that may not realize it. If you own a home, take 10 seconds to give our calculator a try at
www.solarcity.com
. You've got nothing to lose, and just might be able to save thousands of dollars and lower your carbon footprint, all at the same time.
What's next for SolarCity --- new programs --- new ideas --- new technology?
SolarCity acquired Building Solutions in May, a leader in energy efficiency, and is rolling out efficiency services this year, which allow customers to save money on gas AND electric bills and are a great complement to solar power. SolarCity is also working on some of its most ambitious projects to date, and will be providing more details in the coming weeks and months.
The content & opinions in this article are the author's and do not necessarily represent the views of AltEnergyMag
---
Comments (0)
This post does not have any comments. Be the first to leave a comment below.
---
Post A Comment
You must be logged in before you can post a comment. Login now.
Featured Product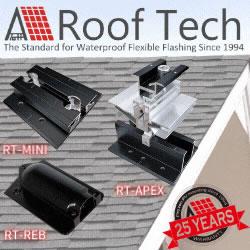 Now Roof Tech brings you the most innovative, watertight mounting systems ever developed for solar photovoltaic systems. Designed and manufactured exclusively for us by Japan's longtime leader in roofing technologies, Roof Tech products are 100% code-compliant and offer fast, simple installation and huge savings on shipping costs due to their compact, rail-less design. Learn more about our full line of versatile PV mounting solutions now available for residential installations. The next generation in rooftop solar mounting solutions."