The growth of distributed PV is showing no signs of slowing down, and with it solar monitoring is set to grow as well.
Solar Monitoring Q&A with Locus Energy
Adrian De Luca | Locus Energy
Tell us about Locus Energy.
Locus Energy is a distributed energy asset monitoring and data analytics platform provider currently focused on distributed solar PV. Our monitoring and analytics platform aggregates and organizes large amounts of real-time performance data from multiple sources, making it easier for PV fleet managers and installers to access and manage their systems. Concurrently, Locus' PVIQ data analytics platform has the unique ability to remotely identify the specific causes for a solar system's failure to meet performance expectations. These advanced monitoring and analytics tools allow solar fleet managers to provide the most efficient O&M services to customers. This ultimately leads to increased productivity and lower costs.
How does the company fit into the PV market, and which areas is it targeting specifically?
Locus works with residential, commercial and utility-scale PV systems. We sell directly to solar asset managers, EPC companies and project developers.
How does Locus' technology set it apart from other solar monitoring and analytics companies?
GTM Research just named Locus the top independent solar monitoring provider in the U.S. for the residential market. We are the only solar monitoring company in the industry that can provide a full suite of hardware, software and analytic services to the residential, commercial and utility-scale markets. Other companies focus solely on metering hardware, and others focus either solely on fleet management software or performance analytics. Our ability to provide a comprehensive solution drives down costs for our customers and ensures that our clients have one place to call for all of their data, monitoring, and operations needs. Additionally, the company's vast reach in terms of hardware allows it to obtain data sets from around the country, at an unmatched depth and breadth of information.
SolarNOC, Locus' enterprise-grade, cloud-based asset management platform, most notably differs from competitors in its ability to set filters through a customized web-based dashboard interface. Locus' users can activate these filters to easily drill down into key performance and diagnostic data, segmenting project data by region, size, OEM, install date, installer, finance partner and many other criteria. Locus is continually driving improvements in workflow management throughout its platform to make it easier for our clients to manage their installations quickly.
At what scale (plant size) does it become economical and effective to use monitoring and analytic software?
Our platform is economical and effective at all sizes. The blend of hardware and software allows Locus to tailor low-cost solutions regardless of project configuration or fleet size. We've invested heavily in our platform infrastructure to aggregate vast amounts of data from third-party hardware and data feeds. This allows our solar customers, from residential and commercial to utility-scale, to get their data from a range of sources in the field, while still enjoying the benefits of a unified fleet management software solution.
What is the typical payback formula?
The payback formula for is accounted for within the operations and maintenance budget for the PV system and helps to ensure that the expected energy is harvested and, by extension, that the asset clears its hurdle rate and maximizes its potential return. While the payback per site or per fleet of installations fluctuates based on a number of factors, Locus has helped a number of its clients to improve total yield of individual assets enough to cover more than the annual cost of monitoring the client's entire asset fleet.
When did Locus enter the market, and how has the company grown since then?
Locus Energy's first product was commercialized in 2009. With 500 MW, more than 35,000 systems and 40,000 devices installed across North America, Locus has doubled its number of monitoring systems in 2013, introducing the first revenue-grade cellular solar meters, the LGate 120 and 320. These meters provide fleet operators with a consistent stream of performance data for uninterrupted billing and monitoring. Locus is on track to double its number of monitoring systems again in 2014.
Where do you see the solar PV market heading in the U.S.?
In the third quarter of 2013, the U.S. installed 31,000 new residential solar PV systems. That growth is astounding, and happens to be the fastest rate of residential installations ever. The growth of distributed PV is showing no signs of slowing down, and with it solar monitoring is set to grow as well. GTM Research recently reported that monitoring is set to grow by more than 90 percent between 2012 and 2013, reaching 70.8 gigawatts annually by 2018.
How does Locus plan to leverage these developments?
This increased adoption of distributed solar creates a daunting challenge for those managing and operating numerous systems. As they continue to grow their businesses and their solar assets, most are trying to reduce operations and maintenance costs, while improving system performance. Since these stakeholders will need to more effectively track solar PV performance to ensure their investment is operating smoothly, Locus can offer sophisticated monitoring and analytics software to do so. As one of the market leaders in solar monitoring, Locus is aiming to continue growing rapidly with the market.
What can we expect from Locus Energy in the years to come?
We are fine-tuning our analytics products that provide fleet managers and other stakeholders with much-needed performance evaluation information, which drills down to exactly how and why a solar system is performing in a certain manner. Our VI tool provides highly accurate and granular, ground-level irradiance data across the contiguous US, while the Waterfall report uses proprietary algorithms and empirical models to remotely determine the root causes of a solar PV system's failure to meet performance expectations. The Waterfall analysis enables a specific, detailed understanding of which factors most affect the performance of a solar PV system and how operators can address the causes of the underperformance. This insightful data analysis will be crucial not only be crucial for system stakeholders who can use it to improve O&M and productivity, but also for financial institutions, which can use these tools as a means of ranking the value of solar PV assets.
Adrian De Luca, Vice President, Sales and Marketing at Locus Energy
Adrian P. De Luca heads marketing, commercial sales and project delivery. He has over 10 years of cross-functional experience in the solar software industry including customer service, UX design, product management and new product launches. Prior to joining Locus Energy, he was vice president of marketing at GridPoint Inc., an established leader in smart grid hardware, software and services. As a founding team member, he was instrumental in launching the company's innovative renewable integration products. Before moving into solar, he worked on the Investment Banking Services team at Carson Group, a financial information services startup acquired by Thomson Financial in 2000. De Luca earned a bachelor's degree in economics from Pomona College.
The content & opinions in this article are the author's and do not necessarily represent the views of AltEnergyMag
---
Comments (0)
This post does not have any comments. Be the first to leave a comment below.
---
Post A Comment
You must be logged in before you can post a comment. Login now.
Featured Product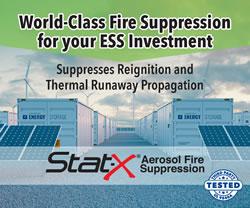 Stat-X® condensed aerosol fire suppression is a solution for energy storage systems (ESS) and battery energy storage systems (BESS) applications. Our Stat-X condensed aerosol fire extinguishing product was tested for efficacy in suppressing li-ion battery fires. It was found that the product successfully extinguished single and double cell battery fires. This testing was conducted in parallel with a large battery fire testing program on behalf of a large energy storage company.