It's important to decrease the environmental impact by reducing the size of the packaging, switching to renewable raw materials, reusing materials, and finally, recycling materials for later use.

Len Calderone for | AltEnergyMag
Renewable packaging reduces the environmental impact and ecological footprint, and is a new addition to the environmental considerations for packaging. By implementing eco-friendly packaging, companies are reducing their carbon footprint by using more recycled materials and reusing other package components.
Greenhouse gases can be emitted during the production and transportation of food, fuels, manufactured goods, roads, buildings, and services. The most common way to reduce the carbon footprint of humans is to reduce, reuse and recycle, which, in manufacturing, can be done by recycling the packing materials.
When we talk about renewable packaging, we are commonly referring to fiber and other bio-based, renewable materials, which are typically harvested within a 10-year or shorter cycle, such as cotton, sisal, flax, ramie, hemp, jute, wool, silk, mohair and bamboo.
One way to help with renewable packaging is to use soy or vegetable based inks on packaging because vegetable and soy based inks eliminate the use of petroleum, and release less volatile organic compounds (VOCs) into the air. Also by reducing the product-to-package ratio helps eliminate waste. By reducing the amount of packaging used, unnecessary layers of packaging would be eliminated.
The packaging process produces a lot of waste. The Environmental Protection Agency (EPA) found that 31 million tons of plastic waste was generated in 2010, and only eight percent of that amount was recovered for recycling. Waste is not the only problem, as the chemicals used in the packaging process have a great effect on the environment. Lowering the level of VOCs, by using non-hazardous materials to manufacture the packaging, will ensure the product will not hamper recycling or biodegradation while using bio-derived, naturally based, renewable raw materials.
By using light-weight materials like plastic rather than metal, glass or paper, the environment can be helped because heavier packaging costs more to transport. The EPA states that "lighter weight materials require less fuel to transport and result in less material in the waste stream."
Biomass cushion packaging to replace these existing materials is now a research focus all over the world. Biomass products are prepared through a special process, using plant fiber, such as straw fiber, bagasse pulp, and starch as the main raw material and plasticizer. This kind of material is generally regarded as eco-friendly because of its wide sources of raw material, simple preparation process, low cost, and lack of environmental pollution.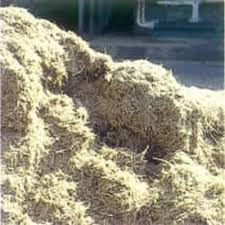 Sugarcane Bagasse
Reckitt Benckiser is now packaging its Air Wick Freshmatic air freshener in Europe in a cardboard box, moving away from the traditional plastic blister pack. The team behind it optimized the amount of material used by moving the flaps of the box from the top and bottom ends to the sides and developed a 'hooked' design that eliminates the need for a hot melt adhesive to glue the walls together. Because of this, the company reduced the size of the box, which saves 3,000 tons of cardboard a year, and diverts 660 pounds of hot melt glue from landfills each year.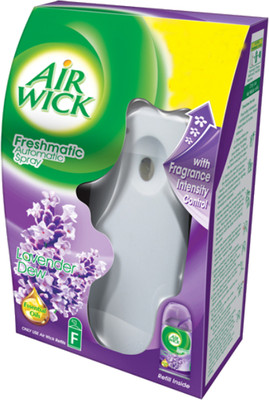 Winemaker Truett-Hurst introduced a totally recyclable, molded-pulp wine bottle to appeal to eco-conscious wine lovers with its "retro-cool" PaperBoy brand, a line of premium wines in a paper wine bottle. PaperBoy is packaged in a molded paper outer shell in the shape of a traditional wine bottle, with a plastic liner inside.
Be Green Packaging's entire line of plant fiber products is certified compostable and recyclable. Their products are produced from bulrush and bamboo plant fibers, which are harvested from replenishable stocks. These plants are then pulped and molded into a variety of shapes and sizes, utilizing traditional methods that are 100% chemical free.
Be Green's products are freezer, microwave, and oven safe, making them some of the most durable plant-fiber products on the market.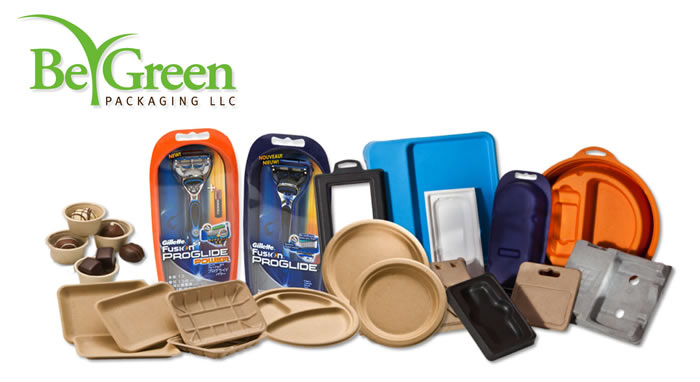 Disposable items, such as crockery, cutlery, bowls, egg cartons meat packaging and straws are made from bioplastics, a type of biodegradable plastic derived from biological substances rather than from petroleum.
Although relatively new, we could see a reusable (up to 200 times) shipping package that would be lightweight and inexpensive. It's a share program, which is called Repack bags that have two parts -- an outer layer made from recycled plastic bottles, and an inner cushion made from a material that is usually used in protective sportswear. Once the package arrives, it can be folded and tossed in a nearby mailbox to return to the post office for someone else to buy and use.

Most small boxes arrive in good condition and can be reused, but consumers don't use boxes that often. Although they are still usable, consumers throw them away. Internet companies, such as Amazon, could benefit from Repack.
For some companies, there isn't a box that exactly matches every product that they ship, as that would be very expensive with a lot of inventory. Therefore they carry just a few standard sizes and use fill around the product with some fills used to protect the product from shipping damage. The cushion packaging products widely used today are mostly made from foamed plastic, corrugated cardboard, honeycomb paper, and paper pulp molding.
Here are some of the renewable cushioning fills that are available from Caremail.
With tissue for surface protection and honeycombed paper for cushioning, Greenwrap™ packaging offers a plastic-free substitute to bubble cushioning. It's made from renewable resources with over 75% of the fibers sourced from Certified Forests, and its 100% recyclable.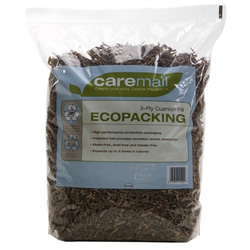 EcoPacking, a patented cushion fill, is made of 3-ply kraft strands. During handling, these strands break apart, tripling the volume and increasing the cushioning and shock absorption. EcoPacking offers excellent protection that's static-free, dust-free and hassle-free.
These biodegradable anti-static, lightweight peanuts feature a proprietary shape that offers stronger cushioning, reduced migration and increased stability during shipping. And, they are guaranteed to bypass landfills. If not being reused, these peanuts will dissolve safely in water.
Containers and packaging have an important role and function as a product component, such as providing information and instructions for use, protecting the contents, and preserving product quality during transportation. Much R&D and complex analysis remains to be done but significant progress has been made toward renewable packaging.
It's important to decrease the environmental impact by reducing the size of the packaging, switching to renewable raw materials, reusing materials, and finally, recycling materials for later use.
For further information:
1. http://www.gfc.state.ga.us/utilization/forestcertificationprograms/
2. http://www.evergreenpackaging.com/about/newsroom/133-ecomom-whitepaper
3. http://www.infosys.com/industries/consumer-packaged-goods/white-papers/Documents/green-PLM.pdf
4. http://www.fpintl.com/whitepaper-green-packaging-types.htm
5. http://www.idspackaging.com/common/paper/
Len Calderone - Contributing Editor

Len has contributed articles to several publications. He also writes opinion editorials for a local newspaper. He is now retired.



The content & opinions in this article are the author's and do not necessarily represent the views of AltEnergyMag
---
Comments (1)
I try to encourage my customers to use renewable packaging when they are packing up their things into storage. Not necessarily bio-degradable cardboard boxes and that kind of thing, but at least to use cartons and containers that they know they will be able to reuse again in the future after everything has been unpacked! That little bit of thoughtfulness can go a long way!
Post A Comment
You must be logged in before you can post a comment. Login now.
Featured Product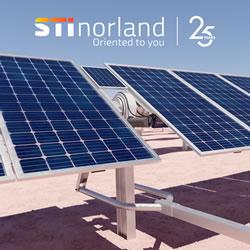 Developed in 2017, the STI-H250™ is consists of two linked torsion beams that rotate simultaneously following the sun's path. They are moved by just one motor, cutting supply and maintenance costs. STI-H250™ dual-row tracker includes backtracking mode to avoid shadowing between adjacent rows and stow function to protect the tracker in extreme wind conditions. For cleaning, vehicles can pass between trackers and each row can be placed in a different position.