AltEnergyMag.com is an Online Trade Magazine featuring Products, Companies, News, Articles and Events for the Alternative Energy Industry. With an emphasis on the state of the art and on the horizon technologies that have strong prospects of commercialization, our philosophy is to create an outlet where the industry can share information and report on itself.
We can help you choose from our diverse selection of ad formats and campaign options that will reach your best prospects.
Media Kit
Click here to request pricing by email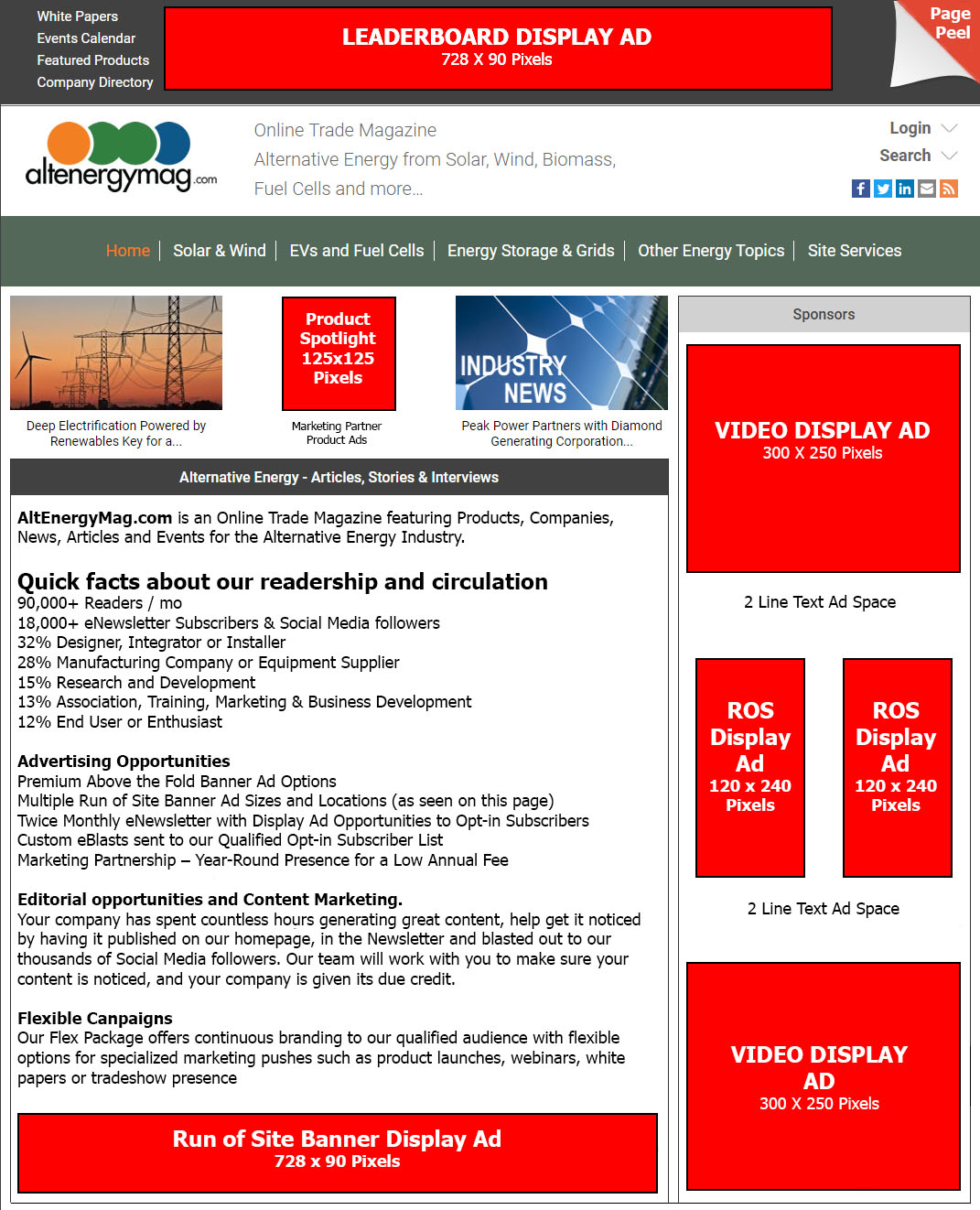 Advertising Formats and Specification
Run Of Site (ROS) Ad Formats
Ad content can be changed at any time during the campaign allowing market experimentation and targeting.
Rather than discounting unsold ad views to third parties, we give our customers the extra views for free!
Tradeshow and Content Packages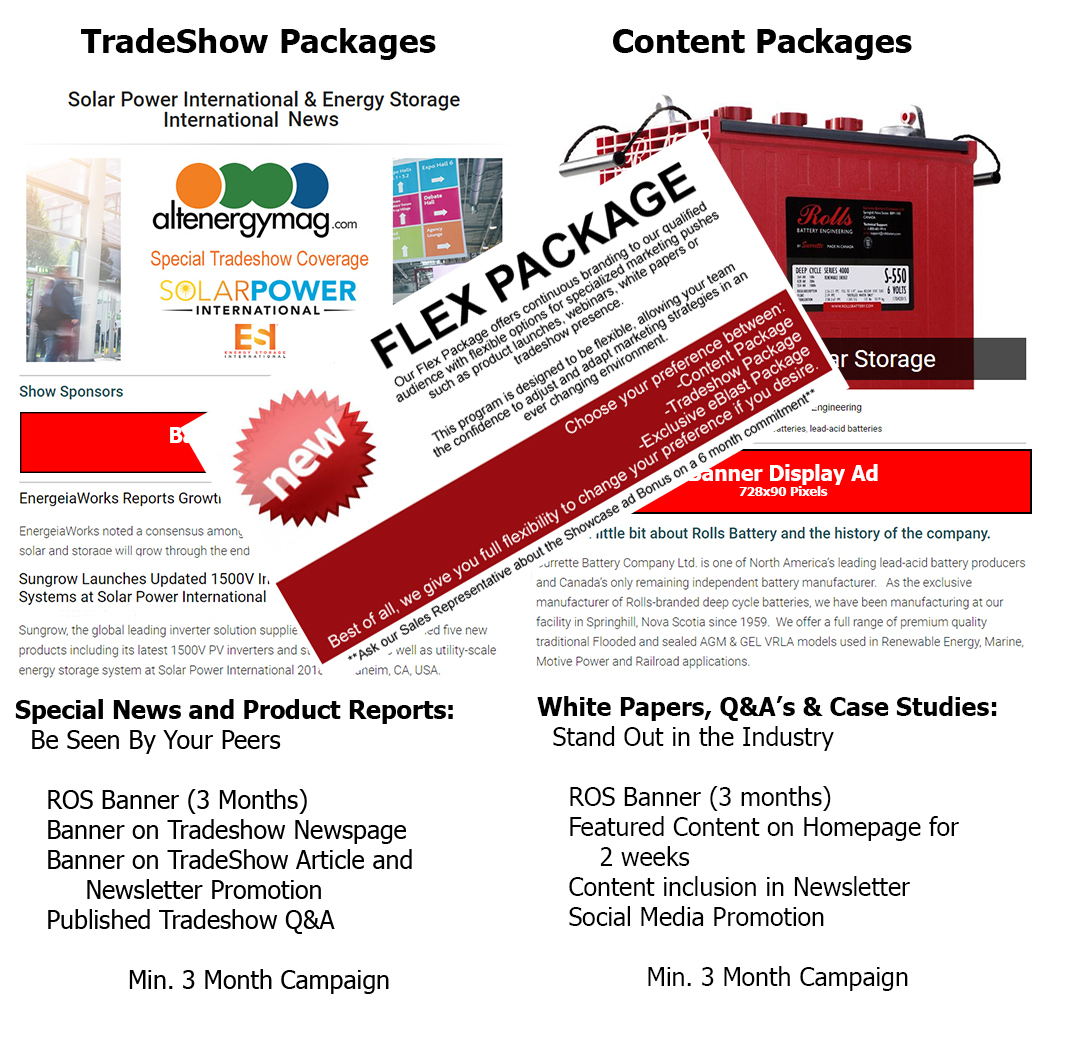 Newsletter Sponsorships
Marketing Partnership Program
Year-round Presence for One Annual Fee
Special Bonuses and Savings
Ask your sales representative about special discounts available on large orders. The following bonuses and additional services are included in every ad campaign with AltEnergyMag.
Set-up fees – No fees are charged to set up your ad campaign.
Product Ad – Company Profile or Product (short description) with one link and photo
Multiple Ad Creatives – Provide 2 ad creatives and split the views within one campaign.
Midstream Ad Changes – Swap ad creatives at any time without additional charges.
Bonus Ad Views – AltEnergyMag does not sell extra space to 3rd party ad servers. Unsold ad views are shared among our clients at no extra charge.
Feature your Trainings, Webinars & White Papers on our Special Resource pages.
Press Releases and Product Announcements – Free at any time.
Company Directory – Free listings remain in our library forever.
Ad Design and Creation
Our parent company has the ability to help you with ad designs specifically tailored to your needs and the requirements of the internet and our website. Our rates are reasonable and we have 20 years of experience in this medium.
Recomendations for Ad Design & Content
Based on our years of experience with Internet ad formats, here are a few recommendations to consider:
Include the words "Click Here" on all graphic ads (banners, hot spots, tiles etc.) and graphic links in showcase ads.
Optimize graphic ads to minimize file size to 50K or so to ensure the ad loads into the readers browser quickly.
Be straight forward with your message ... subtleties usually don't work.
Change your ads from time to time to attract familiar readers back to your website. They are probably your best fans.
Read and analyze the statistics when you get them and modify your ad campaign to improve performance or to reach a different customer. These are real numbers ... and AltEnergyMag provides the flexibility ... so use them to your advantage.
If you have an idea you'd like to try at AltEnergyMag ... just ask. Many of the services we offer came about as a result of feedback from you ... our clients.
For further information about these and other services contact:
AltEnergyMag (BTH Management Inc.)
Tel. (702)988-0904
Email
sales@altenergymag.com