Solar Energy Industries Association (SEIA) releases statement applauding the Federal Energy Regulatory Committee's (FERC) declaratory order.
For Immediate Release

Nov. 20, 2009
FERC Decision a 'Major Victory' for the Solar Industry
WASHINGTON, DC - Solar Energy Industries Association President and CEO Rhone Resch released the following statement today applauding the Federal Energy Regulatory Committee's (FERC) declaratory order confirming that sales by a developer of on-site solar generating projects to end-use customers do not constitute the sale or transmission of electric energy:
"This decision by FERC is a major victory for the solar industry. Recognizing that FERC does not have jurisdiction over on-site solar generating projects removes a great cloud of uncertainty about the role of third-party solar system owners and paves the way for greater, more cost-effective, solar deployments. In short, this decision allows solar companies to be just that - companies creating jobs and deploying more solar - and not have to be under the same regulatory system as utilities."
###
About SEIA:
Established in 1974, the Solar Energy Industries Association is the national trade association of solar energy industry. As the voice of the industry, SEIA works with its 1,000 member companies to make solar a mainstream and significant energy source by expanding markets, removing market barriers, strengthening the industry and educating the public on the benefits of solar energy. Learn more at www.seia.org.
SEIA President & CEO Rhone Resch is on Twitter: http://twitter.com/RhoneResch
SEIA is on YouTube (http://www.youtube.com/thesolarindustry) and Facebook (http://www.facebook.com/pages/Solar-Energy-Industries-Association/112495296809). Read the Solar Bill of Rights at http://www.solarbillofrights.com.
Background:
FERC Announcement:
http://seia.org/galleries/pdf/Declaratory%20Order%20on%20Jurisdictional%20Status%20of%20Solar%20Installations%20at%20%20Customer%20Facilities.pdf
Media Contact:
Monique Hanis, 202.556.2885, mhanis@seia.org
Jared Blanton, 202.556.2886, jblanton@seia.org
Mark Sokolove, Tigercomm, 703.302.8382, mark@tigercomm.us
Featured Product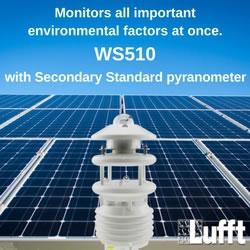 Professional weather sensors form the heart of large solar plants supporting their operation and performance. Lufft was the first manufacturer to combine several sensors in one housing, bringing the largest multiparameter weather sensor family with 19 members into being. Many of them are well-suited for solar site assessment and continuous monitoring. The most commonly used one is the WS600 delivering data on temperature, air pressure, wind, relative humidity and precipitation. Through its open protocol, it can easily be attached to radiation sensors e.g. from Kipp&Zonen. Other models have an integrated Silicon, Second Class or Secondary Standard radiation sensor.