The grant will pay for a highly qualified set of international and Kenyan consultants to perform the final technical and legal work necessary to commence drilling for the geothermal resource early next year.
GreenMax Capital Advisors ("GreenMax"), a leading global clean energy transaction advisor, has secured a $950,000 grant from the US Overseas Private Investment Corporation (OPIC) Africa Clean Energy Facility (ACEF), one of the Power Africa programs sponsored by the US Government, for Akiira One Ltd. ("AOL"), a Kenyan renewable energy project development firm, to support the final stages of project preparation for a 40MW geothermal energy project in Kenya. AOL is today owned by Kenyan, US and international investors.

The planned project will be constructed on land concessioned to AOL adjacent to the Olkaria geothermal fields, less than 100km outside of Nairobi. A first phase of 40MW will be followed by additional generation capacity totaling 140MW.
The grant will pay for a highly qualified set of international and Kenyan consultants to perform the final technical and legal work necessary to commence drilling for the geothermal resource early next year.
Robert Bunyi CEO of AOL, stated, "This grant is a major step in the implementation of the first fully commercially developed geothermal project in Kenya. While previous projects have benefited from early stage exploration and drilling funded by government and donors, AOL has tackled the steam field development with all its high risks, from scratch, entirely with private capital. Therefore the support of the US Government's OPIC ACEF program is enormously valuable as a partnership with us to allow our risk capital to stretch a bit further and enable drilling to commence on schedule. GreenMax's support has been invaluable in building our cooperation with OPIC and in finally securing the grant funding."
Hezy Ram, CEO of Ram Energy Inc., a Wyoming based geothermal energy developer which is one of the founding shareholders of AOL, remarked, "We are grateful for the support of OPIC and the aggressive role that our government is playing to promote investment by American companies like ours in Africa's clean energy sector. We believe Kenya offers strong opportunities for private investment in geothermal energy and a partnership with OPIC allows us to more effectively manage risks."
Clifford J. Aron, President of GreenMax said, "We are delighted to be able to successfully arrange support for AOL through one of the cornerstone programs of President Obama's Power Africa initiative. The US Government is providing valuable impetus for clean energy development in the power hungry nations of Sub Saharan Africa. GreenMax is proud to play a small role in helping Kenya meet its ambitious energy sector development goals."
AOL is one of the first clean energy project developers in Kenya to obtain a concession for preparation of a geothermal energy project without government financial support in early stage exploration. The company, which is solely dedicated to development of the geothermal project at Akiira, was first established by a Kenyan clean energy development company as a joint venture with the US geothermal developer Ram Energy Inc. Danish Investment Firm DI Frontier Market Energy & Carbon Fund and Kenyan investment firm Centum Investment Company Ltd are in the process of joining the project as equity investors to provide sufficient financial resources for implementation.
Centum is a leading East African investment company that is listed on the Nairobi Securities Exchange and cross- listed on the Uganda Securities Exchange. Centum invests through three distinct business lines namely; Private Equity, Quoted Private Equity and Real Estate & Infrastructure, with the energy sector a major focus.
Frontier is an investment fund with a unique focus on renewable energy and carbon credit generating assets in less developed emerging markets in Sub-Saharan Africa. Frontier takes an integrated approach to project development, investment, and carbon trade. The Fund invests in all of Sub-Saharan Africa, with core focus on Kenya, Rwanda, South Africa, Tanzania and Uganda.
US OPIC is the development finance arm of the US Government, providing financing and political risk insurance for projects that promote local economic development with substantial US private sector involvement. The Africa Clean Energy Facility (ACEF), as one of the affiliated programs of Power Africa, provides grants to support the soft costs for preparation of renewable energy projects throughout Sub-Saharan Africa. Managed jointly by the US Department of State, OPIC and the US Trade & Development Agency, the ACEF serves in part to help projects achieve "bankability" for eventual financing by OPIC.
GreenMax is a provider of policy, financial, project development, program design and management advisory services exclusively in the clean energy sector. To date, GreenMax has supported more than 50 project developers and investors to pursue the implementation of renewable energy infrastructure projects in 15 different countries. The firm's experts have worked on transactions resulting in more than 5,000 MW of clean power generation, including wind, solar, biomass, hydroelectric, geothermal and cogeneration projects. In sub-Saharan Africa, GreenMax has been engaged in sustainable energy project development for nearly 10 years and has offices or representatives in Lagos, Kigali, Nairobi, Dar es Salaam and Addis Ababa. GreenMax's most prestigious assignment in East Africa to date is as Transaction Advisor to Kenya's Geothermal Development Corporation for 300MW of geothermal power development at the Menengai prospect. GreenMax also currently supports 20 different clean energy projects under development in Kenya, Tanzania, Rwanda, Ghana, Nigeria, Senegal, Burundi and Benin. The dual goals of GreenMax's engagements with project developers are to ensure that projects are properly prepared up to internaitonal "bankability" standards and to leverage grant funding and GreenMax's own strategic expertise to maximize local ownership opportunities. GreenMax is a designated "Power Africa Private Partner" and has been named "Energy Corporate Finance Firm of the Year for 2013" and "Overall Energy and Environmental M&A Firm of the Year for 2014" by Acquisition International Magazine.
Featured Product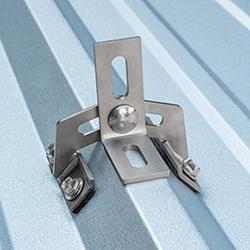 Explore new lines of income for your solar installation business with QuickBOLT's Stone Coated Steel roof mounts designed in partnership with metal roof manufacturers themselves. These SCS roof mounts work on all metal tile profiles and will help you bring in money you're missing out on. By not driving into the roofing material, QuickBOLT's Stone Coated Steel roof hooks maintain the integrity of the roof. Install with ease and confidence knowing your roof is protected against the harsh elements that these hooks are designed for.