Focus will be on researching how solar technologies perform in Wisconsin
Madison, Wis. - August 25, 2015 - Researching the latest solar technologies and how effectively they operate in Wisconsin's climate will be the primary focus of a large demonstration project Alliant Energy announced today. The company has plans to install more than three dozen unique renewable energy features over the next few years as part of a solar lab on the grounds of its headquarters in Madison, Wis.

Alliant Energy is breaking ground on the project this week and expects the first solar structure to be put in place next month. The company's offices at 4902 North Biltmore Lane on Madison's east side in the American Center business park will be the site for the renewable structures.
"We are excited about this innovative demonstration project and view it as a learning laboratory for research that our customers can view on a regular basis," said John Larsen, president of Alliant Energy's Wisconsin utility. "This multi-year effort will enable our company and our customers to discover the many ways solar energy and renewable technology can be used in a Wisconsin setting."
Phase one of the project includes several ground-level and building-mounted solar panels, solar parking canopies covering nearly 50 parking spaces, 13 electric vehicle charging stations, solar café tables and a battery energy storage system. Over 1,000 solar panels will be installed from multiple manufacturers, with 11 different types of panels used in all.
"One of the key project goals is to have a monitoring interface available onsite and online where anyone can view real-time performance data," said Larsen. "We'll be examining information on how the structures work and interact, as well as how they impact building operations. In addition, we'll research their operation, maintenance and safety aspects."
The project will place the solar energy features in various locations, angles and elevations on the office property to see how solar can be optimized in the Midwest. Alliant Energy will share the experience gained from constructing, operating and maintaining the structures. To that end, the company is collaborating with the Electric Power Research Institute to collect and analyze site data. The company also expects to bring in other partners in the coming months and years to maximize the project's educational, training, safety and operational benefits.
The initial construction phase is expected to be completed by the end of December, with a second phase planned to break ground in the second half of 2016. The initial project investment is expected to be approximately $5 million.
This project builds on Alliant Energy's commitment of caring for the environment by utilizing clean energy resources, including over a century of producing hydroelectric power, more than two decades of providing wind power, and assisting over 1,600 customers with installation of their own renewable energy generation.
Alliant Energy Corporation's Wisconsin utility subsidiary, Wisconsin Power and Light Company (WPL), utilizes the trade name of Alliant Energy. The Wisconsin utility is based in Madison, Wis., and provides electric service to 463,000 customers and natural gas service to approximately 185,000 customers in central and southern Wisconsin. The employees of Alliant Energy focus on delivering the energy solutions and exceptional service their customers and communities expect - safely, efficiently, and responsibly. Visit alliantenergy.com or call 1-800-ALLIANT (800-255-4268) for more information. Alliant Energy Corporation is traded on the New York Stock Exchange under the symbol LNT.
Featured Product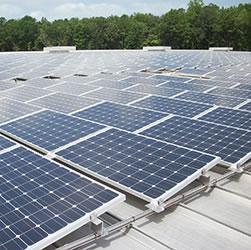 The Power Rail™ Commercial Mounting System is designed with the professional PV solar installer in mind. Both the XD/UD and LD/MD rails feature single tool assembly with the revolutionary patented RAD™ Lock-in-Place bolt for fast and secure module clamping. The high strength marine-grade aluminum rails include an integral wiring channel for securing cables and providing a professional finish.