Alternative Energy Newsletter - February 2012
>>> Articles - New Issue Online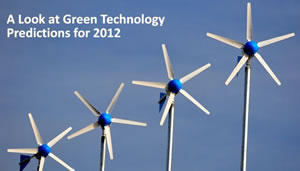 A Look at Green Technology Predictions for 2012
01/31/12, Mike Seifert, Ecotech Institute
The green landscape will continue to shift and it is important to watch, learn and prepare future leaders. The excitement of clean technology innovation in 2012 and beyond ought to be celebrated by everyone who has a stake in making our world a better place to work, play and live.
2011 Greentech M&A Review
01/31/12, Contributed by, Peachtree Capital Advisors
When the dust settled, 353 transactions had been completed for a reported $13.9 billion—down 6% from the $14.7 billion posted in 2010. While greentech funding rose 4% to $10.6 billion, mergers and acquisitions slumped 29% to $3.3 billion.
Solar Photovoltaic (PV) Power - Global Market Size and Key Country Analysis to 2020
01/31/12, Contributed by, Global Data
The global cumulative installed capacity for solar PV is expected to reach 330,424 MW by 2020, growing at a CAGR of 23.7% during 2011-2020. Europe is the leading solar PV market, with a share of 76.5% of the total cumulative installed capacity, followed by the Asia-Pacific region, accounting for a share of 15.8% in 2010.
Alternative Fueled Vehicles at the North American International Auto Show
01/31/12, Bill Dickens
Despite all the glamor, the real winner, the game changer, the quantum leaper, the watershed moment was here at the Autoshow and the Mainstream Automotive Writer's completely missed it.
Processing and Disposal of "soft" Municipal Solid Waste and Conversion into Electricity
01/31/12, Bernard Scharle, CONSULTING INTERNATIONAL
Ligno cellulose consists of accumulated solar energy, however recovery of this energy is possible only through combustion processes with considerable environmental disadvantages. The proposed technology offers a completely different approach: The input materials are dissolved in a concentrated salt solution.
Special Thanks to Unirac for sponsoring our home page this month
---

Rolls has been producing premium batteries specifically designed for the renewable energy market since 1984.  That's why those who can't afford to go without power know they can't afford to trust anyone else.
www.rollsbattery.com
>>> News Headlines
OPDE built in 2011 half the MWs connected since its foundation in 2005
OPDE scored in 2011 a record activity with the construction and connection of 51 MW in eleven PV solar farms in Spain and Italy. This figure means that, only in 2011, the company reached half the activity carried out in the five previous years, when it developed and connected 101.5 MW.
Announcing the 2012 International Biomass Conference & Expo Agenda
Created from more than 240 abstracts, the agenda contains the best presentations gathered from six continents.
First Stop Loss Point Triggered for 2012 Solar Stocks Portfolio; Yingli Green Energy Holding
Investorideas.com, a leader in renewable energy stock research for independent investors releases solar stocks commentary from solar expert, J Peter Lynch. Mr. Lynch discusses the first stop loss order for his 2012 solar stocks portfolio, Yingli Green Energy
Stellar Energy Powers Sonoma Mountain Village with a 1.158 Megawatt Solar PV System
The two-array system is the largest solar project financed through the commercial tax assessment program
Jim Adams and Neil Douglas to speak at Wind Power Finance & Investment Summit
Jim Adams, President of Natural Power US and Neil Douglas, Technical Director at Natural Power will both be contributing to the Wind Power Finance & Investment Summit agenda running from Wednesday 8th to Friday 10th February 2012
Arizona's Buckeye Union High School District Dedicates 4.29-Megawatt Solar Generation Project from Constellation Energy
Solar Power Systems Designed to Generate Enough Electricity to Power Three High Schools, Meeting up to 70 Percent of the District's Electricity Needs
>>> Hot Story
Lighting Maryland homes with power from giant turbines off Ocean City moved closer to reality Thursday as federal officials announced they are ready to go forward with leasing vast areas along the Mid-Atlantic coast for wind farms. Interior Secretary Ken Salazar said at a news conference at Baltimore's Inner Harbor that his staff found that no significant impact to the environment, shipping or other activities would result from letting developers start studies and plans for harnessing ocean winds from New Jersey to Virginia. Salazar, who had pledged more than a year ago to streamline the regulatory process for putting turbines offshore, said his Bureau of Ocean Energy Management would start soliciting bids for leasing up to 80,000 acres off Maryland. Eight companies or partnerships had expressed interest in 2010. "This is not going to be something that's going to be waiting around for multiple years," Salazar said. "We'll have those leases issued by the end of 2012."
---

PV America 2012 West
March 19-21, San Jose Convention Center - San Jose, Calif.
Join 4,000+ western U.S. professionals in solar energy and related fields searching for business connections and PV Solar Technology Solutions.
>>> Hot Product
An efficient and reliable inverter is the heart of a PV system. Through extensive collaborative R&D efforts, we offer string inverters that interact optimally with all solar modules with the following features: Power range of 1.5 to 5kw, One button design that ensures easy operation, High reliability and world-class efficiency, 5+5-year product warranty, Fast installation with wall mounted MC4 and Plug-in connector Reliable and prompt after-sale services, Temperature tolerance up to 60℃ centigrade, Highly compact design with fewer components and longer uptime, Integrated protection devices, SAA, G83 and VDE certified.
---

Japan's largest B-to-B exhibition & conference in the PV industry held annually in Tokyo with PV SYSTEM EXPO held in World Smart Energy Week 2012.
800 exhibitors & 120,000 visitors are expected.
http://www.pvexpo.jp/en/
>>> The Next Big Thing?
The Robotics industry is booming.
Join us as we launch into a new adventure. RoboticsTomorrow is a community website where those of you who work or are interested in the Robotics Industry are invited to contribute articles, news and product information for your peers to read and discover. Just like AltEnergyMag, our philosophy is to create an outlet where the industry can report on itself.
You'll find the same familiar features that you expect from us including:
Robotics eMagazine with articles focused on the industry, contributed by experts from around the globe
News page for recent Press Releases
Hot stories reported from around the industry
Find or promote Robotics Companies, Products and Events
If you are interested in contributing an article, interview or case study for publication please email us at info@roboticstomorrow.com.
Read More - RoboticsTomorrow
>>> Upcoming Sponsored Events
| Date | Event Name | Location |
| --- | --- | --- |
| Feb 28 - 01 | | Austin, TX |
| Feb 29 - 02 | | Tokyo, Japan |
| Mar 12 - 14 | | London, UK |
| Mar 12 - 14 | | San Diego, CA |
| Mar 19 - 21 | | San Jose, CA |
| Mar 21 - 23 | | Shanghai,China |
| Mar 28 - 30 | | Daegu, Korea |
>>> Industry Forums

Please take a moment to sign up and post your questions and share your expertise.
If you have ideas for new topics, methods or features, don't hesitate to voice them. We have set up what we think are some important forums but this is just the beginning so we need your input and participation to make it grow into a valuable source of information.
>>> Self Serve Marketing Features
Publish Your Story at AltEnergyMag
The process is very simple. Just email the article (news@altenergymag.com) along with any diagrams, photos etc. that you wish to have included. Length is not restricted. We do all the formatting and title graphics etc. and then let you preview the finished product before it goes live.  Biographies and company links can also be included.

Please bear in mind that we seek educational articles focusing on the technologies and benefits to readers rather than simple product cut sheets and promotional material.
Publish Your News
Just copy and paste news stories
Free Service
Google News Source
Free Company Directory Listing
Click Here to get started
Marketing Program
Enhanced Company Listings, Hot Product Listings, Enhanced News Publication Services, Special Event News Reports, Discounts and Special Offers
Send eMail to sales@altenergymag.com for details
---
Tell your friends about this newsletter. Keep up to date with the Alternative Energy Industry and all the new products it involves.
Please help us thank our sponsors and keep this resource free by visiting their websites and telling them you saw their ads at altenergymag.com.
Many thanks for your continuing support.
Bob Hetherington bobh@altenergymag.com
You are subscribed to our Newsletter List as [email]
We have many options for email subscriptions. This will insure that you receive content specific information in a timely manner. Please click the "Manage your subscription" link in the footer of this message. Then click "View my profile" to select the content you wish to receive. This information can be updated at any time. Our goal is to provide the information you want when you want it.
We look forward to staying connected.