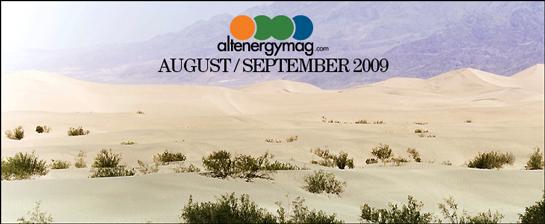 Featured Articles

Interviews

More Articles

NEXT ISSUE - COMING IN OCTOBER 2009
OPEN FORUM - ALTERNATIVE ENERGY and TRANSPORTATION TOPICS
The idea of this eMagazine is to give those of you with some knowledge on the subjects of green building or alternate energy systems and technology a chance to share your knowledge and experience. To submit your article for the next issue all you need to do is send an email to news@altenergymag.com with a short description of what you'd like to write about.
Comments (1)
Posted by Randy Cox on 09/16/09, 12:26 PM
Thank you for your newsletter, I learn so much here. I just built a solar horse waterer on some remote property in Northern Idaho. Fell free to copy my design. See it at www.SimpleEarthEnergy.com
Post A Comment
You must be logged in before you can post a comment. Login now.