Alternative Energy Articles from the Current eMagazine
Solar Power International 2014 AltEnergyMag Tradeshow Report
10/20/14, Brandon Hetherington for, AltEnergyMag
AltEnergyMag.com has once again partnered with SPI 2014 to bring all the industry news and exciting new products to help our readers make sense of this key tradeshow. Here we have compiled a list of some product releases from this years show.
Special News Report for SPI 2014
10/20/14, Prepared by, AltEnergyMag
Here are press releases and announcements from SPI 2014. Exhibitors are welcome to post their news here too.
SPI 2014 - Interview with Mark Cerasuolo of Outback Power Technologies
10/20/14, Mark Cerasuolo, OutBack Power Technologies
For SPI in 2014, we will be introducing the all-new control capabilities of our OPTICS RE user application. Launched this spring, the OPTICS RE cloud-based user-interface application provides installers and owners of OutBack systems the ability to easily monitor PV/solar system operation, performance and output via an intuitive dashboard from any Internet-enabled device.
SPI 2014 - Interview with David Briggs of IronRidge
10/20/14, David Briggs, IronRidge
This year we are focusing our new XR Rail Family, which was first introduced in mid-July. It's a significant improvement to our Roof Mount product line, both in terms of cost and installation efficiency.
SPI 2014 - Interview with Rita Hazen of Joyce/Dayton Corp.
10/20/14, Rita Hazen, Joyce/Dayton Corp.
SPI does a good job of organizing the business areas of interest in a logical manner making it easier to focus on those areas that are important to our business.
Alternative Energy Stories of the Day
SolarWorld announces expansions of solar panel and advanced cell production in Oregon
Submitted on: 10/31/14, 05:35 AM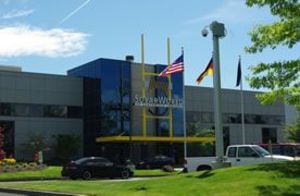 SolarWorld, the largest crystalline silicon solar producer in the Americas for nearly 40 years, announced that in 2015, it would add a solar-panel production line in Hillsboro to bring the panel-assembly factory's capacity up to 530 megawatts (MW), expand advanced cell production capacity by 100 MW and add 200 jobs.
"It is no secret that the last several years have been tough for SolarWorld and for U.S. solar manufacturers in general," SolarWorld U.S. President Mukesh Dulani said. "However, thanks to a variety of factors, including our trade cases against China, difficult but necessary financial controls and a fantastic group of employees, we have turned the corner. Today's announcement shows that SolarWorld is not only here to stay, but it also is ready to extend our leadership in the American solar manufacturing industry."
Dulani was joined at a morning news conference by U.S. Sen. Ron Wyden (D-Ore.), chairman of the U.S. Senate Committee on Finance. Sen. Wyden received a commemorative plaque thanking him for his years of support for SolarWorld and its workers during the cases. He also spoke at a SolarWorld employee forum after the news conference.
Sunrun, OutBack Power Pilot Renewable Energy Storage Systems For Homeowners
Submitted on: 10/29/14, 06:04 AM
Sunrun, the largest dedicated residential solar company in the United States, today announced a partnership with OutBack Power Technologies, Inc. to pilot renewable energy storage-based systems for a select group of Sunrun solar customers. OutBack Power is a designer a
Why Is There So Much Confusion About "Small Wind"?
Submitted on: 10/27/14, 05:31 AM
Have you ever noticed energy blogs or articles about small wind turbines comparing them directly with big wind technology and solar? I am writing this article to provide a little background on where small wind turbines can be very successful and where they make absol
Battery Backup for Rooftop Solar Power Systems Too Costly
Submitted on: 10/24/14, 05:31 AM
Using batteries to retain energy from rooftop solar systems will be too expensive for at least two years, according to industry executives. That means homeowners who add solar panels to save money on utility bills will continue to
Solar Power International underway in Las Vegas.
Submitted on: 10/20/14, 05:48 AM
This years show takes place October 20 - 23, 2014 in Las Vegas, Nevada. Over 15,000 + visitors are expected in attendance to learn about the latest technology innovations, financing models, busi
Today's Alternative Energy Headlines
ELSTER GROWS SOFTWARE AND SERVICES
Submitted on: 10/31/14, 05:17 AM
Experience the future of the smart grid with Elster at this year's European Utility Week
Global Geothermal Power Generation Market Size, Analysis 2012-2016
Submitted on: 10/30/14, 10:36 PM
About Global Geothermal Power Generation Research Beam adds a report titled "Global Geothermal Power Generation" that provides detailed information of the Geothermal Power Generation. The report is an excellent piece of study for investors who are looking towards the market.
New York State's First Solar Landfill Complete
Submitted on: 10/30/14, 06:00 PM
OnForce Solar Completes Construction on Large-Scale "Solar Field" for the Town of Clarkstown
SPI Solar Announces Framework Agreement to Acquire Shanghai All-Zip Roofing System Group Co., Ltd.
Submitted on: 10/30/14, 05:58 PM
Strengthens SPI's Leading Distributed Generation (DG) Solar Business
SPI 2014 - Panasonic Promotes Renewable Energy at Solar Power International
Submitted on: 10/30/14, 05:56 PM
Panasonic took part in a Solar Power International 2014 panel discussion with solar industry professionals working to help make that prediction a reality.
Online Now - Solar Power International 2014 Special News Report
Publish Your Show News and see what the competition is up to.


Featured Alternative Energy Product
Sun Bandit® is a revolutionary new way in which solar is used to heat water. This innovative new technology utilizes PV technology to deliver clean, reliable hot water by putting the free energy of the sun to work for you in ways that makes owning a solar system more practical and affordable than ever before. Achieving energy independence has never been easier than with a Sun Bandit® Solar Hybrid Energy System. Sun Bandit® patented technologies eliminates the need for complex solar mechanical water heating and replaces it with clean, simple to install and easy to enjoy PV technology to effectively and efficiently provide hot water. With advance micro grid technology and design, Sun Bandit® can deliver hot water even when the grid goes down. Sun Bandit® is the simplest solar hot water solution on the market, providing the most easy-to-use and economical way to go solar.
Featured Alternative Energy Company
(Secaucus, NJ, United States of America)
Panasonic Eco Solutions North America is a division of Panasonic Corporation of North America, the principal North American subsidiary of Panasonic Corporation (NYSE:PC). The company provides a full range of renewable energy and energy efficiency solutions including the planning, implementation, financing, and maintenance to corporate and private sector organizations in both the U.S. and Canada. To learn more visit www.panasonic.net/eco.
Upcoming Alternative Energy Events and Conferences