Alternative Energy Articles from the Current eMagazine
Reflections from Breakthrough Marine Energy Trials
01/14/15, Anders Jansson, CEO, Minesto
The marine power plant Deep Green has now been producing electricity for more than a year, and Minesto's founder and CEO Anders Jansson shares his experiences from the trials in this article.
Solar Market Predictions for 2015
01/14/15, Contributed by, IHS
IHS Technology analysts top 10 predictions for the 2015 global photovoltaic (PV) market
Training Program for Military Veterans to Maintain Growing Solar and EV Infrastructure
01/14/15, Rue Phillips, True South Renewables
Rather than focus on any one particular technology, the EFST training course educates the participants about the common technologies and service requirements that touch multiple markets, most notably the solar and electric vehicle charging equipment infrastructure.
Case Study - 28kW Custom Carport in Frederick, MD
01/14/15, Contributed by, PV Racking
The PV Racking clamp-free rail was a great solution for this carport, as it helped to eliminate rain water leaking through the arrays in comparison to a traditional clamp-based system.
Upcoming Tradeshow, Conference & Exhibition Summary
March, April, May 2015
01/14/15, Brandon Hetherington for, AltEnergyMag
2015 promises to be another banner year for the Renewable Energy Industry. Solar and Wind will continue to grow and Energy Storage will continue to dominate the conversation. April offers up some great Energy Storage events here in North America and Europe.
Alternative Energy Stories of the Day
Wind power auction draws limited interest
Submitted on: 01/30/15, 05:14 AM
Boston Globe:
Are falling energy prices and the collapse of the Cape Wind project undermining other offshore wind projects?
A federal government auction of four leases to build wind farms off the coast of Martha's Vineyard drew little interest, selling for a fraction of what previous auctions raised recently.
Just two of 12 qualified bidders participated in the auction Thursday by the federal Bureau of Ocean Energy Management to sell wind development rights for a 1,161-square-mile swath of ocean about 14 miles south of Martha's Vineyard. Two of the four leases did not receive any bids.
One of the winning bidders, the renewable energy company RES Americas, paid $281,285 to lease 187,523 acres, while the second, New Jersey-based MW Offshore LLC, paid $166,886 for 166,886 acres.
That works out to just $1.50 and $1 per acre, respectively, for each lease.
In contrast, Deepwater Wind New England LLC paid about $23 an acre in 2013 with its winning bid of $3.8 million for a nearby stretch of ocean closer to Rhode Island. The federal ocean energy bureau has also sold offshore leases off the coasts of Virginia and Maryland.
Despite the poor showing, officials noted the new leases would nearly double the amount of acreage the bureau has leased for offshore wind power through competitive sales.
Foreign funds flow set to skyrocket for renewable energy projects in India
Submitted on: 01/27/15, 03:15 PM
From The Economic Times: Big-ticket announcements invol
Worry for Solar Projects After End of Tax Credits
Submitted on: 01/26/15, 05:39 AM
NY Times: For more than a year now, an enormous solar thermal power plant has been humming along in the Arizona desert, sending

Submitted on: 01/23/15, 05:39 AM
America's wind installations grew six-fold in 2014, making the United States the world's second-largest wind market behind China, according to new figures out today from research firm Bloomberg New Energy Finance. US installations reached 4.7
Amazon Invests In 150MW Indiana Wind Farm To Power Its Data Centers
Submitted on: 01/21/15, 05:40 AM
From TechCrunch: Amazon today announced that it is working with the Pattern Energy Group to construct and operate
Today's Alternative Energy Headlines
Featured Alternative Energy Product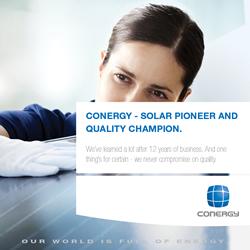 Conergy is a German-based solar company with subsidiaries all over the world – and what you would call a complete all-rounder. We have mastered every aspect of photovoltaics, becoming the player for complete solutions and services from a single source. For our customers and partners this means: more peace of mind, more output, more service. Since our foundation in 1998 we have advised more than 10,000 customers around the globe and provided more than 2 gigawatts of solar module capacity. We have learned a lot in the process – about sun, wind and weather on all five continents. And about the high standards required by our international customers. Today, we can offer any private customer, enterprise and investor all-round peace of mind, from small solar installations on residential buildings to medium-sized systems on commercial and industrial buildings and up to the biggest multi-megawatt free-field installations.
Featured Alternative Energy Company
(Albuquerque, New Mexico, United States of America)
Array Technologies, Inc is the leading U.S.-based manufacturer of smart, cost-effective, reliable and robust solar tracking and racking systems. We work to provide utilities, corporations, small businesses, and homeowners the right system for each project, whatever its scale, location or requirements.
Upcoming Alternative Energy Events and Conferences