Alternative Energy Articles from the Current eMagazine
EPA's Clean Power Plan: Challenges Ahead for Sources and States
07/14/14, Chris MacCracken, Steven Fine, Phil Mihlmester, David Pickles and Ankit Saraf, ICF INTERNATIONAL
In this paper, we discuss the critical issues that sources and states face in evaluating EPA's proposal and developing plans to meet the Clean Power Plan requirements.
Nokero Introduces World's Most Affordable Solar Light Bulb
07/14/14, Terri Steele, The ECO Report
Nokero's Next Generation Solar Light Bulb (the N182), Doubles Light Output, Decreases Costs and Lights the Way to Ending Extreme Energy Poverty
Upcoming Tradeshow, Conference & Exhibition Summary - August, September & October
07/14/14, Brandon Hetherington, AltEnergyMag.com
As Summer kicks into full gear we can sit back and enjoy a bit of a break from the Tradeshow schedule. August will see a bit of a lull but starting September and intensifying in October the Alternative Energy tradeshow calendar is full! Here is a summary of what Tradeshows, Conferences & Exhibitions to look forward to in the coming months.
Using Fuel Cells in Unique Product Applications
07/14/14, Chris D'Couto, Neah Power Systems
The three products we offer are the PowerChip, a silicon based fuel cell product targeted for defense and commercial customers, the second product is the BuzzBar Suite that is targeted at consumers for cell phone and tablet charging, and the final product is the Formira product, which is an air based fuel cell technology that generates hydrogen for formic acid and that can be used for larger power ranges.
Biooil and Char Production from Melia dubia
07/14/14, R. Mythili and P. Venkatachalam, Department of Bioenergy, Agricultural Engineering College and Research Institute, Tamil Nadu Agricultural University
Biomass is an important material for the sustainable source of energy. It can generate solid, liquid and gaseous products under different thermochemical conversion technologies. In this study, Melia dubia – a fastest growing energy crop was subjected to pyrolysis. Two products namely, biooil and char were produced and their characteristics were analyzed.
Alternative Energy Stories of the Day
China Solar Projects Poised to Fuel Panel Price Rebound
Submitted on: 07/28/14, 05:52 AM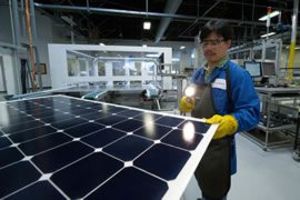 The expected recovery in China, which accounts for more than 60 percent of global solar panel output, offers an early sign that manufacturers are succeeding in soaking up supply by building their own projects. The government's push to promote developments closer to regions where electricity is needed most -- so-called distributed solar projects -- may also spur orders.
Panel prices in China declined about 10 percent in the first six months of the year compared with the second half of last year, according to Bloomberg New Energy Finance.
Higher tariffs imposed in the U.S. have had the opposite affect to what's happened in China. Panel prices have increased about 15 percent since early June when the U.S. decided to apply preliminary duties on Chinese solar equipment imports, according to a global measure of panel prices.
The U.S. Commerce Department acted again on July 25, proposing expanded penalties on some Chinese solar-energy imports in a victory for the U.S. unit of SolarWorld AG, which accused China of shifting production to Taiwan after it lost an earlier case.
The Coming Storage Boom: Project Proposals Nearly Double California's Storage Target
Submitted on: 07/25/14, 05:09 AM
California's push to transform the market for grid-scale energy storage is working even better than expected -- at least on paper. Last year, California created a mandate calling for 1,325 megawatts of energy storage project
China Poised For Significant Expansion In Wind Power Generation
Submitted on: 07/22/14, 03:13 PM
China is the world's largest producer of electricity, surpassing the United States in 2011, with demand increasing alongside its strong, sustained growth in GDP. Electricity generation in China has increased 9.6% annually, from 2005 to 2013, reaching 5,425.
New spongelike structure converts solar energy into steam
Submitted on: 07/21/14, 06:20 AM
A new material structure developed at MIT generates steam by soaking up the sun. The structure — a layer of graphite flakes and an underlying carbon foam — is a porous, insulating material structure that floats on water. When sunlight hits the st
How Much Energy Storage Do You Need to Back Up the London Array?
Submitted on: 07/17/14, 06:24 AM
Storing electricity underwater in the form of compressed air is a tantalizing notion that could, if it works, help solve the intermittency problem of wind, solar, and other renewable sources. That "if" is a big one, though, because there are many details en
Today's Alternative Energy Headlines
Corvus Energy and Green Marine Capital Close Financing Agreement
Submitted on: 07/29/14, 03:41 PM
$5 Million strategic investment to fuel growth
Triodos Renewables breaks ground in Cambridgeshire
Submitted on: 07/29/14, 03:26 PM
Construction at the Boardinghouse site of five turbines, which have a combined generation capacity of 10.25 MW, is expected to take 14 months with an anticipated operational launch in September 2015.
GE Energy Financial Services Invests in Atria Power's Wind Farms in India
Submitted on: 07/29/14, 03:23 PM
Supports USD $1 Billion Annual Renewable Energy Investment Commitment
FuelCell Energy Identifies New Haven, Connecticut as Second Location in the Previously Announced 5.6 Megawatt Sale to United Illuminating
Submitted on: 07/29/14, 03:21 PM
Contract executed for 2.8 megawatt power plant in New Haven, Connecticut ---- Fuel Cell plant will supply ultra-clean baseload electricity to UI-owned substation
Geothermal Energy Association Names Winners for GEA Honors 2014
Submitted on: 07/29/14, 03:07 PM
Awards to be Presented at National Geothermal Summit on August 5
Online Now - InterSolar 2014 - Free Publishing for Exhibitors - No Account Necessary


Featured Alternative Energy Product
GreenFasten™ solar panel roof mount hardware by EcoFasten Solar® is designed and manufactured in the USA from recycled materials, features a patented watertight bushing, utilizes lag bolts to secure to the roof, has IAPMO certification, is one of the fastest attachment points to install in the industry, can be used for retrofit applications without removing shingles, available in a variety of configurations, can be customized to fit any proprietary hardware on the market and meets ARRA standards.
Featured Alternative Energy Company
(Corona, CA, United States of America)
U.S. Battery Manufacturing Company
Upcoming Alternative Energy Events and Conferences