Alternative Energy Articles from the Current eMagazine
How and Where Distributed Energy Resources Will Reduce the Need for Transmission
12/01/13, Kiran Kumaraswamy, ICF International
The rapid growth of distributed energy resources (DER), a non-transmission alternative, is raising concerns over the viability and necessity of new transmission lines.
2013 completions of large solar thermal power plants mark technology gains
12/01/13, Reprinted with permission from, Today in Energy
All five of the major solar thermal projects—including Solana and Ivanpah—that are scheduled to come on line in 2013 and 2014 were awarded loans through the U.S. Department of Energy's Loan Guarantee Program.
Q3 2013 Deal Volume Comparison
12/01/13, Contributed by, Lincoln International
Merger and Acquisition information from Lincloln's Deal Reader.
Vanderbilt Proposes Building Energy Storage Into Solar Cells
12/01/13, Chris Meehan for, SolarReviews
Imagine a photovoltaic cell or module that actually stores as well as produces energy, acting as a battery and producing power even after dark.
Will You Survive Solar Grid Parity?
12/01/13, Patrick McCabe, GreenLancer.com
A path to ensure profitable installation for residential solar
Alternative Energy Stories of the Day
SolarCity, Using Tesla Batteries, Aims to Bring Solar Power to the Masses
Submitted on: 12/05/13, 01:59 PM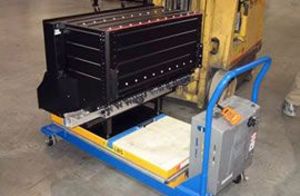 SolarCity—a company that's grown quickly by installing solar panels for free and charging customers for the solar power—announced a new business that will extend that model to providing batteries for free, too. SolarCity is a rare success story for investors in clean technology, and its business model has sped the adoption of solar panels.
The batteries could help businesses lower their utility bills by reducing the amount of power they draw from the grid. They could also help address solar power's intermittency, which could prevent it from becoming a significant source of electricity. The batteries are being supplied by Tesla Motors, whose CEO, Elon Musk, is SolarCity's chairman.
Other solar companies have failed in recent years. But SolarCity's business model has helped it grow quickly. It had a successful IPO a year ago, and its stock price has risen from its IPO price of $8 to over $50 today.
CEO Lyndon Rive says that eight years from now, the company might not be able to continue selling solar panel systems unless it packages them with batteries, because of the strain on the grid that solar power can cause. "It could be that, without storage, you won't be able to connect solar systems to the grid," he says.
Hitachi Develops All-in-One Container-Type Energy Storage System
Submitted on: 12/04/13, 06:06 AM
Hitachi, Ltd. announced that it has developed an all-in one, container-type energy storage system as a core energy product for ensuring the stable use of distributed renewable energy such as wind and solar power, while maintaining the power supply-demand balance. This
EU Nations Approve Pact With China on Solar-Panel Trade
Submitted on: 12/02/13, 06:18 AM
European Union countries approved an agreement with China to curb imports of Chinese solar panels, ending the EU's biggest commercial dispute of its kind. EU governments endorsed
The US has 43 nuclear power plants' worth of solar energy in the pipeline
Submitted on: 11/25/13, 04:32 PM
The boom in solar energy in the US in recent years? You haven't seen anything yet. The pipeline of photovoltaic projects has grown 7% over the past 12 months andnow stands a
SolarCity Completes Industry's First Securitization of Distributed Solar Energy
Submitted on: 11/21/13, 10:46 AM
SolarCity Corp. today announced that it has completed what is reported to be the first securitization of distributed solar energy assets. SolarCity completed a private placement in the amount of $54,425,000 with an interest rate of 4.80% and a scheduled maturity
Today's Alternative Energy Headlines
3TIER and IRENA Collaborate to Give Researchers Access to Better Renewable Energy Information
Submitted on: 12/06/13, 10:58 AM
Today 3TIER made wind and solar information from its global datasets publicly available through IRENA's Global Atlas in support of research and advocacy groups around the world. The advanced datasets will inform policy makers, investors, and other researchers in country to continent-scale studies.
AWEA Statement on U.S. Fish & Wildlife Service's Eagle Permit Tenure Rule
Submitted on: 12/06/13, 08:16 AM
---
TerraSmart Ground Mounts
Submitted on: 12/06/13, 06:28 AM
When the same old racking solution is no longer relevant, discover a turnkey ground mount racking solution that does what it's supposed to do: quicken installation times.
Hannover Fairs USA and Canadian Wind Energy Association Announce Long-Term Partnership
Submitted on: 12/05/13, 06:18 PM
"The partnership with CanWEA represents a further investment in HANNOVER MESSE's growing global energy event platform, as well as an important strategic business initiative"
Enphase Powered Solar Project Nears 2GWh Production Milestone
Submitted on: 12/05/13, 06:15 PM
Two adjacent 575kW solar farms in Canada maximize energy production with reliable Enphase microinverters
Tradeshow News Reports Online Now

Solar Power International 2013
Exhibitors and Attendees - Post your show news here without the need of an account!
Featured Alternative Energy Product
20/20™ is Sol's latest state-of-the-art LED lighting system designed for large spaces such as parking lots and perimeter security areas. It delivers superior light performance in an architectural package that increases pole spacing, lighting uniformity and simplifies installation. The 20/20's unified design incorporates a low profile LED luminaire, light engine, PV assembly and pole, powder coated your color choice. Designed from the ground up, it exceeds the demands of modern commercial outdoor solar lights to maximize your return on investment. The 20/20™ luminaire features IDA Dark Sky approved optics available in your choice of Type II, III or V.
Featured Alternative Energy Company
(Kettering, OH, United States of America)
Joyce/Dayton offers a complete line of solar tracking drive jacks specifically designed for heavy-duty tracking applications. These jacks position loads at speeds typical of the solar industry.
Upcoming Alternative Energy Events and Conferences