Alternative Energy Articles from the Current eMagazine
New Map Shows Solar Jobs Still Growing Faster Than the Economy
05/16/13, Chris Meehan, SolarReviews
Thanks to The Solar Foundation (TSF), individuals can now learn more about the solar industry in their backyard, their neighboring states and across the country. On April 18, TSF introduced a new interactive map that showcases the nearly 120,000 jobs in America's booming solar industry in 2012. This is the first time that the public can easily access the data on a state-by-state basis, and explore what parts of the solar industry are biggest—including manufacturing, installing, sales, project development and associated jobs.
Wind Industry in the USA
05/16/13, Jukka-Pekka Mäkinen, The Switch
The debate of the PTC just took too long and put the players to uncertainty. Installations were pushed in 2012 to record level of almost 13 GW. This year will be a big dip to estimated 4 GW or so and midterm the installations should level on 7 GW level.
Case Study: Thomonde Hospital In The Central Region of Haiti
05/16/13, Contributed by, Trojan Battery Company
The Thomonde battery bank was designed for 40 percent depth of discharge and only one day of autonomy due to the large loads of some of the medical equipment and the availability of the diesel generator.
Making the Switch: From Fixed to Solar Tracker
05/16/13, Rich Nicol, AllEarth Renewables
I compared the cost per watt to install a standard pole mount, such as a DPW, and found it cost the same as putting up a standard tracker. And of course by tracking you get the additional power.
Interview with Sophie Parker of The Nature Conservancy
05/16/13, Sophie Parker, The Nature Conservancy
In areas of the Mojave that are ecologically intact, renewable energy development poses a major problem for plants, animals, and other species. Some major issues include: habitat destruction and fragmentation, water use, and bird mortality.
Alternative Energy Stories of the Day
Solar Power Windows Fast Approaching Commercial Production
Submitted on: 05/17/13, 06:46 AM
Commercial production of solar windows, using the patented SolarWindow spray-on solar power coating system, may be just around the corner. A recent announcement from US building integrated photovoltaics (BIPV) developer New Energy Technologies Ltd. (which we've been following for years) has us feeling that the time may soon come.
As per New Energy Technologies' recent announcement, the big news is that the fabrication time of the technology has been greatly reduced. The fabrication process, which involves methodically spraying layers of extremely small solar cells onto glass, has been reduced from a couple of days to only a couple of hours. According to the company, the process has been cut to 1/6 of the previous fabrication time.
And perhaps as significantly, New Energy has also reported that it has achieved "a two-fold increase in power conversion efficiency" and improved the transparency in the glass.
SolarCity Thrives in Solar Power Sector
Submitted on: 05/15/13, 06:29 AM
Sun Concept, Ampulse, Evergreen, Solyndra: the long list of defunct solar companies is enough to give pause to anyone trying to enter the business. But at least one company, SolarCity, has been succeeding where so many others have failed. Its secret? Staying away from
EU to Hit China Solar Panel Makers With Anti-Dumping Tariffs
Submitted on: 05/13/13, 05:59 AM
The European Union (EU) is moving ahead with tariffs on imported Chinese solar panels in an effort to protect its own module makers. European Commission (EC) Trade Head Karel De Gucht will recommend the EC impose anti-dumping (AD) charges similar to those im
Patent filing claims solar energy 'breakthrough'
Submitted on: 05/09/13, 06:21 AM
In a U.S. patent application, a little-known Maryland inventor claims a stunning solar energy breakthrough that promises to end the planet's reliance on fossil fuels at a fraction of the current cost – a transformation that also could blunt global war
AWEA's New CEO Greets WINDPOWER Attendees
Submitted on: 05/07/13, 01:41 PM
Tom Kiernan, the American Wind Energy Association's (AWEA) incoming CEO, took to the stage Monday morning to briefly greet attendees during the opening general session at WINDPOWER 2013, being held in Chicago through May 8. AWEA recently named Kiernan to
Today's Alternative Energy Headlines
The 24th Annual Energy Fair June 21-23, 2013 - Custer, WI
Submitted on: 05/17/13, 10:41 AM
Each year the MREA Energy Fair transforms rural Central Wisconsin into the global hot spot for renewable energy education. The Energy Fair brings over 20,000 people from nearly every state in the U.S. and several countries around the world.
Crucial Bill in Massachusetts Would Guarantee Purchase of All SRECs
Submitted on: 05/17/13, 07:55 AM
Rodman & Rodman, P.C., providers of specialized green energy and clean technology accounting and tax services, explain House Bill No. 2915
Enphase Energy Supports Team USC in 2013 U.S. Department of Energy Solar Decathlon
Submitted on: 05/16/13, 09:02 PM
Students of sustainable design and building to install the Enphase Microinverter System on solar-powered fluxHome
Cornell Dubilier Introduces Type 948D, Capacitors for Large Inverter Systems
Submitted on: 05/16/13, 09:00 PM
Housed in a plastic rectangular package that is nearly a cube with 6.5 inch sides, Cornell Dubilier's Type 948D DC link capacitors offer up to 20% more capacitance in the same size case with lower ESR and higher ripple current ratings than competitive types.
Hong Kong's First Pure-Electric Taxis Begin Service, Revolutionizing Public Transport
Submitted on: 05/16/13, 08:58 PM
BYD e6 Taxi fleet and e6 Premier sedan to launch officially in Hongkong
Featured Alternative Energy Product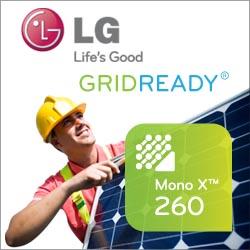 The MonoX, LG's most technologically advanced module, can produce up to 260 Watts of pure sun power. The MonoX delivers maximum efficiency while offering superior durability backed by 25 years of intense research and development far surpassing industry standards. The MonoX and all of LG Solar's photovoltaic modules are uniquely designed to offer the superior quality, field tested performance, durability and reliability customers the world over have come to expect. Our diverse product range consists of residential, commercial and utility-grade modules that come ready to perform.
Featured Alternative Energy Company
(Vienna, , Austria)
reegle is a one-stop-shop for high quality up-to-date information on clean energy policy, with a core objective of supporting the global advancement of energy efficiency and renewables.
Upcoming Alternative Energy Events and Conferences