Alternative Energy Articles from the Current eMagazine
The Integrated Grid
02/27/14, Contributed by, The Electric Power Research Institute, Inc. (EPRI)
Excerpts from the EPRI Study on the Integrated Electric Grid
50-State Solar Jobs Analysis
02/27/14, Andrea Luecke, The Solar Foundation
Solar energy is still pushing its way into the mainstream. Installation is booming because people are becoming more and more aware of the value and other benefits of solar energy.
2013 Nanotechnology Patent Literature Review
02/27/14, Contributed by, McDermott Will & Emery Nanotechnology Affinity Group
For nanotechnology patent literature as a whole, Energy Storage, Photovoltaics and Petroleum Exploration emerged as the top three areas of focus in the Energy sector, each with similar growth since the early 2000s.
2014 Solar Marketing Outlook
02/27/14, Contributed by, Eco Branding
Each year, we survey a few dozen clean tech companies across many sectors of the industry – including solar, wind, geothermal and energy efficiency – to collect valuable data on marketing practices within the industry.
Case Study - Mark Abbott Memorial Lighthouse in Santa Cruz, CA
02/27/14, Ron Jones for, Quick Mount PV
Since the installation is located just 40 feet from world-class surf spot Steamer Lane, resisting the corrosive effect of ocean air required aluminum rigid conduit, stainless steel hardware, and anodized roof mounts.
Alternative Energy Stories of the Day
GE Introduces Smart, Powerful 2.75-120 Wind Turbine
Submitted on: 03/10/14, 06:16 AM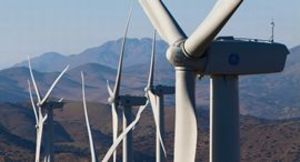 At the European Wind Energy Association's annual conference, GE) announced its 2.75-120 wind turbine, a smarter, more powerful turbine. Part of GE's brilliant wind platform, the 2.75-120 provides 5 percent more annual energy production than GE's 2.5-120 model and is available with various tower technologies, ranging between 85-139 meters, and optional energy storage.
"As we accelerate our platform's growth in Europe, we will continue to invest in technology such as the 2.75-120's flexible tower and other energy storage options, making GE's wind turbines more customizable for developers and operators," said Cliff Harris, general manager of GE's renewable energy business in Europe.
The 2.75-120 is available on a steel, hybrid or space frame tower, helping to tailor the turbine for unique site conditions and bring wind power to new places across the continent. The range of tower height spans 85-139 meters tall.
Short-term or long-term energy storage is available with the 2.75-120, making wind power more predictable, flexible and fast responding through battery software applications. Short-term storage is integrated at the turbine level and long-term storage is centralized for the wind farm. These options further customize GE's offering based on-site or operator needs.
New Report: U.S. Solar Market Grows 41%, Has Record Year in 2013
Submitted on: 03/07/14, 05:40 AM
Continuing its explosive growth, the U.S. solar industry had a record-shattering year in 2013. According to GTM Research and the Solar Energy Industries Association's (SEIA) Solar Market Insight Year in Review 2013, photovoltaic (PV) installations continued to prol
Follow The Money: Who Is Funding Energy Storage And Why
Submitted on: 03/05/14, 05:51 AM
To understand how the energy storage in the United States – particularly California — is heating up, just follow the money. Green Charge Networks, a Silicon Valley storage installer, announced Tuesday that it has lined
Trina Solar and ANU Jointly Develop High Efficiency Solar Cell
Submitted on: 03/03/14, 01:56 PM
Trina Solar a global leader in photovoltaic modules, solutions and services, announced today that researchers from Trina Solar and the Australian National University have jointly developed a new high-efficiency solar cell. T
Tesla to raise $1.6 billion for 'Gigafactory'
Submitted on: 02/27/14, 02:57 PM
Tesla's grand expansion plans will be funded in part by raising $1.6 billion through a bond issue that the automaker announced Wednesday. The money will be used to build what its founder Elon Musk has dubbed the "Gigafact
Today's Alternative Energy Headlines
Without China, would America still have Solar Energy Panels?
Submitted on: 03/10/14, 07:00 PM
If America was to have a trade war with China, would we still have access to solar panels? The answer is yes, but probably not at first. Solar energy trade practices in China definitely affect the United States.
GE Introduces Smart, Powerful 2.75-120 Wind Turbine
Submitted on: 03/10/14, 06:06 PM
Next-Generation GE Brilliant Turbine Generates 5 Percent More Annual Energy Production than GE's 2.5-120 ---Available with Turbine-Integrated or Centralized Energy Storage for More Predictable Wind Power ---Various Tower Technologies, Spanning 85-139 Meters, Help Tailor Turbine for Site Conditions
Enphase Energy Celebrates 3,000th Installation in The Netherlands in Under 24 Months
Submitted on: 03/10/14, 06:04 PM
World's leading microinverter systems company celebrates with launch of awareness campaign to support new era of solar energy in the country
Yingli Green Energy Signs Its Largest Module Supply Agreement to Date in Israel
Submitted on: 03/10/14, 06:02 PM
27.5 MW of Yingli Solar Modules Selected for Utility-Scale Project
Gestamp Solar and 8minutenergy Renewables to Build 50MW Solar Farm
Submitted on: 03/10/14, 05:59 PM
PPA Increases Total Megawatts Under Contract to 375MW for Nation's Leading Independent Solar PV Developer
Featured Alternative Energy Product
Unirac leads the PV mounting market with industry-leading technology and a breadth of product solutions and services designed to meet the needs of any type of solar installation. We start with the voice of the customer. Unirac collaborates with installers and system integrators who work with a variety of structures and PV modules, in order to deliver mounting solutions that offer the freedom and flexibility, along with the speed, ease and low cost of installation they are looking for. By partnering with the industry's premier integrators and distributors, Unirac delivers custom-designed solutions using highly engineered mounting technology, backed by excellent end-to-end technical support.
Featured Alternative Energy Company

(Albuquerque, NM, United States of America)
Unirac leads the PV mounting market with industry-leading technology and a breadth of product solutions and services designed to meet the needs of any type of solar installation.
Upcoming Alternative Energy Events and Conferences