Alternative Energy Articles from the Current eMagazine
United States Installs 1,354 MW of Solar in Q3 2014
12/15/14, Contributed by, Solar Energy Industries Association
The report forecasts the U.S. to install 6.5 GW of PV in 2014, a 36 percent increase over the historic 2013.
1500 volt vs. 1000 volt system with distributed electronics: Which lowers system cost more?
12/15/14, Mark Kanjorski, Ampt
This discussion poses the important question, "What are the considerations and tradeoffs of both designs – 1500 volt vs 1000 volt with distributed electronics – and which should you choose?"
Turquoise calls for clarity on UK energy goals
12/15/14, Robin Whitlock , Freelance Journalist/Writer
Turquoise International has called for more clarification concerning the prioritisation of technologies in the UK energy sector.
First Solar Strategic Investment in Clean Energy Collective (CEC)
12/15/14, Contributed by, First Solar
This partnership marks an important milestone in the quest to significantly broaden the availability of affordable, local clean energy production to residential and commercial ratepayers.
Hydrogen Fuel Cells for Cars and More
12/15/14, Tim Young, HyperSolar
When hydrogen is compressed, it is much more energy-dense than even the most advanced batteries.
Alternative Energy Stories of the Day
U.S. Imposes Steep Tariffs on Chinese Solar Panels
Submitted on: 12/17/14, 05:24 AM
The Commerce Department began closing a chapter in a protracted trade conflict with China over solar equipment Tuesday, approving a collection of steep tariffs on imports from China and Taiwan.
The decision, intended to close a loophole that had allowed Chinese manufacturers to avoid tariffs imposed in an earlier ruling by using cells — a major module component — made in Taiwan, found that the companies were selling products below the cost of manufacture and that the Chinese companies were benefiting from unfair subsidies from their government.
The department announced anti-dumping duties of 26.71 percent to 78.42 percent on imports of most solar panels made in China, and rates of 11.45 percent to 27.55 percent on imports of solar cells made in Taiwan. In addition, the department announced anti-subsidy duties of 27.64 percent to 49.79 percent for Chinese modules.
"These remedies come just in time to enable the domestic industry to return to conditions of fair trade," said Mukesh Dulani, president of SolarWorld Americas. "The tariffs and scope set the stage for companies to create new jobs and build or expand factories on U.S. soil."
But others in the industry were quick to criticize the ruling.
No, cheap oil will not kill solar power
Submitted on: 12/15/14, 05:15 AM
As the price of oil has tumbled to five-year lows, solar stocks have fallen with it: First Solar was trading near $72 in mid-September; now it's around $44. Solar City has around $65; now it's close to $50.
Will New Technologies Give Critical Boost to Solar Power?
Submitted on: 12/11/14, 02:16 PM
Today, despite recent progress, solar power accounts for about one percent of the world's energy mix. Yet the International Energy Agency (IEA) says that solar energy, most of it generated by decentralized "rooftop" photovoltaic systems, could well
Global Wind Turbine Manufacturing Capacity Has Far Surpassed Demand
Submitted on: 12/09/14, 01:50 PM
During the past 2 years, more flexible sourcing strategies across the wind power supply chain have resulted in cost reductions, enabling greater geographic market access while reducing risk and ensuring profitability for wind turbine vendors and their partners in the c
Groundbreaking technology stores wind power in salt caverns
Submitted on: 12/08/14, 05:43 AM
In the Lloydminster area, a Calgary company is ready to carve out large underground salt caverns to store excess wind energy — the first use of the technology in Canada. Rocky Mountain Power president Jan van Egteren says th
Today's Alternative Energy Headlines
Geothermal Energy in 2014: Emerging Economies Power Up
Submitted on: 12/18/14, 05:41 AM
Geothermal Energy in 2014: Emerging Economies Power Up
SolarWorld Commends Critical Wins in Trade Cases against China, Taiwan
Submitted on: 12/18/14, 05:39 AM
Company applauds U.S. government's trade duties and scope as promising measures to reignite American factory hiring after years of improper trade practices
PVinsights:Polysilicon price drops seriously in Dec since price outside China follows China to crash
Submitted on: 12/18/14, 05:28 AM
Chinese polysilicon sellers continue to dump their products aggressively to secure the order as the polysilicon procurement slow down. Therefore, polysilicon manufacturers in China now are facing serious price correction.
The meeco Group begins development of a 10MW ground mounted installation in Zimbabwe
Submitted on: 12/17/14, 04:18 PM
Engages local industrial leaders Powerspeed Electrical & William Bain Holdings. Partners with Mosspatch Investments Zimbabwe
PlugVolt Febuary 2015 Battery Seminar - Boston Power Joins Automotive Panel
Submitted on: 12/17/14, 10:41 AM
Join industry leaders from AVL, Bosch, Cap-XX, Chrysler, Ford, Gamry, GM, Intertek, LG Chem, Magna Steyr, Navigant Research, NEC, PEC, NextEnergy, Nissan, SaintGobain, Sakti3, THT, TUV SUD, Valeo, Xalt Energy and many more to hear about latest advances & challenges for grid storage and xEV batteries
Featured Alternative Energy Product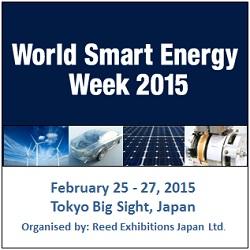 What is World Smart Energy Week is a group of the world's leading B-to-B trade shows covering a wide range of smart/renewable energy. From power generation, energy storage, energy distribution to smart/renewable energy related applications and technologies, the show offers infinite business opportunities, solutions and connections with industry professionals from all over Japan and the world.
Featured Alternative Energy Company
(Secaucus, NJ, United States of America)
Panasonic Eco Solutions North America is a division of Panasonic Corporation of North America, the principal North American subsidiary of Panasonic Corporation (NYSE:PC). The company provides a full range of renewable energy and energy efficiency solutions including the planning, implementation, financing, and maintenance to corporate and private sector organizations in both the U.S. and Canada. To learn more visit www.panasonic.net/eco.
Upcoming Alternative Energy Events and Conferences