A new Greensmart Display Village highlights the building of more environmentally-sustainable homes. In a time of increasing water and energy supply problems, leading Builders are showing that good siting and design needn't cost any more, and that water and energy-saving products pay for themselves.
Greensmart is a project of the Housing Industry Association of Australia, aimed at encouraging the building of more environmentally-sustainable homes.

As part of that project, a new Greensmart Display Village has been opened in Bungendore, near Canberra. Homes in the Village are excellent examples of the benefits of good siting and orientation on the block, and of good solar passive principles.
Enviro Friendly Products is proud to to be supplying a majority of the homes with a range of water and energy-saving products. These include water tanks, twin- source water supply systems, hot water recirculators, grey water reuse systems, evacuated tube and heat pump solar hot water systems, and more.
Featured Product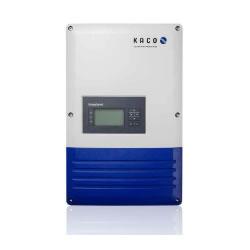 Small size, light weight, great features, best value! With a line-up of 1-phase transformerless units, KACO new energy will be inaugurating the new "blueplanet" solar PV inverter series. Newly designed and constructed from scratch, the blueplanet TL1 fulfil the highest requirements for optimum use in residential solar power plants.