Solar panels provided by Evergreen Solar, Inc. recently produced the power to support a landmark global webcast sponsored by DuPont.
Marlborough, MA, October 17, 2006 - Solar panels provided by Evergreen Solar, Inc. recently produced the power to support a landmark global webcast sponsored by DuPont. Evergreen Solar is a manufacturer of solar power products with its proprietary, low-cost String Ribbon' wafer technology. The system for the DuPont event was designed and installed by groSolar (GRO), a national solar integration firm.

During the webcast and town hall meeting, DuPont Chairman and CEO Charles O. Holliday, Jr. announced the "DuPont 2015 Sustainability Goals." The plan will substantially broaden the company's current program by expanding its environmental footprint goals and by deriving additional revenues of $6 billion from its sustainability commitments. In addition to offering a wide range of products for numerous markets, DuPont is a world leader in developing and commercializing renewable and energy-efficient technologies.
"We're proud of the role our solar panels played in powering this meaningful, high-profile event," said Alan King, Evergreen Solar Director, Sales for the Americas. "DuPont's commitment to sustainability is an ideal model for companies around the globe."
The Washington, DC event attracted more than 160 prominent stakeholders representing the business, government, public interest, financial, science and academic communities. Speakers included leaders from the World Resources Institute, Environmental Defense, and other nationally-recognized organizations.
The solar power system and materials provided by groSolar and Evergreen helped the event earn a "Carbon Neutral" designation from The Conservation Fund, a non-profit organization dedicated to preserving the environment. Carbon Neutral means the various sources of energy used to power the event did not contribute additional carbon dioxide into the environment.
"There's no better way for DuPont to demonstrate its commitment than by using sustainable solar technology to help meet the electricity needs of this important event," said Jeffery Wolfe, groSolar CEO. "We're delighted that our collaboration with Evergreen helped
make the global webcast such a success." He noted that groSolar signed a four-year supply agreement with Evergreen earlier this year for solar photovoltaic (PV) panels.
About Evergreen Solar, Inc.
Evergreen Solar, Inc., develops, manufactures and markets solar power products using proprietary, low-cost manufacturing technologies. The Company's patented crystalline silicon technology, known as String Ribbon', uses significantly less silicon than conventional approaches. Evergreen Solar's products provide reliable and environmentally clean electric power for residential and commercial applications globally. The Company maintains its headquarters and flagship manufacturing facility in Marlborough, MA. For more information about the Company, please visit www.evergreensolar.com.
About groSolar
groSolar is a division of GRO, a national solar integration firm focused on designing, distributing and installing high quality renewable energy systems. GRO integrates components from leading solar manufacturers into elegant solar energy systems for its customers. GRO distributes solar electric, hot water and hot air systems throughout the U.S. from offices in VT, NJ, NY, MA and CO. The company is expanding its distribution with additional high-value dealers as well as with its own branch offices in under-served markets. GRO was formerly named Global Resource Options. For information, contact Kevin Ellis at 1-800-498-5390 or Sue Lewis at 1-800-374-4494. Visit www.groSolar.com.
Featured Product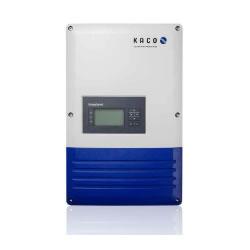 Small size, light weight, great features, best value! With a line-up of 1-phase transformerless units, KACO new energy will be inaugurating the new "blueplanet" solar PV inverter series. Newly designed and constructed from scratch, the blueplanet TL1 fulfil the highest requirements for optimum use in residential solar power plants.